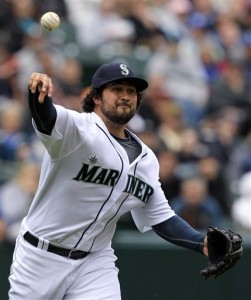 In the midst of a disappointing 19-31 season thanks in part to one of the game's worst offenses (.298 team wOBA, which is just a click north of Randy Winn territory), the Mariners started making changes to the roster last night with more moves to come. The first set of changes involved a familiar name to Yankee fans, sinker-slider reliever Kanekoa Texiera, who was Rule 5'd in December. The Mariners designated him for assignment (along with MVP 2005 All Star Jesus Colome) to make room on the roster for some other bullpen pieces.
Texeira was by no means great with Seattle, but he wasn't dreadful either. His ERA was certainly high at 5.30, but his peripheral stats remained decent: 6.75 K/9, 4.82 BB/9, and a 44.8 GB%, leading to a 3.39 FIP and a 4.34 xFIP. Sure, the walks are high, but I suspect that's the result of some rookie jitters considering his career minor league walk rate is solid at 3.4 BB/9. Jonny Venters of the Braves has similar peripherals (3.51 FIP, 4.38 xFIP) in 1.2 more innings this year, but he sports a 0.89 ERA. That's what having .363 BABIP and a 63.6% strand rate like Texeira will do to you, artificially inflate that ERA.
The Mariners have already started the process of returning Texiera to the Yanks, but I imagine they would prefer to work out a trade so they could keep him in the organization. Seattle GM Jack Zduriencik not only drafted Texeira in the Rule 5 Draft last winter, but also out of high school in 2004 when he was the Brewers' scouting director. It's pretty obvious he's a fan of his. What should the Yankees do though, should they take Texiera back if given the opportunity? Simply put, hell freaking yes.
It's not a matter of having him step right in to help the big league team, it's about adding inventory. As we've been saying for over two years now, the Yankee bullpen is built on having lots of options and lots of flexibility behind Mariano Rivera. If an Edwar Ramirez wasn't getting the job done, there was a David Robertson waiting in the wings. If Robertson can't get the job done, Mark Melancon is a phone call away. Given the volatility of relief pitchers, there's nothing more you can do than have plenty of interchangeable pieces, and Texeira would be just another piece of that puzzle. Another guy making the league minimum with two quality pitches, something you can't have too many of.
Of course, getting him back in the organization might not be easy. The entire point of the Rule 5 Draft is to give players stuck in the minors an opportunity to play in the big leagues, and because of this Texeira will have to clear waivers before the Yanks even have the option of taking him back. If another team were to claim him, the Rule 5 rules (having to keep him on the 25-man roster all year) would simply shift to the new team. Considering the bullpen drek that exists in places like Arizona (5.30 bullpen xFIP), Cleveland (5.10), and Kansas City (4.96), there would seem to be a demand for his services.
Remember, the Yanks managed to find a taker for Edwar Ramirez earlier this year, and not only was he the epitome of a one trick pony, but he's also five years older than Texeira. If someone wanted him, I'm sure someone will want Texiera. Perhaps a stat-savvy team not scared off by an ugly ERA. The Yankees lost one potential relief option when Zach Kroenke leveraged his ability elected free agency to remain with the Diamondbacks as a Rule 5 pick this spring, but they might have a chance to rebuild some depth by paying the $25,000 to get Texeira back. Let's hope they take advantage of it.