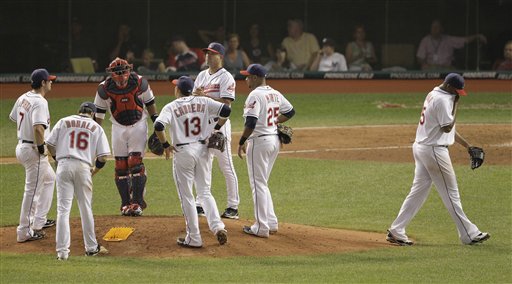 The Rays already beat the lowly Tigers today, so tonight's game will determine if the Yankees go into this weekend's series in Tampa one game up, or two games up. Of course they'd love to have that extra cushion, but they're going to have to survive Dustin Moseley's first start of the season tonight. Joe Girardi indicated that Moseley is good for up to 100 pitches tonight, he was starting in Triple-A Scranton after all, so hopefully they manage to squeeze six innings out of him while working Indians' starter Mitch Talbot over.
Here's the lineup, sans a resting Jorge Posada…
Jeter, SS
Granderson, CF
Teixeira, 1B
A-Rod, 3B
Cano, 2B
Swisher, DH
Gardner, LF
Cervelli, C
Curtis, RF
And on the bump, it's one of the Chad Ho Moseley monster.
No weather issues tonight, thankfully. First pitch is set for 7:05pm ET and can be seen on YES. Enjoy.