Every contender could use some help in the bullpen, and the Yankees are no exception. Outside of Mo the unit has been a model of inconsistency this year. While the starters have helped mitigate the situation by pitching deep into games, the problem still remains. The Yanks do have options to fill bullpen spots, though most of them are unproven players. That might be what they're stuck with. Teams out of contention typically don't have bullpen help to spare, so deadline deals for relievers tend to be rare, and expensive when consummated. The Yankees have to really like a reliever if they're going to surrender anything for him in the next three weeks.
Last week Mike presented one possible bullpen trade target, Octavio Dotel. He's mowing down NL hitters, though he's also walking plenty of them. I doubt the Yankees go for him, considering the failed post-Tommy John experiment, but he'd still present another option for a bullpen that could need a hand. Today I'd like to present another similar, if not more expensive, pitcher that the Yankees could seek to acquire later this month.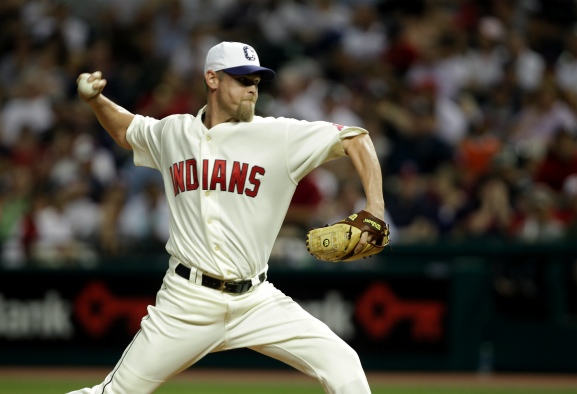 After battling various injuries for three seasons, Kerry Wood moved to the bullpen in 2007 and experienced immediate success. During his second year in the role he acted as the Cubs closer and dominated the league, striking out 11.4 per nine innings to 2.4 walks. Even better, he allowed just three home runs all year. It looked like he had taken to his new role and could provide a quality closer option for whatever team signed him when he hit free agency after 2008.
That team was the Indians. They signed Wood to a two-year, $20.5 million contract with a $11 million team option, which had a vesting clause, for 2011. He didn't have a terrible first season in the American League, but he saw his walk and home run rates increase. On the positive side, he did stay healthy. That didn't last, though, as he started the 2010 season on the DL with a shoulder strain. He returned in May and had something of a rough start, allowing nine runs in his first 7.1 IP. Since then he has turned it around.
He has pitched only 11.1 innings since June 1, mostly because he's Cleveland's closer and the team sits in last place. But he has been quite a bit better, striking out 11 to three walks. His BABIP has been very low, .207, and he has allowed two home runs, so it's not all positive. But considering the options on the market and Wood's track record as an effective reliever, he might fit into the Yankees' bullpen.
The biggest factor here is the money. If the Yankees get Wood on July 31, they'll owe him somewhere around $3.5 million for the remainder of the season. Dotel, on the other hand, would cost just over a million for the rental. The Yankees, as they demonstrated last year when Brian Cashman had worked out a deal for Mike Cameron, aren't necessarily willing to add salary. The remainder owed Wood is nearly equal to what the Yankees wold have owed Cameron had the team approved the trade.
Given the fickle nature of relief pitchers, I doubt the Yankees will pursue this path. They'd have to pay not only the $3.5 million owed to Wood, but they'd also have to turn over a prospect or two to the Indians. Wood certainly comes with a track record, which gives him a leg up on internal options like Albaladejo, but as we saw with Eric Gagne in 2007, reputation brings no guarantee. If the Yankees can get Wood for his salary and a C prospect a deal might make sense. But if that's the case I imagine the Yankees would have competition for his services.