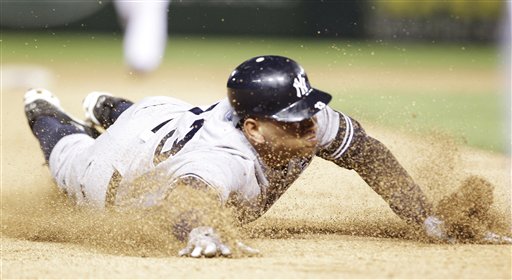 Last night's loss was one of the more … infuriating of the season (that's a good word for it, no?), so now it's time for the Yankees come out and remind Texas just who they're dealing with. The Rangers walked off with a win in the first game the last two times these clubs met, but the Yanks came back the next day and not only beat Cliff Lee, but did so in comeback fashion.
Tonight, I just want a beatdown. Remind Tommy Hunter that he's not destined for a long career with his 4.50 K/9. Remind Nelson Cruz why the Rangers tried to convert him to pitching just over two seasons ago. Let Ron Washington know that if he wants to made ten pitching changes a game, we'll happily oblige as he looks for someone to stop the bleeding. No mercy.
Here's the lineup…
Gardner, LF
Swisher, RF
Teixeira, 1B
A-Rod, 3B
Cano, 2B
Berkman, DH
Granderson, CF
Pena, SS
Cervelli, C
And on the bump, it's A.J. Burnett.
Game starts a little after 8pm ET and can be seen locally on YES and nationally on MLB Network. Enjoy.