The 2009 Yankees had quite the knack for the dramatic walk-off win, but this year is pretty much the exact opposite. For the third time in four nights they let their opponent score the winning run in their final at-bat of the game, with Reid Brignac's .298 wOBA doing the honors in the 11th inning on Monday. For the first time all season, the Yanks dropped their fourth consecutive game, and for just the second time since June 12th, they went to bed out of first place in the AL East.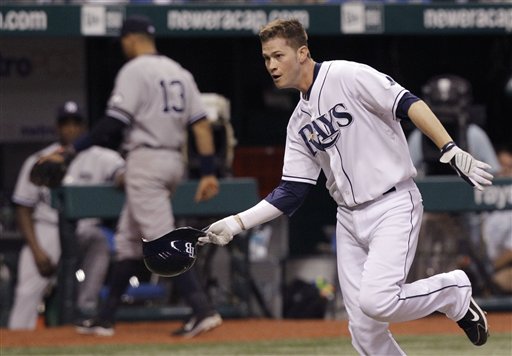 Biggest Hit: Whaddya Think?
The first eight innings of this game were quite possibly the best eight innings of baseball I've watched this year, as CC Sabathia and David Price went scoreless inning for scoreless inning before giving way to the bullpen. Through some luck, stupidity, and regular old baseball, the score remained tied at zero until the first batter of the 11th inning. Sergio Mitre, supposedly one of the last available men in the bullpen, entered the game having made one appearance in the past 16 (!!!) days.
Sure enough, Mitre was wild both in and out of the zone, running the count full to Brignac before leaving a cookie changeup out over the plate that the Rays' second baseman yanked into the rightfield stands for the game winner. I couldn't see the ball land in my obstructed view seat, but I didn't need to. It had the sound. Everyone in the building knew it was gone off the bat.
Worth Every Penny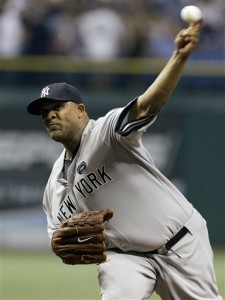 No matter how bad things get in the Yankee Universe, we know that once every five days a bonafide ace is going to take the mound with an interlocking NY on his cap. Sabathia didn't get his 20th win of the season in this game, but it certainly wasn't because of a lack of effort on his part. The big man carried his team through the eighth inning with a 119-pitch effort that bordered on dominant and God-like.
The Rays didn't put a man on base until Kelly Shoppach, the same guy that broke up CC's no-hitter back in April, singled to left, and then things got a little more messy when Sabathia walked B.J. Upton. That was all Tampa would get for quite some time though, because Sabathia buckled down to get Jason Bartlett to end the frame and then followed that up by retiring the next 11 men that followed him. Not another Ray reached base until Ben Zobrist drew a harmless walk with two outs in the seventh, but then things got interesting in the eighth.
As per their recent history, the Yanks botched a scoring opportunity in the top of the eighth, then Tampa immediately threatened in the bottom half when Sean Rodriguez singled, pinch bunter Dioner Navarro pinch bunted Rodriguez to second, and Shoppach took a pitch off his elbow. The Rays had men at first and second, but of course the one at second was the real important one. CC threw Upton just one fastball in a six pitch at-bat, getting to him to flail at a curveball in his feet for strike three and the second out. It was one of several ugly hacks Tampa took off the big man. A weak grounder to short by Bartlett ended both the Rays' threat and Sabathia's night.
Aside from the third inning, Sabathia never threw more than 18 pitches in an inning, and only twice did he have to venture past 15 pitches. He struck out nine, walked just two, and allowed just a pair of singles in his eight innings. You couldn't have scripted a better outing followed the horror show in Texas. We've written it more times than I care to count in the last two seasons, but Sabathia has been worth every single penny the Yankees have given him, and then some. What a monster.
If At First You Don't Succeed, Keep Bunting
I'm going to have more on this on Tuesday (maybe Wednesday), but how many times is Joe Girardi going to bunt with this team before he realizes it never works? Seriously, it backfired at least twice in Texas, and then again tonight in the tenth inning. It's bad enough that they gave away that precious out, but they also took the bat out of Granderson's hands so that Colin freaking Curtis could hit. And Grandy was up 2-0 in the count! There's a complete absence of thinking there, it's just do what the book says because that's what people have always done. I don't get it, but I guess I shouldn't be surprised anymore.
Leftovers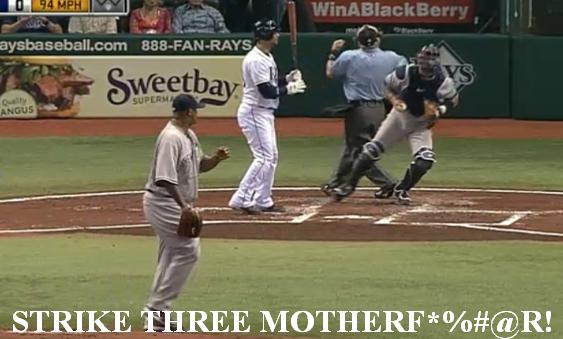 David Price was every bit as good as CC tonight, throwing basically fastball after fastball and fashioning eight shutout innings of his own. It's pretty easy to forget how awesome the first eight innings of this game were, but man, it sure was a blast watching those two go at it for so long.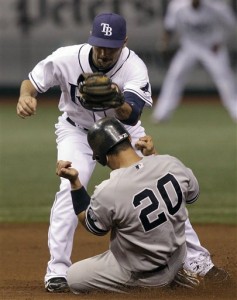 That had to be a botched hit-and-run with Jorge Posada in the fifth, right? I can't imagine they'd straight steal with him. Though I guess when you have two great pitchers on top of their game, you sometimes have to force the issue. Let's give Jorge some props though, it was a pretty close play.
Meanwhile, that caught stealing at third base by Gardner to end the tenth inning is absolutely 110% inexcusable. He's already in scoring position and more than capable of scoring on any single. Classic example of a kid trying to do to way too much, and he knew it because he apologized to his teammates after the game. Stupid stupid stupid.
The Bronx Bombers haven't hit a homerun in 42 innings now (h/t Larry). The last one was Nick Swisher's walk-off blast last Friday. Yep.
On the bright side, Derek Jeter continues to look pretty good. He worked Price hard in his few at-bats and singled to lead off the game. It's just too bad the rest of he team is playing like crap.
How about home plate ump Tom Hallion's punch-outs tonight; he really puts his elbow into it, doesn't he? (h/t Carlosologist for the image idea)
Cowbells: Immeasurably more annoying in person than they are on television. Holy crap.
The Yankees are going to make the playoffs, it's all but guaranteed at this point. But seriously, they need to wake the frig up, and fast. They're half-a-game back in the division and still have a magic number of 12 to clinch a playoff spot. Let's start with one win first, that's a pretty big accomplishment these days.
WPA Graph & Box Score
Pitchers' duel, then bullpen adventures. MLB.com has the box score and video, FanGraphs a bunch of other cool stuff.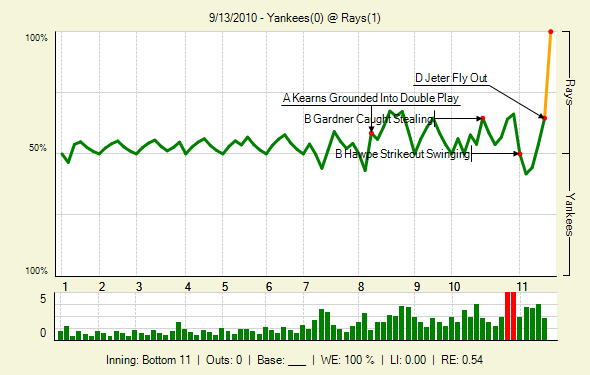 Up Next
Rookie Ivan Nova will try to get the Yankees back in first place tomorrow when he takes on Matt Garza. Hopefully the offense decides to show up for that one.