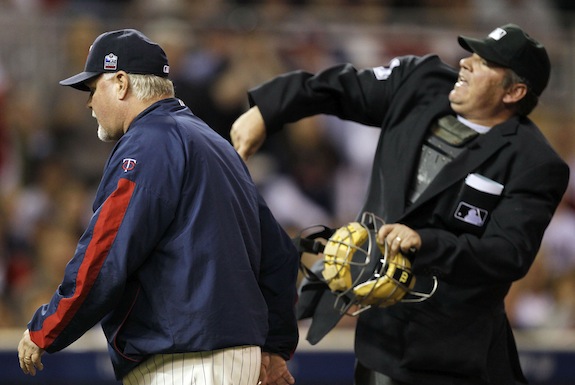 When the Yanks named Andy Pettitte their Game 2 starter, the club seemed to be rolling the dice. Despite Pettitte's voluminous postseason success, the lefty was just three Major League starts removed from a two-month stint on the disabled list due to a groin injury, and in one of those starts, a stiff back prevented him from located his pitches. All in all, Pettitte had thrown 7.1 innings over his last two starts with an ERA of 11.05 and had allowed 19 hits while laboring through 163 pitches.
Pettitte more than silenced the doubters last night. He went seven strong innings against the Twins and needed just 88 pitches to do it. He allowed just two runs on a five hits and a walk and struck out four. As the game wore on, he seemed to find a groove, and at one point, the southpaw retired 12 Twins in a row. It was vintage Andy Pettitte. So how did he get there?
After his Saturday start against the Red Sox last weekend, it seemed as though Pettitte could have used a few more times. While watching the game, I thought he looked healthy, but he seemed to be missing his spots by just a little. Considering his two-month layoff, I wasn't surprised. After all, pitchers generally say that during the build-up to the season, their command comes back later than velocity. But when I dug deeper into the game, it seemed that home plate ump Mike Winters and not Andy Pettitte was responsible for the struggles. Take a look at the called strike zone from Saturday: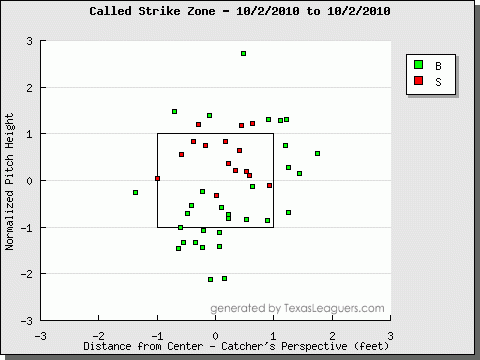 Based on the Pitch f/x data, Pettitte threw nine pitches in the strike zone that were called balls and another was a borderline pitch that went the way of the hitter. Generally, Pettitte wasn't getting the call on low cutters, and because Pettitte so heavily leans on those low cutters, his approach suffers if the ump isn't calling a strike a strike.
Now, based on the narrative around last night's game, it's tough to believe that Hunter Wendelstedt was calling a better zone than Winters did, but for Andy Pettitte, the strike zone was at least fair. While Carl Pavano somehow threw pitches out of the zone that were called strikes (and one pitch right on the edge of the zone called a ball), Pettitte seemed to get a much truer strike zone this week. Take a look at the called zone: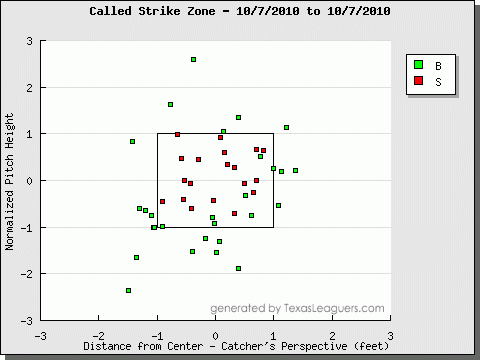 Wendelstedt apparently missed five pitches and didn't give Andy the benefit of the doubt on two others. In that sense then, Pettitte was able to use the edges of the strike zone far more effectively this week than last. He also induced more swings on his cutter, a sign of improving pitches as he builds up strength from his injury. The full strike zone plot helps us to see how Pettitte was able to fool the Twins' hitters.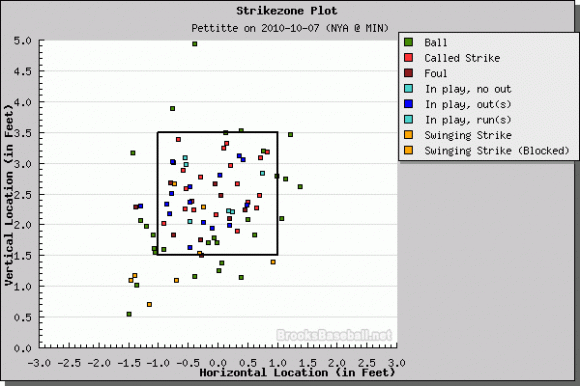 Last night, Twins' hitters swung and missed at five Pettitte cutters that were below the zone and another right on the edge. Against the Red Sox, Pettitte couldn't drop the cutter into the zone, let alone below it, and Boston hitters were laying off the low pitches as Winters called a generous zone. Pettitte made Wendelstedt work for him last night, and Andy's cutter had a greater down-and-in sweep to it last night. As the Twins' hitters saw his pitches spin, they started to swing and miss.
As the playoffs progress, it's easy to forget how the regular season can impact players today, but for Andy, last night was a bit step forward. It was just his fourth start back from injury, and it was by far the strongest he's looked since returning to the rotation. His velocity is there; his command is there; his effectiveness is there. For a Yankee club looking to play deep into October, that's news nearly as good as their 2-0 series lead.