There is a new postseason hero for the Yankees. Curtis Granderson's two-run triple might not have been Scotty Brosius or Tino Martinez big, but it was definitely Alex Rodriguez big. Bigger, maybe, since Granderson gave his team the lead. It capped a four-run sixth inning that would restore faith in the Yankees and ultimately drive a Game 1 win. But it didn't come very easily.
Granderson actually had a chance to do some damage in the first inning. He came up in the exact same situation as he did in the sixth: men on first and second with two outs. Liriano must have had plenty of confidence when facing Granderson — he had allowed just four hits, including one home run, in the 25 times he faced him — because he opened with a fastball right down Broadway.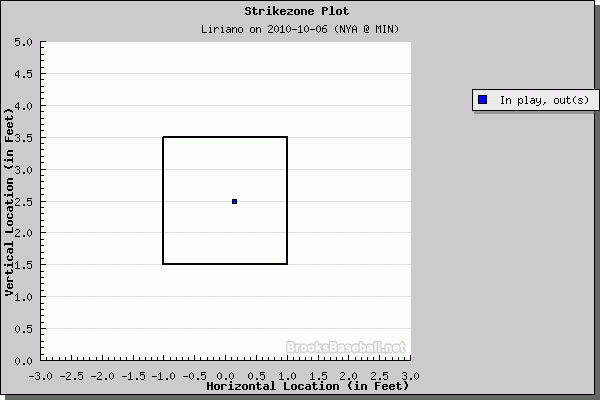 Granderson rightly took a hack, but just couldn't get the fat part of the bat anywhere near the pitch.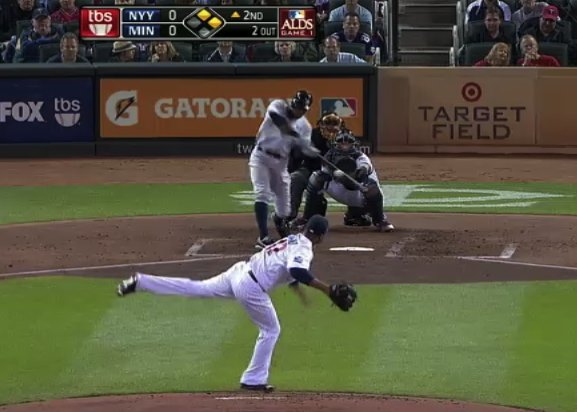 It wasn't poorly struck, but it did go right to Michael Cuddyer at first for an easy inning-ender.
Granderson's second at-bat was a bit more interesting. This time it appeared as though Liriano had a plan. He started with a fastball away for ball one, but then came back with a slider that, according to the home plate ump, nicked the outside corner for strike one. He went back to the slider on the third pitch, putting it a bit lower than the last. Curtis held up. Again the slider came on pitch four, and again it was away. This gave Granderson a 3-1 advantage, but then Liriano came inside with a fastball. Granderson just managed to foul it away. On the 3-2 pitch Liriano again turned to the slider. It ended up right where the previous fastball did, and while it appeared as though it missed Mauer's glove, it didn't miss by much. Granderson had no chance.
When Granderson came to bat in the next inning the Yankees had just scored two runs. Given Liriano's history against Granderson, Ron Gardenhire left him in rather than going to lefty reliever Jose Mijares. He started repeating his plan from the previous at-bat by working Granderson away. A slider nipped the outside corner for strike one, but then Liriano missed with two fastballs away. In the previous at-bat it wasn't until the fifth pitch that Liriano came inside. I'm not sure if Granderson recognized that, but it did appear as thought he was ready to jump on that outside fastball. It didn't hurt that Liriano missed his spot.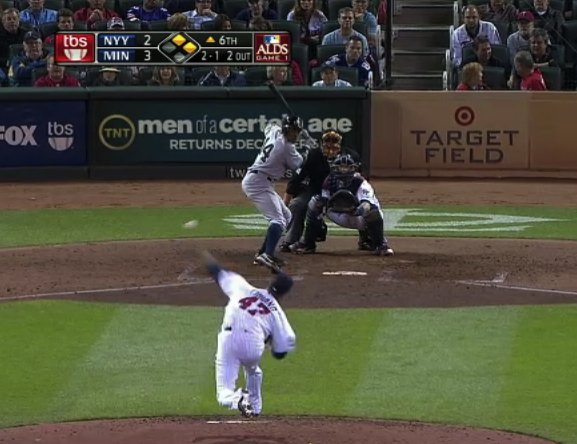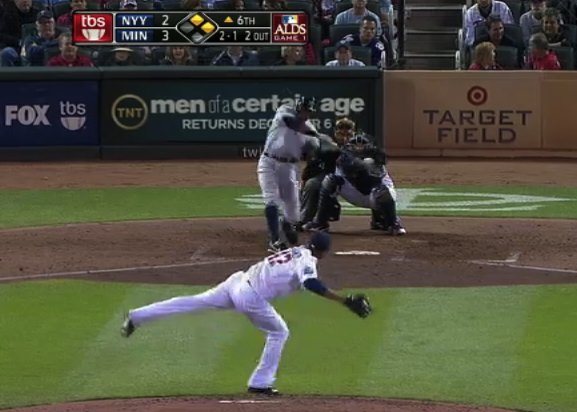 This time Granderson was able to center the ball on the barrel, and what resulted was a home run in 28, maybe 29 ballparks. Thankfully, the ball hung up long enough for even Jorge to make it around from first base. That gave the Yankees a lead not more than a few minute after the game seemed hopeless. Even though they gave one back the next inning, Granderson's hit changed the tone of the game.
Fun fact: The last time Granderson hit a triple in the postseason came in 2006 in the ALDS…against the Yankees. That one also gave his team the lead. The Yanks and Tigers were tied at three heading into the seventh, but Mike Mussina allowed the go-ahead run on that Granderson triple. The man who scored the run: Marcus Thames.