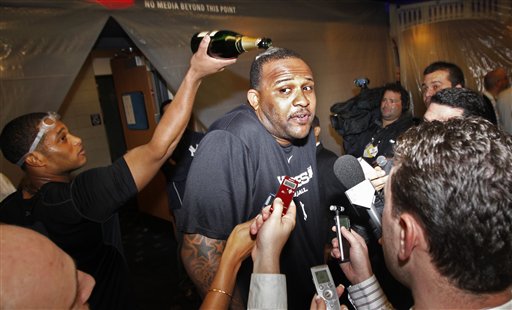 Sheesh, life without Yankee baseball stinks, doesn't it? These six days off are going to suck, I don't know what to do with myself. My nightly routine is all out of whack. Anyway, it's for the best. The players get to rest, the coaches get to game plan, yadda yadda yadda. Just a few more days and they'll be back at it.
For now, here's your open thread. The Braves are sending Derek Lowe to the mound on three day's rest to try to save their season at 7:37pm ET (TBS), the Giants are countering with young Madison Bumgarner. Brooks Conrad is not starting the game, if you're wondering. Can't say I'm surprised by that. Meanwhile, the Jets are playing Vikings at 8:30pm (ESPN), which should be fun. You guys know what to do, so have at it.
Oh, and in case you missed it, here's the MoneyBart episode of The Simpsons from last night. Bill James and Mike SciosciaFace make cameos.