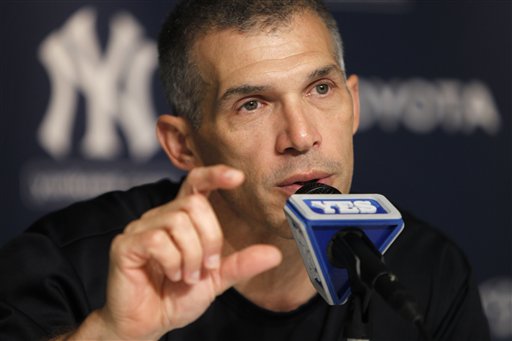 Joe Girardi and Brian Cashman held their annual end-of-the-season press conferences today, so as you'd expect there was plenty of news to come out of Yankee Stadium this afternoon. We'll surely break everything down in detail throughout the offseason, but let's round it all up here first and digest everything before moving on.
Obviously, the biggest news to come out of the presser was the announcement that pitching coach Dave Eiland will not return in 2011, but we covered that already. Ditto Andy Pettitte's various injuries. Everything else you see below comes from the various beat writers, who as usual did a bang-up job today. Seriously, we're lucky to have such a great crew covering the team full-time. Those guys deserve their own appreciation thread. Anyway, on to the chatter.
Cashman spoke to Hal Steinbrenner about Girardi today, and he will meet with the manager's agent tomorrow. Both sides want to work out a new deal as quickly as possible and get it out of the way.
Girardi on Joba Chamberlain: "We consider him a bullpen guy in the back end of the bullpen." Well, so much for everyone hoping that they'd let him try the starting thing again next season. Maybe in a different uniform.
When asked about Cliff Lee, Girardi replied "I'm sure we'll definitely look at a free agent market pitcher." Remember, because Lee is still under contract with the Rangers, it would be tampering to talk about him directly.
Cashman on the Rangers: "[They were] a locomotive that we couldn't withstand … You didn't see the real Yankees at that point in time, but I think the Rangers had everything to do with that. We didn't look old against Minnesota, and that was a week before. Texas made us look old."
Cash on Cliff Lee: "Bottom line, pitching is the key to the kingdom."
On Jesus Montero: "Is Montero ready for the big leagues? I have people who believe that. But he's going to have to prove that."
Cashman's bland Derek Jeter quote: ""Derek has been – and will be – an important part of this organization … There's still game left in that guy. He's going to be a part of this franchise. We'll work something out." Blah blah blah.
On the contract negotiations with Jeter and Mariano Rivera: "These aren't regular negotiations. These are legacy players." I'm scared.
Cash owned up to his poor 2009-2010 offseason as well: "I didn't have a great winter last season." He added that Nick Johnson was Plan C at designated hitter behind Johnny Damon and Hideki Matsui.