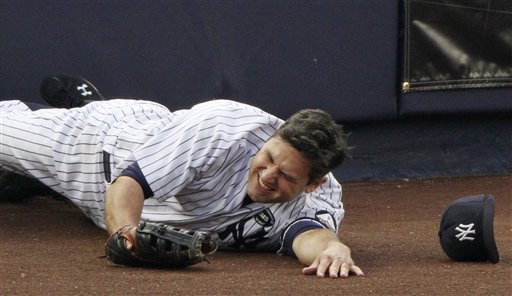 Wednesday afternoon's Game Five win gave Yankee fans a lot of reasons to smile, but a scary moment in the fourth inning had us all holding our breath. Ian Kinsler fouled off a CC Sabathia fastball, popping it up toward first base. Lance Berkman chased after the ball and overran it a bit, but when he went to slam on the brakes as he transitioned from grass to warning track, his feet came out from under him and he fell hard, flat on his back. In the unlikely event that you haven't seen it yet, here's video of the spill. Yeah, it's rough.
The good news is that Berkman was pretty much okay; he knocked the wind out of himself but stayed in the game after changing into a pair of metal spikes. He didn't even hit his head. Puma hit a deep sacrifice fly in the later innings and caught the final out of the game in foul territory, a similar spot to where he took the fall. Berkman said after the game that his entire back was sore, but he received treatment yesterday and is a go for Game Six tonight.
Berkman's fall looked like another comedic flop to add to his defensive blooper reel, but it revealed a much bigger problem: the Yankee Stadium warning track is dangerous. One unnamed Yankee told Chad Jennings that it's like running from grass onto a sheet of ice, and regular first baseman Mark Teixeira called it "basically concrete with sand on top." The players have reportedly brought this up in the past, but it's obviously not an easy fix. Certainly not something that can be addressed during the season, anyway.
It's one thing to have complaints about the outfield dimensions and obstructed view seats in the New Stadium, but it's quite another when the playing surface is an issue. That concerns the safety of the players, and in the Yankees' case we're talking about the safety of highly paid players. It took Berkman's fall to bring the problem to our attention, but given the claims of past complaints, it's something the team has been aware of for a while.
The warning track at the Old Stadium was made of red brick dust in the later years (based on what I've been able to find online, anyway), but the real concern is what's under whatever's on top. Some tracks are dirt, some rubber, but at some point there's concrete under there. As long as there's enough of a buffer on top it's not an issue. Perhaps they need to chop out an inch or two of concrete at the New Stadium all around the warning track, but who knows. We have no idea about the construction of the actual track, we're just going off Tex's quote. Chopping out concrete may not be as easy as it sounds either, depending on what else is going on down there.
The important thing is that the Yankees make the warning track safer for their players this offseason, one way or the other. Players are investments, massive investments for this team, and they should do what's best to protect them. In the grand scheme of things, making the warning track more fall- and slide-friendly is a no-brainer and not something to be ignored.