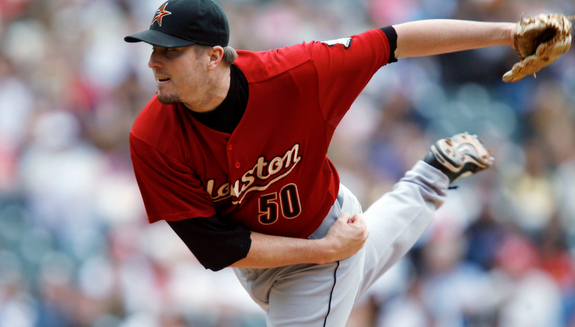 Rafi asks: If the Yankees are indeed still looking for a RH RP, allow me to throw out a name that seams to be totally off everyone's radar: Chad Qualls. This guy has closer experience with a decent K (7.35/9) rate, good BB (2.5) rate, and of course, great GB rate (55% – the league leader this past year, was Tim Hudson at 64.1). He did walk 3.2/9 last season, but almost all his other numbers were the same. The biggest differences? A .399 BABIP leading to 13 H/9. While his 7.32 ERA was easily his high (almost double his previous), his FIP was 4.13, and xFIP was 3.91. Since he's coming off such a poor looking year, and is a type-B, what kind of contract do you think he'll get? I think he's a great fit.
Qualls has been in the back of my mind all offseason mostly because his name stares me right in the face whenever I go to update the 2011 Draft Order page. Considering the season he had, which by most statistical measures was awful, I was stunned to hear that he turned down the Rays' offer of arbitration. His stock was certainly down and accepting arbitration would have guaranteed him some sort of raise on this past season's $4.185M salary. Is he going to get even $4M for one year on the open market? Hell no. Bad job by his agent declining.
Anyway, I've been a fan of Qualls' ever since his playoff performance with the Astros during their run to the 2005 World Series. He threw 13 innings across nine appearances in Houston's 14 postseason games, striking out ten, getting 68.8% ground balls, and holding opponents to a .233 wOBA. It was a beastly performance, no other way to put it. Unfortunately that was half-a-decade ago and not indicative of what he has to offer now.
As you said, Qualls' underlying performance in 2010 wasn't too far off from the rest of his career, he was just victimized by a .399 BABIP and a 53.0% strand rate (league average is 72%). There are legitimate concerns, though. His strikeout rate has declined in each of the last two seasons, from 8.67 K/9 in 2008 to 7.79 in 2009 to 7.47 in 2010, and unsurprisingly his swinging strike rate has declined as well (11.3%, 10.3%, 8.2%). His ground ball has also declined over the last two years, from 58.3% in '08 to 56.9% in '09 to 55% in '10, and his walk rate was a career high 2.59 BB/9 (removing intentional walks). There's a lot of stuff trending in the wrong direction here.
One thing to remember is that Qualls started the year coming off a very serious knee/leg injury that ended his 2009 season in late August. Jason Michaels hit him with a comeback line drive, resulting in a dislocated knee cap, a torn meniscus (in two places), and his quad muscle being partially torn off the bone. Ouch. There's a chance the injury still hampered him a bit in 2010. Another thing to remember is that he's 32, so his hellacious sinker might not be what it once was. Even if the pitch has lost just a little bit of sink, it'll have a pretty big difference.
At his peak, from 2007 through 2009, Qualls struck out 8.38 batters per nine innings, walked just 1.77 per nine unintentionally, and got a ground ball 57.3% of the time. That's an extremely valuable reliever, and any team that signs Qualls is banking on him returning to that level of performance, or at least thereabouts. Some normal BABIP and left-on-base rate regression will bring his ERA and WHIP back to reality, but the declining peripherals are enough to cast doubt on his ability to be effective going foward.
With all that said, I do prefer Qualls to all of the other right-handed relief options still on the market (Jon Rauch, Aaron Heilman, Octavio Dotel, etc.) and would be willing to roll the dice with him going into next season since it's not my money. A ground ball pitcher does worry me a bit given the questionable defense on the left side of the infield, but seeing-eye singles are better than long fly balls that could go over the fence. Qualls is a Type-B free agent so it won't cost a draft pick to sign him, and given how the rest of the relief market has played out this winter, a one year deal at $2-3M seems like a logical contract. I wouldn't expect greatness, but I would expect a more than serviceable middle relief option with a chance for a bit more.