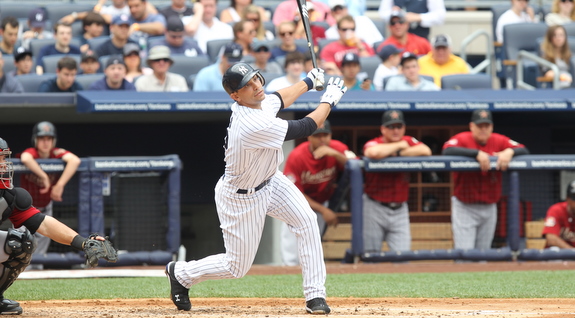 I know the roster isn't being close to set right now, but if the season started today, what would the AAA rotation and starting position players look like?
Let's start out with the obvious qualifier: a lot can change between now and the start of the season, so don't take this to heart. Players can get traded, hurt, unexpectedly win a spot on the big league roster, all sorts of stuff. We still have a general idea of who will be there, so this isn't an entirely useless exercise. Let's break it down into four categories…
Mortal Locks
A big chunk of the pitching staff falls into this group. Andrew Brackman is the headliner after a fine (and just about full) season in Double-A, and he'll be joined by Hector Noesi, David Phelps, and D.J. Mitchell, all of whom got a brief taste of the Scranton life last year. We also can't forget about the winningest pitcher in franchise history, Kei Igawa, who figures to do the swingman thing again. Minor league free agent signings Mark Prior, Andy Sisco, and Neal Cotts will get bullpen gigs. Remember though, Cotts is rehabbing from hip surgery and might not be ready to start the season.
The offense will be highlighted once again by Jesus Montero, who will return to Triple-A to start the season after the Russell Martin signing. He'll be backed up by minor league free agent signing Gustavo Molina. Colin Curtis and waiver pickup Jordan Parraz will hold down the two corner outfield spots while Brandon Laird and Jorge Vazquez get the corner infield spots. Unless he gets released to clear a spot on the 40-man roster, Reegie Corona will be with Scranton in some capacity, ditto Kevin Russo, who has nothing more than an outside chance to win a bench job with the big league team. Minor league free agent signing and 2009 Scranton Yankee Doug Bernier will come off the bench.
Probables
Eduardo Nunez and Greg Golson have halfway decent chances to start the season in the Bronx in reserve roles, but if not they'll play everyday in Scranton. Ryan Pope is in the same situation, just out of the bullpen. If he's with Triple-A, he's the odds on favorite to replace the departed Jon Albaladejo as closer. Kevin Whelan, the last remaining piece of the Gary Sheffield trade, has a leg up on one of the few remaining bullpen spots. Amaury Sanit's biggest threat for a roster spot is being released.
On The Fence
The non-prospect bullpen filler resides here. That means J.B. Cox, Grant Duff, Josh Schmidt, and Eric Wordekemper. Those guys will only end up in Triple-A if warm bodies are needed. Justin Snyder did his thing as a bench player for Double-A Trenton the last two years and could move up, especially if Nunez makes the big league roster.
Unlike those last few guys, Adam Warren is an actual prospect but one with limited Double-A experience. He's likely to start back with Trenton after making just ten starts there last season, but we could always be surprised. Dan Brewer had a fine season in Double-A in 2010 (.345 wOBA), but he could get squeezed out of the Triple-A mix in a numbers crunch, especially if Laird will continue working in left field. Buddy Carlyle is a candidate to be released in Spring Training (might even have an escape clause in his contract), and Brian Anderson could start back in Extended Spring Training since he's so new to pitching (converted just this year).
Long Shots
David Adams destroyed the Double-A level this past year (.403 wOBA), but an ankle injury ended his season after just 173 plate appearances. He'll be back there in April. Damon Sublett is in a similar situation after injury, and Austin Romine should start with Trenton after his poor second half. Plus Montero squeezes him out. Romulo Sanchez is out of options and will need to clear waivers to go back to the minors, but he's also been outrighted before (by the Pirates) and can elect free agency. I expect him to be a goner one way or the other.
Both Manny Banuelos (15.1 IP) and Dellin Betances (14.1 IP) got limited experience at Double-A in 2010, and it would be extremely aggressive to move them up already, maybe even downright reckless (with regards to their development). It took Pat Venditte a really long time to get out of High-A Tampa (109.1 IP over two seasons), so don't expect him to get moved to Triple-A so quickly. Cory Arbiso is going to end up back in Trenton just because of sheer numbers. Austin Krum spent all of 2010 in Double-A but didn't do enough (.298 wOBA) to get promoted.
So after all that, here's my stupid early projection for the Triple-A roster. Remember that Triple-A rosters are only 24 players deep, not 25. Let me know what you think and whether or not I missed someone obvious (possible if not likely) in the comments.
C: Montero
1B: Vazquez
2B: Corona
SS: Nunez
3B: Russo
LF: Laird
CF: Golson
RF: Parraz/Curtis/
DH: Parraz/Curtis/rotating spot
Bench: Molina (C), Bernier (IF), Snyder (UTIL), last spot goes to a utility guy on a minor league deal
Rotation: Brackman, Noesi, Mitchell, Phelps, Igawa/Sisco
Bullpen: Pope, Prior, Wordekemper, Schmidt, Whelan, Igawa/Sisco
DL/Rehab: Cotts