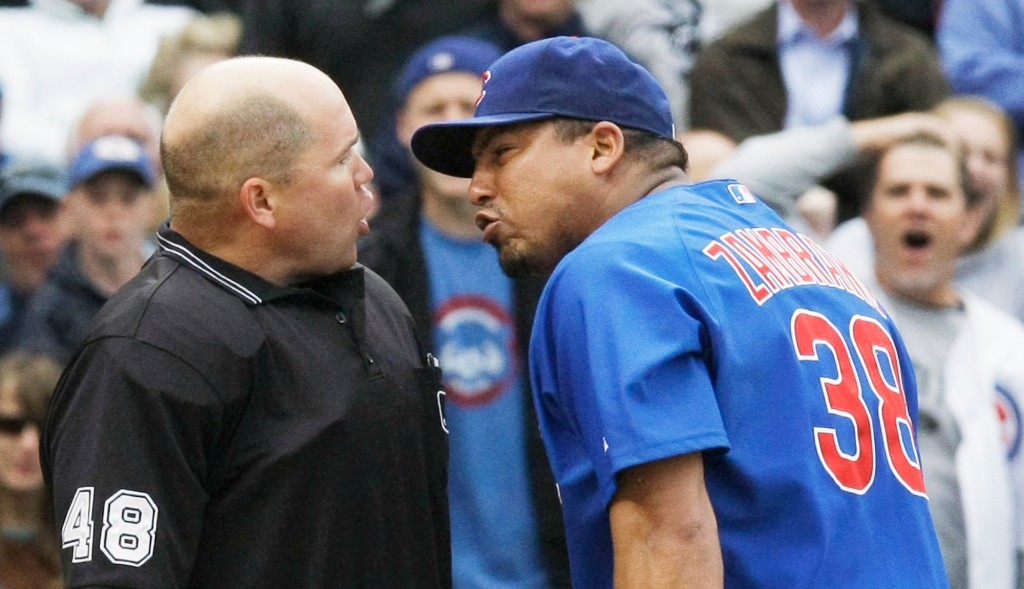 It was inevitable. The Yankees lost out of Cliff Lee, and now the potential pitching trade targets are coming out of the woodwork. We've heard about Felix Hernandez, Josh Johnson, Ricky Nolasco, Joe Blanton, Kevin freaking Slowey, and plenty of others that are not worth listing. Yesterday another name popped up, one that shouldn't surprise any of you: Carlos Zambrano. His name has frequented the trade rumor circuit for years, for no other reason than because he's an ace, or at least the perception is that he's an ace.
Before we dive into explaining why Zambrano is a bad fit for the Yankees, we have to understand that there is no rumor in the first place. It all started with this little nugget from Bill Madden yesterday…
In the meantime, look for Cashman to spend his saved money on shoring up the bullpen, with re-signing Kerry Wood a new priority. And in addition to re-signing Pettitte, he'll still be exploring the trade market with the Cubs' Carlos Zambrano, who experienced a turnaround both in temperament and results under the tutelage of new Yankee pitching coach Larry Rothschild the last six weeks of last season, a likely target.
Emphasis mine. There's zero reporting there. That's Bill Madden saying that he considers Big Z a likely target without any concrete information. He didn't even bother with anonymous scouts or persons close to the situation, he just threw a name out there and qualified it with "likely." The part about Rothschild is irrelevant; he'd been the Cubs pitching coach since 2002 and now all of a sudden those last six weeks of the season are different? Doesn't pass the sniff test, but of course everyone ran with it because all they saw was this…
In the meantime, look for Cashman to spend his saved money on shoring up the bullpen, with re-signing Kerry Wood a new priority. And in addition to re-signing Pettitte, he'll still be exploring the trade market with the Cubs' Carlos Zambrano … OMG CARLOS ZAMBRANO!!!!
It's nonsense, made up to fill out some lines in the newspaper. There is no rumor, just Bill Madden's speculation. Now that that's out of way, let's move on to how bad of a move acquiring Zambrano would be if the Yankees did magically trade for him at some point.
He's Not As Good As You Think
Once upon a time, Carlos Zambrano was a bonafide star in the marking. He pitched to a 3.58 FIP from ages 21 through 24, racking up 14.0 fWAR from 2003 through 2005 with no less than 4.5 fWAR or 209.2 IP per season. The problem is that his FIP and fWAR declined in each of those years, and since that '05 season Zambrano's been no better than pretty good.
After a 4.14 FIP, 3.9 fWAR campaign in 2006, Big Z has pitched to a 4.09 FIP with 11.8 fWAR total. He's eclipsed the three-win plateau just once in the last four seasons, and his performance over that time is right on par with Joe Blanton's (11.7 fWAR) and slightly worse than Scott Baker's 12.4 fWAR). A.J. Burnett has even been able to outproduce Zambrano during that time (12.9 fWAR), and he spent 59 days on the disabled list in 2007.
Zambrano is a high strikeout (8.10 K/9 over the last two years), high walk (4.24 BB/9 after taking out intentional walks) pitcher that gets a fair share of ground balls (44.2%), and he's done a better job of getting his case of homeritis under control in the last few seasons (0.51 HR/9). His swinging strike rate has been below league average for three years now (8.0%), and all of those innings (839.1 IP with the Cubs before he turned 25) seem to be slowly eating away at his velocity.
This isn't to say that Zambrano is a bad pitcher, just that he's not the ace he's made out to be. There's no denying that he's a legit innings eater, assuming he isn't being suspended by his own team like in 2010. His 50th percentile projection is probably something like 2.8-3.2 fWAR going forward, which would absolutely help the Yankees right now, but this isn't a vacuum. There are other factors to consider besides performance.
He's Really Overpaid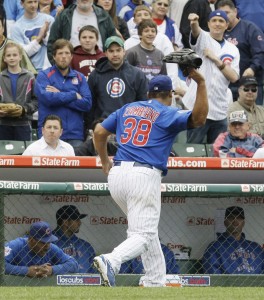 Four pitchers in all of baseball make more money on an annual basis than Zambrano, and for all intents and purposes it's the four best pitchers on the planet: Cliff Lee, CC Sabathia, Johan Santana, and Roy Halladay. That's it. He'll make $17.875M in 2011 and then $18M in 2012 before a $19.25M vesting option for 2013 comes into play. The option vests based on Cy Young Award voting, so I wouldn't expect it to kick in, but we're still talking $35.875M over the next two years. According to the data at FanGraphs, Zambrano was worth $50.8M in production over the last four seasons while being paid $63.025M. He hasn't been worth his salary since 2006.
For the Cubs to make this even worth the Yankees' consideration, they'd have to eat something like $15M left on Zambrano's deal, and even then they're not getting anything worthwhile in return.
He's Insane
It amazes me that people are so quick to write off Zack Greinke as unable to handle New York because Social Anxiety Disorder sounds scary, yet think that Zambrano is fine. The dude is crazy. He's gotten in teammate's faces for not making defensive plays behind him, gotten into fights in the dugout (twice in the same game!), beaten the crap out of inanimate objects, and plenty of other stuff that you'll find if you google "Carlos Zambrano crazy."
We have absolutely no idea how Greinke would handle the pressure cooker of New York, we just think we do. We know how Zambrano acts when things don't go his way though, and it involves going off the deep end more times than not. What happens when he has the inevitable four or five start slump (it happens to every pitcher) and has 50,000 people booing the crap out of him every five days? And just think about it for a second, half of the Cubbie faithful wants this guy gone. That tells you right away that there's a problem, a problem the Yankees don't need.
* * *
The entire idea of Carlos Zambrano in Yankee pinstripes is little more than a figment of Bill Madden's imagination right now, and that's a good thing. The negatives outweigh the positives, but you know the Cubs will value him as an ace-caliber pitcher on the trade market anyway because once upon a time he was that guy. He's not now, hasn't been for a few seasons. There is a ton of risk in Zambrano given his well-documented temper, risk that can be far more damaging than some free agent signing blowing out his arm. Just say no to Big Z.