As we count down the days and weeks leading up to the season, we're going to preview the 2011 Yankees by looking at each of their core players and many, many more. A new preview will be going up every day, Monday through Friday, from now until Opening Day.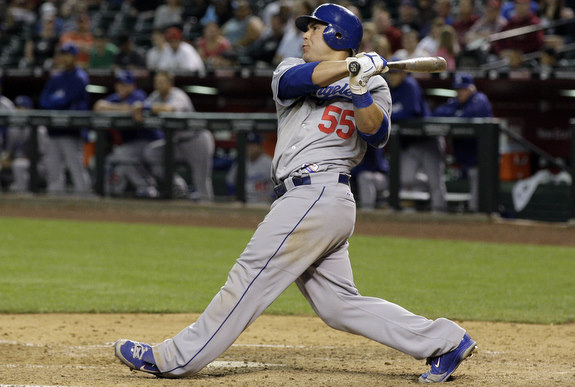 For the first time since 1999, the Yankees will have someone not named Jorge Posada behind the plate on Opening Day. Former Dodger Russell Martin was inked to a one-year, $4M contract in the offseason, pushing Posada to designated hitter and (presumably) Frankie Cervelli to the backup role. The move was made not in hopes that Martin would recapture his 2007 magic (though that would be welcome), but that he would simply solidify the defense behind the plate.
The Yankees assumed risk in this move (just like all them), though perhaps more than usual. Martin is on steady decline offensively, particularly in the power department. He missed the end of the 2010 season after suffering a hairline fracture in his hip when he stepped on home plate awkwardly, though the good news is that he did not damage the labrum. His pre-signing physical revealed a partially torn meniscus that required minor surgery. The Dodgers know Martin better than anyone, and they chose to walk away from an expected salary around $7M in 2011 plus another year of control in 2012 (via arbitration-eligibility) by non-tendering him.
That said, Martin just turned 28 years old, so he's theoretically in prime baseball playing age. Things could go well, things could go poorly, or it could end up being a mix of the two. Let's explore…
Best Case
There is no more demanding position in the game than catcher. The physical abuse from squatting behind the plate, foul tips, and miscellaneous bumps and bruises often lead to short peaks, and Martin's workloads over the last three seasons have been excessive. He started no fewer than 133 games behind the plate every year from 2007 through 2009, and he was on pace to start another 135 in 2010 before the hip injury ended his season in August.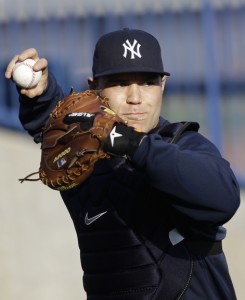 A winter of rest and a manager willing to play his backup catcher twice a week helps rejuvenate Martin's career, and he gets back on the path that he appeared to be on after 2007. Hitting coach Kevin Long makes some minor tweaks that bring back Martin's power stroke (.095 ISO over the last three years), along with an assist from Yankee Stadium. Coupled with 11.4% walks (his rate over the last three seasons, removing intentional walks), the 2007 All-Star resurfaces, and Martin gets on base more than 37% of the time and pops close to 20 homers with double-digit steals out of the eighth and ninth spots of the lineup.
With the hip and knee fully healed, Martin's mobility behind the plate is a non-issue, and he's blocking A.J. Burnett breaking balls in the dirt and framing Phil Hughes cutters on the corners with aplomb. His 33.9% success rate at throwing out basestealers over the last two years proves to be no fluke, and Martin posts the best throw-out rate by a Yankees starting catcher since before the Posada era. The entire package adds up to a four or five WAR pace and a player in high demand at the trade deadline.
Worst Case
That heavy workload has taken just too much of a toll on Martin's body. His power is completely gone and Yankee Stadium's friendly confines are no help despite his tendency to go the other way into right field. The downward trend of his contact skills (6.4% swinging strikes in 2008, 6.8% in 2009, 7.1% in 2010) not only continue, but are exacerbated by battle tested AL East pitching staffs. Without the pitcher hitting behind him, Martin is finding walks harder to come by.
The hip and knee issues sap agility and quickness behind the plate, rendering Martin a slightly better version of Posada when it comes to blocking balls and moving around. Elite burners like Carl Crawford, B.J. Upton, Rajai Davis, and Jacoby Ellsbury expose Martin's throwing arm, showing that anyone can appear to be good at gunning down base stealers when the biggest speed threats in your division are Chris Young, Tony Gwynn Jr., and Dexter Fowler.
With little defensive value and offense that makes fans pine for Cervelli's .315 wOBA of a year ago, Martin barely keeps his head above replacement level and ends up in the pile of cast-offs with Kelly Stinnett and Todd Pratt and Chris Widger after the season.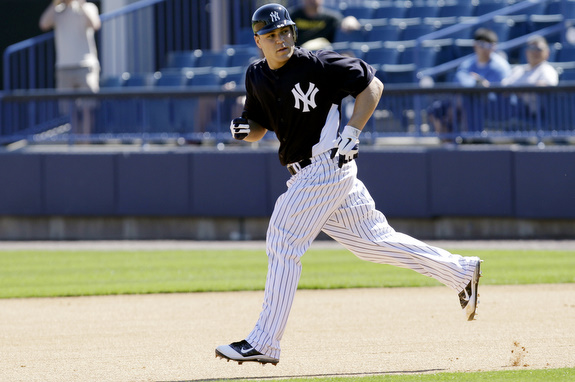 What's Likely To Happen
It's clear that Martin is no longer the budding superstar that he appeared to be in 2007, when he hit .293/.374/.469 (.368 wOBA) with 19 homers and 21 steals while piling up 5.8 fWAR, but the Yankees don't need him to be. He was brought in to solidify the defense behind the plate and be something more than an automatic out at the bottom of the lineup, rather modest expectations. The knee and hip injuries are a legitimate concern, though Martin has already done catching drills in camp and so far all is well.
Offensively, Martin should benefit from a move into Yankee Stadium. He does a solid job of going the other way towards right field, and about 74.4% of his balls-in-play in that direction are non-grounders (about 55% pure fly balls). He'll definitely hit a cheapie homer or five this season. The walk rate has consistently been in double-digits throughout his career, peaking over the last three seasons, and it's not like he's been facing crappy pitching in the NL West. The intentional walks won't be there to inflate Martin's on-base percentage, but anything over .335-ish with solid defense is an upgrade for New York.
Ultimately, Martin is just a role player for the Yankees. He'll hit in the bottom third of the lineup and be asked to shut down the opponent's running game first and foremost. It's a dirt cheap contract and the Yankees have the ability to retain him in 2012 as an arbitration-eligible player, so if Martin proves useful, they'll have plenty of option with regards to his future. Quality catching is at a premium around the league, so teams will come calling if he's just decent.