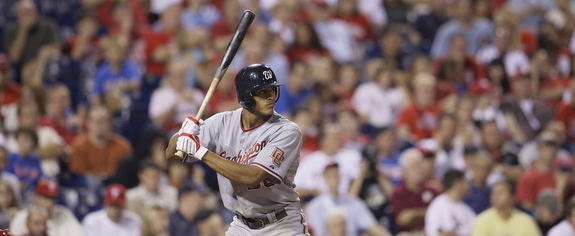 You know we're getting down to the final few days of the offseason when we're continually talking about the last spot on the bench. The Yankees have a few in-house options for that spot alongside Andruw Jones, Frankie Cervelli, and Eduamiro Penunez, so let's sort them out…
Justin Maxwell
What He Offers: speed, power, walks, defense
What He Lacks: contact skills, durability
Probably the most physically gifted of the team's fifth bench options, Maxwell's relatively short big league career (260 PA) features a .178 ISO and 14.8% walks, exceptionally good numbers. For comparison's sake, Jason Heyward had a .179 ISO with a 14.6% walk rate in his stellar rookie season last year. I could be a function of small sample size, though it's worth noting that in exactly 900 PA at the Double and Triple-A levels, Maxwell owns a .222 ISO and an 11.6% walk rate. The underlying skills are there, which Baseball America noted when they named him Washington's eighth best prospect before last season. He's also a high-percentage basestealer (78.9% success rate in the minors) with a pair of 35 SB seasons under his belt in the high minors.
Guys with power, speed, the ability to draw walks and defend well in center are a rare breed, but what's holding Maxwell back are some big time holes in his swing. He's struck out in 37.9% of his big league at-bats, 26.6% in Double and Triple-A. He's very similar to Andruw Jones in that you'll get a low batting average, but he'll still get on base at an okay clip and occasionally run into a few pitches. There's also the injury bug. Maxwell is on his way back from Tommy John surgery right now (on his non-throwing elbow), but he's also battled wrist and toe issues in the past.
Greg Golson
What He Offers: speed, defense, a tiny amount of power
What He Lacks: ability to draw walks, make consistent contact
Golson did a fine job as a late-inning defensive replacement and occasional pinch-runner last year, but he's been around long enough that we know what he brings to the table offensively, and it's just not much. In nearly 1,600 PA at Double and Triple-A, he owns a very good .161 ISO (though most of that is tied up in Double-A) but subpar walk (5.7%) and strikeout (34.1%) rates. Thankfully he can defend very well in three outfield spots and be a highly effective basestealer (78.9% success rate with no fewer than 20 SB in four of the last five years).
Limited by his lack of offensive ability, featuring not even one standout tool at the plate (power or getting on base or being able to make a ton of contact), means Golson's speed and defense have to be that spectacular for him to hold down a roster spot.
Colin Curtis
What He Offers: a little of this, a little of that
What He Lacks: a standout tool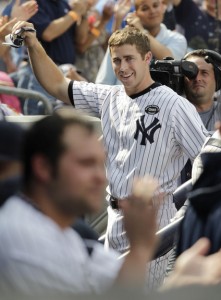 The forgotten man, Curtis has one thing on both Maxwell and Golson: he's a left-handed hitter, and the Yankees have zero of those on their bench right now. He's a classic 'tweener, doing just enough to get by but lacking a standout tool that can carry him. His offensive performance at Double and Triple-A is fine but nothing special (.118 ISO, 8.5% walks, 17.7% strikeouts) in a little more than 1,400 PA, and he's never been much of a basestealer (just 25-for-42 in his career). Curtis can man the outfielder corners capably and play center in an emergency, but he's not good enough to play their regularly.
* * *
Of course, the wildcards in all of this are are Kevin Russo, Eric Chavez, and Ronnie Belliard. Russo isn't not great offensively (.093 ISO, 8.7% walks, 17.0% strikeouts in over 950 PA at the upper levels of the minors) or on the bases (55-for-77 in SB attempts in his career, 71.4%), but he does something none of those three guys above can do: play the infield. The Yankees have groomed him as a utility player basically his entire career, so he has experience playing the three non-first base infield spots as well as all three outfield spots (mostly left though). Since that last man on the bench doesn't figure to see too many plate appearances, maybe they'll decide to go with the versatile guy just to have at least two players on the bench capable of playing the infield (Russo and Penunez) and two capable of playing the outfield (Russo and Jones).
As for Chavez and Belliard … they're the veterans on minor league deals. I have little faith in Chavez staying healthy or being productive through Spring Training, though it's worth noting that his lefty bat would make sense for the bench. Belliard is probably the front-runner for a job given his versatility and occasionally productive bat, though he's not going to swing the balance of power in the AL East.
If I'm picking out of those six, I'd probably go with Belliard for the time being. Maxwell is clearly the best player of the bunch, and that's why he should spend the summer playing regularly and batting near the top of Triple-A Scranton's order. He's been banged up pretty bad in three of the last four years, so catching up on some at-bats wouldn't be the end of the world. I think the chances of the Yankees carrying both Eduardo Nunez and Ramiro Pena to start the year went down considerably once Belliard and Chavez came aboard, but I'm not sure how much that helps. Granted, it's the 25th guy on the roster, but a little optimization never hurt.