Heading into spring training it appeared that the Yankees had the bullpen all figured out. Mariano Rivera, Rafael Soriano, David Robertson, Joba Chamberlain, Boone Logan, Pedro Feliciano, and one of the long man candidates potentially composed one of the best Opening Day bullpens the Yanks have had in years. But, as happens so often, some of them got hurt. While they all might be fine by Opening Day, they won't remain that way all year. The Yankees will likely go through about a dozen relievers at various points. In today's preview we'll take a look at some of the ones near the top of the list.
Ryan Pope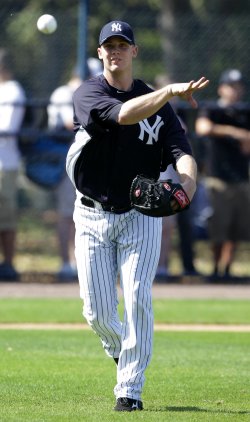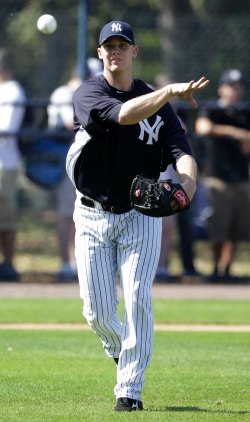 A move to the bullpen last year did Pope good. Before that he was a middling starter who appeared to have little hope of cracking the big league rotation. A move to the rotation might have revived his career with the Yankees. It impressed them enough that they added him to the 40-man roster. That status alone could put him atop the list for a bullpen call-up. He's probably not a future setup man or anything along those lines, but with some progress this year he could turn into a serviceable middle reliever.
Romulo Sanchez
The recent spate of bullpen injuries could benefit Sanchez, who previously appeared the odd man out. He's out of options, so if he doesn't make the big league team they'll have to place him on waivers. Since basically every team could use bullpen help, especially expected second division teams, it's easy to envision someone taking a chance on him. The Yanks might avoid that situation if one of their relievers starts the season on the DL — and the team decides that Sanchez is a better overall option than Sergio Mitre.
I just wrote about Sanchez earlier this week, so for a more complete take check out that.
Sergio Mitre
The Yankees keep bringing back Mitre. Two years running they've non-tendered him, only to bring him back on a non-guaranteed contract. So apparently he likes it in New York, too. Unfortunately, he hasn't proven much during his tenure with the team. In 2009 he was still recovering from Tommy John surgery, and last year he missed time with an oblique injury and otherwise wasn't much used.
Since he has apparently gained the Yankees' favor, I thought that he'd break camp as the long man. But as spring progresses we've seen indications that suggest otherwise. As we noted earlier this week, some scouts are convinced the Yanks will let Mitre go at the end of spring training. They do have a number of options for that last spot, and Mitre seems behind everyone in the competition. If he does make the team expect much of the same from 2010. That is, sparse usage in mop-up duty.
Mark Prior
The Yankees and Prior are on the same page, in that they both expect him to open the season at AAA to help him build up strength with an eye on a possible big league return. The most important aspect of Prior is that he's none of the guys he has been in the past. That is, he's not the phenom ace who led the Cubs to the 2003 ALCS. Nor is he the injury prone schlub who hasn't pitched a big league game since 2006. He appears to be in decent health now, and his repertoire has necessarily changed.
If Prior stays healthy there's a good chance he makes it back to the bigs in a relief role this year. It's hard to say what he'll do, because we don't know what kind of pitcher he'll become as he redevelops his game.
Steve Garrison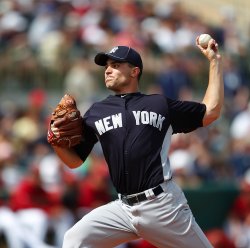 Last September the Yankees claimed Garrison off waivers from the Padres, though it was too late for him to get into a minor league game. He's not much of a prospect, but he is left-handed and on the 40-man, and therefore will get plenty of shots to crack the big league club, especially in relief. Mike wrote a profile of Garrison earlier this spring. An interesting note: if he starts the season at AA, he'll be playing in front of his hometown crowd. He was born in Trenton, NJ.
Andrew Brackman
In the early days of camp Brackman seemingly impressed just as much as his fellow Bs. His groin injury cost him about a week, which is a big deal early in the spring. He pitched only 2.2 live innings before heading down to minor league camp, but that doesn't necessarily say anything about his closeness to the bigs. At some point he could take some turns in the rotation, but later it's also possible that he breaks into the majors as a reliever.
His current arsenal certainly profiles well out of the bullpen. He features a 93-95 mph fastball that he keeps low in the zone, and an above average curveball. Baseball America notes that he also added a "nascent slider that shows potential," but he'll probably need to develop his changeup, something he's struggled with, if he's going to find success in the rotation. Without that he might be ticketed for the bullpen in the long-term. He might be ticketed there in the short-term, too, though that might not come until later in the season.
It's tantalizing to imagine him in the bullpen come August. That 93-95 mph fastball could reach the upper 90s, and his curve could prove a devastating knock-out pitch. While ideally he progresses throughout the season and enters the rotation at some point, Brackman the reliever could provide plenty of value on his own.