Mailbag time. This week we're going to talk about Kevin Slowey, Joba Chamberlain as a long reliever, Mark Prior's chances of making the team, and sacrifice bunting. My favorite strategy. Use the Submit A Tip box in the sidebar to send your questions in throughout the week.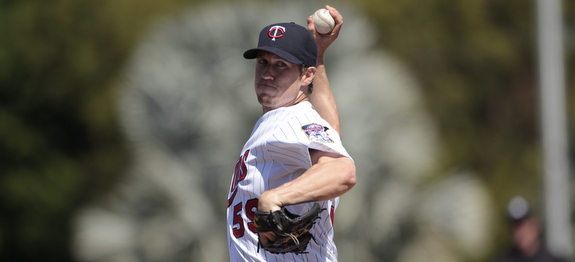 Brock asks: Assuming that the MLBTR post about the Twins willing to accept Slowey for relief pitchers is accurate, would you support the Yankees if they went ahead with a move like this? Who would you be willing to give up?
We've gotten a ton of Kevin Slowey questions this week, so Joe and I addressed it in yesterday's podcast. I also looked at him earlier this month. Slowey's is clearly an upgrade over the dreck the Yankees have at the back of the rotation right now, but he's a flawed pitcher. He has the lowest ground ball rate of any pitcher in baseball since his debut (31.6%), he has trouble against lefties (.354 wOBA against), and he's been on the disabled list with an arm-related ailment in each of the last three seasons, including wrist surgery two years ago. That said, he's young (27 in May), cheap ($2.7M in 2011), under contractual control through 2013, and he doesn't walk anybody (1.46 uIBB/9 career). He'll give up some homers, but at least the lack of walks will somewhat mitigate the damage.
As you said, the Twins reportedly want a late-inning reliever in return, and people have asked about giving up Joba. The two right-handers are at the same point of their careers contractually, so they'd be trading three years of Joba for three years of Slowey, so that works out well. However, I'm pretty sure the Yankees could stick Joba in the rotation right now and get Slowey-level production out of him. I also think he's poised for a big year, though I still acknowledge that an average starter is more valuable than a top-end reliever. Maybe I'm just Joba-hugging too much, but I wouldn't give that up for Slowey.
Given Slowey's obvious faults, I wouldn't trade for him unless the Yankees could get him on the cheap. The Twins have already lowered his value by sticking him in the bullpen, so there's no need to pay market value for him. There's no doubt that he's better than Freddy Garcia, Bartolo Colon, Kevin Millwood, and Sergio Mitre, but I don't see him as an "acquire at all costs" guy.
Drew asks: Okay so my friend and I got into an argument today about Joba. He is convinced that Joba can go out and throw 3 innings and be the long reliever if necessary. He said he throws only 60 pitches max, AND that in bullpen sessions he throws 60-100 pitches so his arm would be okay. I told him he is out of his freaking mind. Please set him straight and tell him he's crazy.
I think every middle reliever, a guy accustomed to throwing one inning at a time, could go out and thrown three innings or 40-50 pitches in an emergency. That doesn't mean it's ideal though. Joba could certainly be the long reliever, but they'd have to stretch him out a bit, to at least 40 pitches or so. I don't think he could just go right into the season as is and be expected to throw three innings at a time.
That said, Joba's too good for long relief work. More than a strikeout per inning, fewer than three walks per nine, and a ground ball rate around 45% … that guy should be pitching in some kind of leveraged role, even if it's just medium leverage.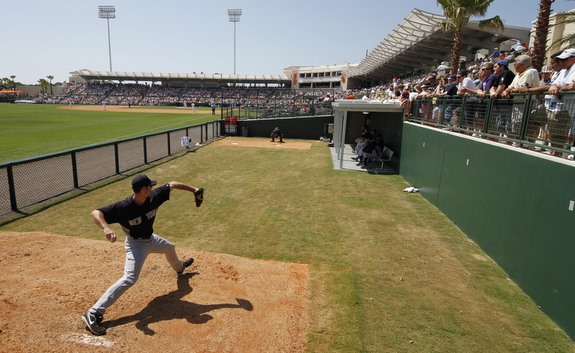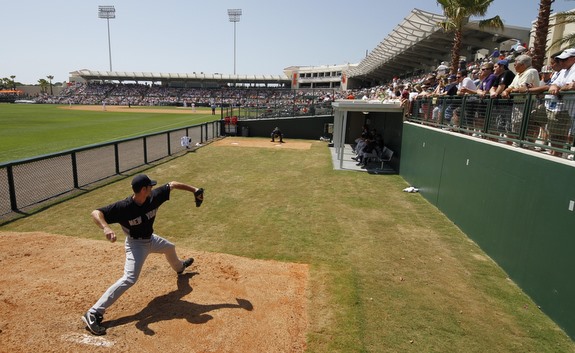 Ellis asks: What's up with Mark Prior? His stats look great this spring – is he in the running for a bullpen spot?
Nah, he apparently signed his contract knowing that he needs to go to Triple-A and prove himself. Prior has looked great in camp, but it's only been a handful of innings against (mostly) minor league competition late in games. He has to show a little more against Triple-A caliber hitters (there's a lot of Single- and Double-A players late in Spring Training games) and prove he can pitch on back-to-back days. Prior has looked way better than I expected and he's definitely put himself in consideration for a call-up at some point, but he's still got some more things to work on before that happens.
Vinny asks: While I know how you guys feel about sac bunts, in certain situations, would you advocate Jeter bunting more to cut down on his double plays? Obviously it would depend on the situation during the game, but I think we can all agree that giving away one out is better than grounding into two, both from an outs and a momentum perspective.
Yeah definitely, but like you said, it depends on the situation during the game. Early in the game, absolutely not, and probably not in the middle innings either. It would have to be late, seventh or eighth or ninth inning in a one-run (either way, leading or trailing) or tied game, where scoring that one run is the sole focus.
I hate sacrifice bunting, but that doesn't mean it's useless. Late in a game where one run can improve the team's chances of winning so greatly, that's when it's a sound strategy. It defeats the purpose pretty much anytime after that.