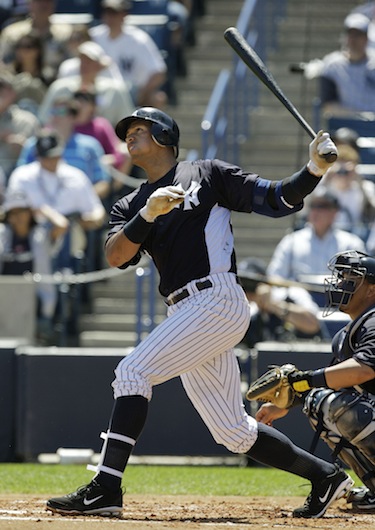 The race for the Yanks' rotation grew more interesting after the club lost an ugly game to the Twins this afternoon. The final was 9-2, and it was never really close. Freddy Garcia needed 28 pitches to escape the first inning, and he lasted just 2.2 innings, giving up four earned runs on six hits and two walks. It was by far the worst outing of the Grapefruit League for a Yankee starter, but Joe Girardi still spoke during the game as though Garcia will be around come Opening Day.
Meanwhile, after Freddy's short outing, the wheels fell off. Derek Jeter lost a pop-up in the bright Florida sun, and the Twins plated four unearned runs in the fourth. A-Rod hit a towering home run to center field for the lone Yankee offensive highlight, and he's now at .440 on the spring with two round-trippers. Also of note was Mariano Rivera's spring debut. He said he wanted to throw 12 pitches, and he did. Nine of them were strikes, and he K'd the side in his one frame of work.
After the game, the Yanks announced another round of cuts. Daniel Brewer, Bradley Suttle and Austin Krum were all sent back to the Minor League camp while Rule 5 Daniel Turpen has been returned to the Red Sox. Fellow Rule 5er Robert Fish landed in Kansas City earlier in the day. Turpen had made five appearances and was awful. In 3.2 innings, he had allowed 3 earned runs on six hits and four walks. That ain't gonna cut in a big league pen.
Anyway, here's your open thread for the evening. The NCAA brackets are out, and we'll probably set up a RAB group soon enough. The Knicks and Pacers started play an hour ago.