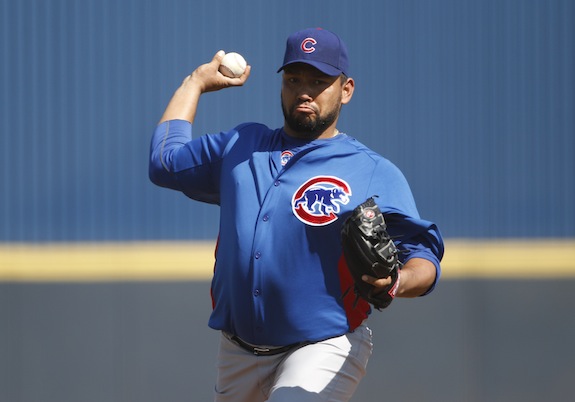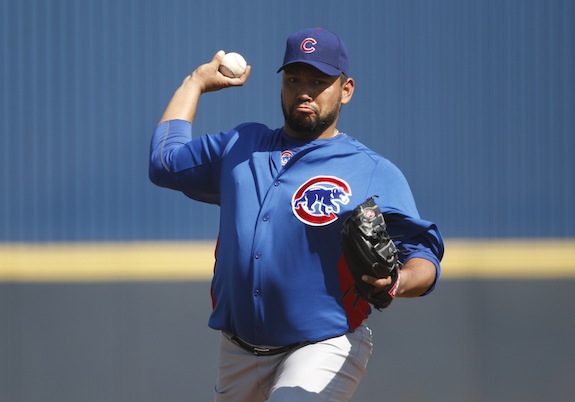 At a certain level, the Yankees' scouts are always going to be looking at someone somewhere. That's just the nature of their job, and the team wouldn't be prepared for its opponents or trade contingencies if the scouts didn't stop looking. But on another level, with pitching at a premium and the Big League club's hope that scotch tape and rope will hold the back end of the rotation together, the scouts are scouring the league trying to find a pitcher.
As Brian Cashman has repeated said during Spring Training, he has nothing doing right now, and this does seem to be the rare time of the year when he's not hiding the truth. March is a tough time to make a big trade, and teams aren't looking to do many favors for the Yankees right now. That said, the scouts are out there, and right now, they seem to be keeping half an eye on Carlos Silva.
Per Bruce Levine of ESPN Chicago, the Yankees have been scouting Silva this spring as he competes for a job in the crowded Cubs' rotation. Silva is one of many vying for a rotation spot with the Northsiders, and as he is owed $11.5 million this year, Chicago would prefer to ship him out for cheaper options. So should the Yanks be interested?
To put it nicely, Silva is an interesting character. At 6'4″/250, he's another huge pitcher, and he has a temper. Already this spring, he and Aramis Ramirez went at it in the dugout, and Carlos Zambrano had to calm down the large righty. When Zambrano is the anger management specialist, eyebrows across the world should go up a bit.
On the field, his results have been decidedly mixed. Overall, he is 70-70 with a 4.68 ERA and a 93 ERA+. His career K mark sits at a very low 4.0 per 9 IP, but he is the active leader in keeping his walk rate down. He issues just 1.7 BB/9 IP, and outside of one very disastrous season in Minneapolis, he isn't prone to the longball. In a sense, he gets by as Chien-Ming Wang with ground balls and few extraneous baserunners.
Despite his less-than-impressive career numbers, he has enjoyed success in bits and spurts. In 2004, 2005 and 2007, he posted WAR totals above 3 while pitching with the Twins, and despite struggling badly in Seattle, he rebounded with a 2.1 WAR last year. He might not be worth the $11.5 million owed to him, but he could get more than halfway there. The problem with Silva, though, is also one of durability. He hasn't reached 200 IP since 2007.
Also raising a red flag are Silva's Spring Training numbers. He's been absolutely lit up in this March. After 8.1 innings, he has allowed 15 earned runs on four home runs and 18 base hits. He's issued just one free pass but has just two strike outs as well. Even if we don't put much stock into Cactus League stats, those are some scary, scary numbers.
So Silva lurks in the background. The Yanks will, as they should, kick the tires. They'll watch his Spring Training starts and find out if they can land him for nothing more than a wing and a prayer. If they can't, they'll move on to someone better. That's the Front Office doing its job.