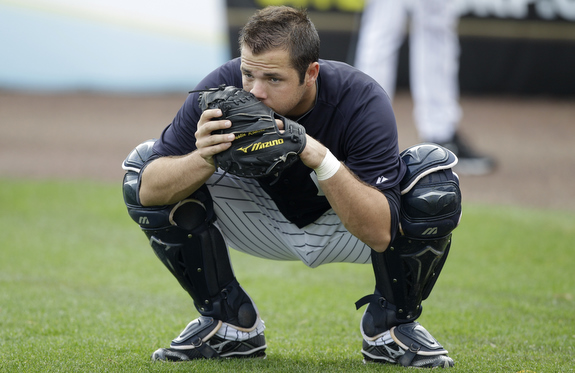 I tend to have very little interest in players' personal lives. It adds zero value to my life, all I worry about is what happens on the field. So when Austin Romine left camp for a few days last week for a personal reason, I thought nothing of it. Stuff comes up, who cares, none of my business. Jack Curry wrote about Romine today, and it turns out the young backstop had to leave camp to attend the funeral of his younger cousin, who was killed while participating in a combat operation in Afghanistan. "At this point in time," said Romine, who remained in camp for ten days after learning of his cousin's death, "I have no more tears." It's a great and heartfelt article that gets RAB's highest recommendation.
Unfortunately, that side of journalism, the good side, is generally overshadowed by garbage. Instead of more columns like Curry's, we get stuff like this complete assassination of Marcus Thames by T.J. Simers of The LA Times, a hatchet job that went so far as to attack the pronunciation of the guy's name. Based on what we read and saw last year, Marcus was as nice a guy as they come, and if you needed any reason to root harder for him, well Simers provided it. I'm glad Thames took the high road and refused to stoop to that level, a level unfit for the hackiest of hacks.
Anyways, here is your open thread for the night. YES is playing an encore of this afternoon's Yankees-Orioles game, and MLB Network will be doing the same with Mets-Tigers. All three hockey locals are in action as well. Talk about whatever, go nuts.