This week we're going to tackle Carmen Angelini's future, Andrew Brackman's innings, contract insurance, and CC Sabathia's fWAR. Remember to use the Submit A Tip form in the sidebar to send in your questions.
Marc asks: Would it be insane to try Carmen Angelini on the mound? He clearly isn't going to make it as a position player and the Yankees should exhaust all options after giving the kid a cool million.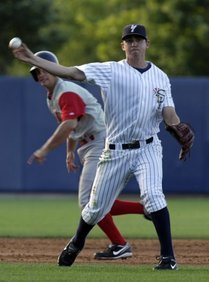 I was pretty high on Angelini back in the day, but the kid just didn't hit at all (.270 wOBA in almost 900 plate appearances in Low-A and below) and then missed the entire 2010 season after having hip surgery. He seemed like a lost cause at that point, a waste of $1M, so I was understandably surprised when he popped up in the High-A Tampa box score last night. I'm pretty sure the Yankees don't think of him as much more than an organizational player at this point, since they bumped him up a level after a year off when he didn't hit a lick at the lower levels. He's just filling out a roster; guys that can legitimately play shortstop are more uncommon than I think most of us realize.
When he was drafted, the scouting report on Angelini said that he had a strong arm for a shortstop, but it wasn't a "wow" arm. Not the kind of arm that makes you think he could pitch. That's not to say it isn't worth a shot, maybe he builds up arm strength with a throwing program or proves to be a control freak. Position player-to-pitcher conversions don't work very often, but at some point it'll given him a better chance at the success than what he's doing now. I don't expect it to happen anytime soon, but that doesn't mean isn't insane.
Dee asks: What's the reasoning behind putting Brackman in the 5th rotation spot in the SWB rotation? Do you think it could be an indication of limiting his innings somewhat in the first half of the season so that he could provide the big league team with more innings in the later part of the season either out of the rotation or bullpen? Does Brackman have a projected innings limit this year?
Andrew Brackman threw 140.2 IP last year after throwing 106.2 IP the year before, so he should be good for 170 IP or so this year. Remember, he's older than your typical prospect (already 25), so they could probably push the innings envelope a little more with him. That 170 number is more than enough for what they'll (presumably) need him for this summer, which is a spot starter or reliever. All five of the guys in the Triple-A rotation are in pretty good shape when it comes to innings limits this season, so that's not much of a concern.
I wouldn't read much (if anything) into the order of the minor league rotations. There could be something we don't know about in play here; maybe he got a blister and needed more time off, maybe his throwing schedule in Major League Spring Training didn't line up exactly with the work being done in minor league camp. Remember, Brackman's the low man on the totem pole in terms of Triple-A experience, so it could be a seniority thing. Who knows.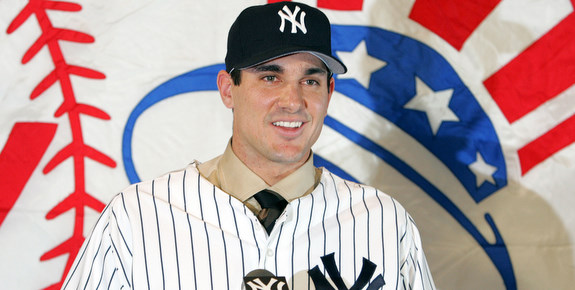 eyerishyank asks: One thing I have always wondered about is insurance on contracts. Did Carl Pavano really cost the Yanks 40 mil or did insurance pick up a lot of that tab? Some guys I understand cannot get insurance, but can most guys? I would love to understand better how insurance mitigates risk with baseball contracts to help evaluate the "real risk" involved in some of these deals.
Insurance on baseball contracts is like insurance on everything else; the insurance company evaluates the risk and then decides whether or not to proceed and provide coverage. I have no idea if the Yankees had insurance on Pavano's contract, but he wasn't exactly a beacon of health before coming to New York, so it's not safe to assume they did. Information about insurance doesn't get reported all that often, but I'm sure it's something teams pursue for every contract, especially pitchers. The problem is that if you don't use it, you don't get your money back, and if you do use it, the price in the future goes up. Those bastards.
Charlie asks: Hey guys I just thought this was kind of cool, if all goes well in CC's next start he will have accumulated 50 WAR for his career. According to Fangraphs he is as 49.9 right now.
This was sent five days ago, before Sabathia shut out the Twins for seven innings on Tuesday. That effort was worth 0.3 fWAR, so his career total now sits at 50.2 fWAR. Players within 5.0 fWAR of CC (in either direction) include Tommy John (47.1), Don Sutton (47.8), Jimmy Key (47.9), Orel Hershiser (48.5), Dave Stieb (49.5), Ron Guidry (50.6), Tom Seaver (52.2), and Phil Niekro (52.8). Here's the career fWAR list if you're interested, but remember the data only goes back to 1980 or so. Sabathia's got a whole lot of career left ahead of him, so he's going to zoom up the list over the next few seasons.