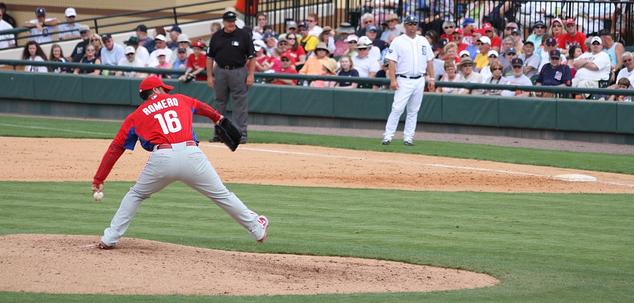 The Yankees are in a perpetual search for left-handed bullpen help, so anytime someone with a smidgen of big league success to their credit hits the market, you can be sure Brian Cashman & Co. will show interest. The Phillies designated J.C. Romero for assignment yesterday, so he's the next name to enter the LOOGY sweepstakes. I like the pros and cons breakdown we've been using in the Scouting The Trade Market series, so let's roll with that…
The Pros
Being left-handed and breathing qualifies as a plus in this game all by itself, but believe it or not Romero has handled lefties very well this year. You figure he would have performed poorly since they cut him. Romero held same side batters to a .208/.321/.208 batting line in 29 plate appearances, striking out eight. Lefties also have an 81.3% ground ball rate against him this year, which is ridiculous. Since the start of last year, he's held left-handers to a .215/.317/.262 line with as many strikeouts (28) as total bases in 126 plate appearances.
Romero's contract will pay him just $1.35M this season, after which he'll be a free agent. That's nothing, the Yankees could pickup the pro-rated portion of that up and not blink an eye.
The Phillies have already devalued him with the DFA, so they're forced to trade, release, or waive him within ten days. They essentially stuck an "O.B.O." on the sticker price.
He's got pennant race, playoff, and World Series experience with the Phillies … yadda yadda yadda.
The Cons
Romero's fastball velocity is down noticeably, which may have something to do with the torn flexor tendon in his left elbow that required surgery and kept him on the shelf from late-July 2009 to late-April 2010. He also missed time with a calf issue this year and has a PED suspension in the not too distant past.
He's completely unusably against right-handed pitchers. They've got a .297/.435/.432 batting line against Romero this year with six unintentional walks and two strikeouts in 46 plate appearances, and it's .303/.446/.552 in 103 plate appearances since the start of last season. His career splits aren't as drastic, but the point stands, can't use him against righties.
Romero does not project as a Type-A or B free agent, so the Yankees wouldn't get a draft pick if he were to leave after the season, assuming they offered arbitration.
They say you can't predict baseball, but the Yankees interest in Romero is as predictable as it gets. There's no chance he'd get to them off waivers since every team but the Red Sox would have a chance at him before they do, so forget that idea. It's trade or bust. Some similar pitchers that have been traded recently include David Purcey (twice) and Will Ohman, both of whom returned fringy prospects a little on the older side. Think Lance Pendleton or Greg Golson. I'm not saying that's who the Yankees should offer, it's just an example of what it's taken to acquire similar players in the recent past. I'm not the biggest Romero fan in the world, but there's little reason for the Yankees not to pursue him.