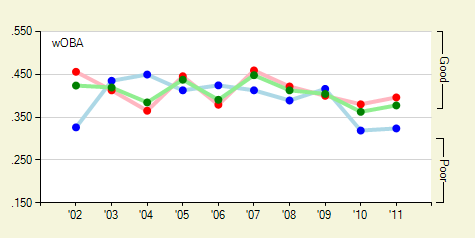 The decline of Alex Rodriguez has been greatly exaggerated, though you'd be foolish to say it's not happening. Long gone are the days of .300/.390/.550+ with a guaranteed 30+ homers and 150+ games played every single year, but it's not like he's turned into a .260 singles hitter. A-Rod is hitting .295/.369/.493 this year, a .378 wOBA that is third best among all third baseman (four points from being first). His 4.0 fWAR is a full win better than the next best third baseman in the game (Adrian Beltre at 2.9).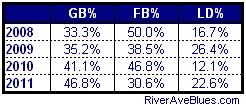 Alex's decline is most obvious against left-handed pitchers, and the graph above shows that. His production against southpaws, a demographic he once routinely demolished at near-historic levels, has cratered to the point where he's been basically league average against them since the start of 2010. There's usually nothing wrong with league average, but there is when it comes to a player of A-Rod's caliber. His batted ball profile (right) shows that he's been hitting more and more balls on the ground against lefties over the last four years, and that's a pretty good explanation of why his production has dropped. Hard for a ground ball to go over the fence. Furthermore, let's look at the spray charts against lefties (via Texas Leaguers) …
Here's a gif of the four spray charts together, might make it easier to see. I've taken the liberty of circling left field since that's what really stands out; A-Rod has simply stopped pulling the ball against left-handed pitchers. Maybe that's a conscious decision, maybe he's sitting back more and waiting to drive pitches to the opposite field to take advantage of the short porch in right. Pitchers aren't pitching him any differently (LHP fastball rate from 2008-2011: 63.4%, 59.8%, 63.6%, 63.6%) and other than a spike in 2009 (which coincides with the drop one-year drop is fastball rate), Alex's strikeout rate against southpaws has remained pretty constant. If it's a conscious decision to go the other way, it's not working and he should definitely get back to pulling the ball, even though Yankee Stadium isn't as kind when you hit the ball in that direction.
On the other hand, A-Rod will be turning 36 later this month, and it could just be age-related decline. His bat is slowing and he might not be able to get around on the heat anymore, but then why doesn't he have a similar problem against righties? Perhaps it's a sample size thing, in that there are so many more righties than lefties that he's gotten enough reps against them to figure out how to approach them as his bat slows. I don't know, I'm just spit-balling here. For whatever reason, Alex isn't pulling the ball against left-handers anymore, and it's draining his overall production. With guys like David Price, Ricky Romero, and Jon Lester in the division, it's a problem.