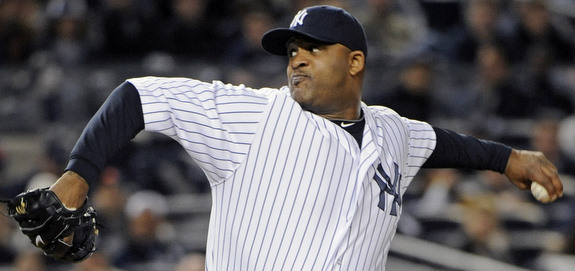 Now two and a half years into his seven three-year contract, it's pretty safe to say that CC Sabathia has been everything the Yankees hoped he would be when he came to New York, if not more. He's been the bonafide, no doubt about it, dominant number one starter the team hadn't had since Mike Mussina was in his heyday (2001-2003 or so), plus he's reportedly great in the clubhouse and in the community. There's nothing not to like.
Sabathia has also been a workhorse of the first order, topping 230 IP in each of his first two season in pinstripes. That's nothing new for him, the last time CC fell short of the 230 IP plateau in a season was 2006. He hasn't thrown fewer than 195 IP in a season since 2004, or fewer than 180 IP ever. There's no doubt about it, the guy hasn't met an inning he won't eat. Sabathia has thrown 145.2 IP in his 20 starts this year, so let's compare that workload to the last few years…

Obviously, he's ahead of the pace he's set the last few seasons by quite a bit, anywhere from five to ten innings. Assuming he gets to 34 starts again, Sabathia is on pace to throw 247.2 IP this season, his most in three years and second most ever. That's a bit of a concern because the Yankees don't plan on seeing their season end in late-September, they're hoping for a deep playoff run in which Sabathia throws another 40 innings or so in the postseason. That's quite a bit. Of course, not all innings are created equal, so let's look at the number of pitches he's thrown…

Again, CC is ahead of the pace he's set the last few years. Extrapolated out to 34 starts, Sabathia is on pace to throw 3,679 pitches in 2011, his second most ever. Just six pitchers (including 2008 Sabathia) have thrown that many pitches in a single season over the last five years (Livan Hernandez, Justin Verlander, and Barry Zito have each done it twice). I have no doubt that CC could physically throw all those pitches if needed, but that doesn't mean I (or the team) want him too.
The Yankees had the luxury of taking their foot off the gas with all their starters in 2009 because of their huge division and wildcard lead; each of Sabathia's last four starts that year were on at least six days of rest. They really couldn't do that last year and there's a pretty good chance they won't be able to this year. That's why the bullpen, and Rafael Soriano in particular, are going to be important down the stretch. They have to lighten the load on the starters, giving Joe Girardi a viable alternative to Sabathia at 100+ pitches in the seventh or eighth inning. The Yankees are very clearly in win now mode, but part of winning now is giving their top starter a little bit of a breather here and there so he's 100% ready to go in late-September and October.