It seems like a lot of teams have set season highs in runs scored and/or hits against the Yankees this year, no? The Blue Jays did both on Thursday, blowing the Yankees out of the water with 20 hits and a 16-7 win in the first game after the All-Star break.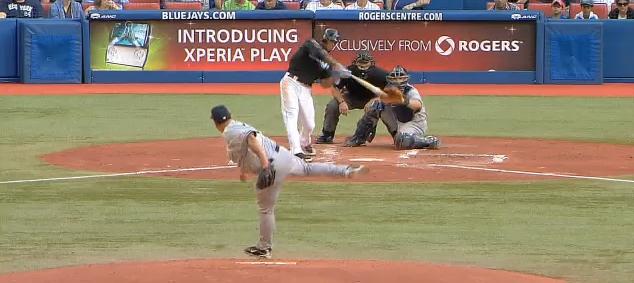 Bartolo Colonope
It looked looked like he was still hurt, no? He has to be. Bartolo Colon was moving around pretty gingerly when he had to cover first or make a defensive play (sure enough, he admitted to being tentative with the hamstring after the game), plus his velocity was down a touch (possibly because he wasn't pushing off fully), he threw way more sliders than usual, and his location was pretty bad (the home plate ump didn't help). Colon allowed eight runs and recorded just two outs, though he could have gotten away with just three runs if Eduardo Nunez converts a pretty routine grounder into an inning-ending out like he should have. Either way, Colon threw 42 pitches in the first inning and got just one swing and miss. He just didn't look right, and I would not at all be surprised if he lands back on the disabled list.
The good news? Ivan Nova pitched on Thursday as well, so he could take Colon's spot in the rotation nice and easy if needed. No finagling of the schedule needed.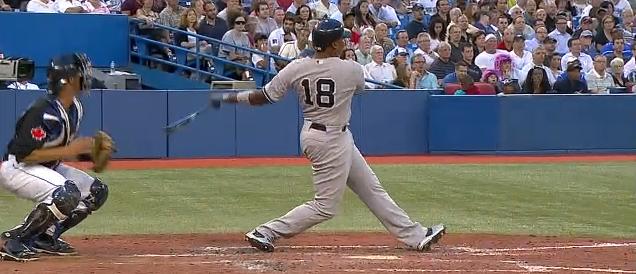 Hey, A Comeback!
Jo-Jo Reyes was pitching for Toronto, and he wasn't fooling anybody. Just one of the first eight Yankees reached base (an Andruw Jones solo homer), but then ten of the next 19 men he faced got on. There were lots of hard-hit balls, lots of deep counts, basically lots of Yankees offense. Andruw hit another homer (a three-run shot) to bring the Yankees to within two after they were down nine-zip, so all of a sudden we had ourselves a ball game. Reyes brought the tying run to the plate with no outs in the sixth inning, but that's where the comeback ended. The Yankees got nothing against Toronto's relievers.
LOLpen
Hector Noesi was pretty good yet again, marching out of the pen to strike out four in 3.1 IP. He allowed four hits and one walk, and the two runs charged to him came courtesy of Boone Logan, who inherited a first and second situation with one out in the sixth. Logan retired lefty Adam Lind (yay!) but was left in to face two righties (boo!). Sure enough, both righties picked up hits, scoring the two inherited runners. The only reason Boone escaped the inning was because Aaron Hill got thrown out try to take third base on the throw to the plate.
Logan started the seventh and immediately gave up a leadoff single to Travis Snider. Sergio Mitre came in to crush any thoughts of a comeback, allowing five runs (including Logan's inherited runner) to come across in the final two innings. The Yankees were down by nine, rallied to make it a two-run deficit, and still managed to lose by nine. I really hope Mitre is gone before Friday's game, he should be designated for assignment before he gets back to the hotel tonight. He's just awful, completely useless. It's too bad Brian Gordon left for Korea, he would have been a a fine mop-up alternative.
Eduardo Scissorhands
Alex Rodriguez is going to be out for the next month or so, which means the Yankees are stuck with Eduardo Nunez as their everyday third baseman for the time being. He contributed to that eight-run first inning by booting that grounder, and he also got twisted around on a shallow pop fly the next inning. It wasn't an easy play, but it clanked in and out of his glove. Nunez also bobbled a ground ball in the seventh, but rebounded in time to throw to second for the inning ending force out.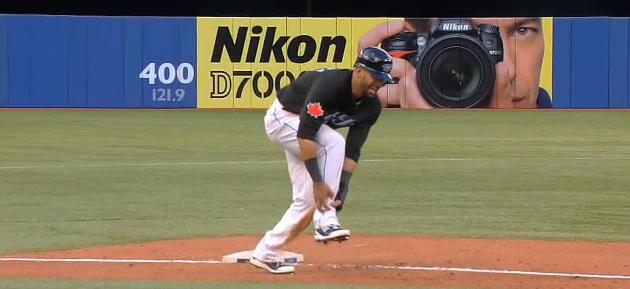 Leftovers
Jones was the star for the Yankees offensively, and he now has six homers this year. Four have come against Toronto, three against Jo-Jo. Curtis Granderson had two hits, Derek Jeter had a hit and a walk, Robinson Cano had three hits, and Brett Gardner had three hits. If the Yankees pound out seven runs and 14 hits, they usually win. Just not this time.
Russell Martin said after the game that the Blue Jays were stealing signs in the first inning, but he doesn't have a problem with it and took the blame for not realizing it sooner. "That's what it was," he said. "They were on every pitch. They knew what was coming. It's up to us to catch it and change the signs. I'm not blaming them for anything." That's a pretty serious accusation and there's a decent chance he gets a pitch in the ribs tomorrow, but keep in mind the Yankees aren't the only team to make this observation.
Jose Bautista left the game after rolling his ankle on a slide into third base in the fourth. His spike just got caught. The team says he's day-to-day with a "twisted ankle," and although I hate to see players get hurt, please oh please let him miss the next three games.
When Jorge Posada pinch-hit in the eighth, he and Jeter combined to set a franchise record for the most games played by two teammates (1,660). That's pretty cool. The Yankees had won the first game after the All-Star break in each of the last nine seasons, so that streak came to an end. Of their final 73 games, 40 are on the road, the most in baseball.
WPA Graph & Box Score
Depressing. MLB.com has the box score and video, FanGraphs the other stuff.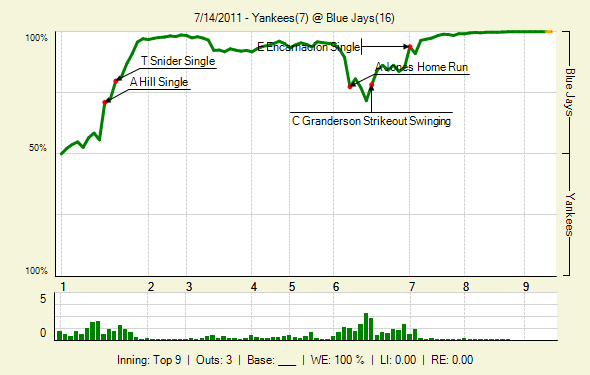 Up Next
Game two of this four-game set will be played Friday night, when Freddy Garcia makes his first start in 12 days. Remember his scheduled start against the Rays last week got rained out. Brandon Morrow will give it a go for Toronto.