Seven questions this week, most focusing on trades (past, present, or future). The Submit A Tip Box in the sidebar is the way to go if you want to send questions in.

Ben asks: What's the deal with Jeff Karstens? It seems like the year he's having came out of nowhere. I don't know that any talent evaluator could have seen this coming (2.28 ERA!). Or did the Yankees just miss something with him?
Karsten is almost exact same guy this year as he has been his entire career. Here, look…

(click for larger)
His walks are trending in the right direction, so credit him for that, but the shiny ERA comes from that comically low BABIP and super high strand rate. Leaving runners on base isn't a skill, though strikeout pitchers do fare a little better in that department than pitch-to-contact guys. Karstens is most certainly not a strikeout guy. He's throwing some more two-seamers this year, but otherwise his pitch selection is relatively unchanged. His fastball velocity has actually dropped a touch this year as well. The Yankees didn't miss anything with Karstens, he's the same guy he's always been, just with a few fewer walks and some better luck. I'm 100% confident in saying he wouldn't stand a chance in the AL East.
Ryan asks: Would you make Phil Hughes available as part of a package for a front line pitcher (Felix, Ubaldo, Etc) if it meant holding on to Banuelos? I guess I am asking do you think Banuelos will end up being a better pitcher than Hughes?
I'd be willing to trade just about anyone in the right deal, especially for a high end starter. Hell, I'd give up Hughes and Manny Banuelos in a deal for Felix Hernandez. Anyway, Phil's trade value is down now not just because of the injury and crappy second half last year, but because he's not cheap anymore. He's making $2.7M this season, his first time through arbitration. Two more years of arbitration-eligibility are coming, then he can be a free agent.
I do think Banuelos has the potential to be a better pitcher than Hughes, mostly because Phil hasn't developed that reliable third pitch and hasn't shown he can stay healthy for two years in a row. Banuelos hasn't be all that healthy either the last two years, but I'm not going to hold an appendectomy and a blister against him. His third pitch (the curveball) is far, far more usable than Hughes' changeup. Like I said, I'd give up anyone in the right trade, but at this point in time I think I'd keep Hughes over Banuelos. At least we know he can do something at the big league level, we don't know that about Manny.
John asks: Just a question about trades. I know most GMs don't like trading intra-division. But say the Yankees wanted a pitcher from the Rays and their GM won't bite on a trade. Could they theoretically get another team from outside the division to trade for that player and then trade that player to the Yankees in another deal? I know it's frowned upon but is there any specific rule that says you can't do that?
I don't know of any rule that prevents this, but it would be very tough to pull off. First of all, the middle man wouldn't participate out of the kindness of their heart, they'll mark up the price and try to make a profit. Plus they have to agree to a trade to the original team, and who knows what those terms will be. I'm sure it could be done, but it I think it's easy to see why it never happens.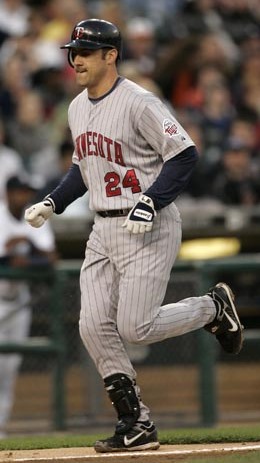 Mike asks: I see we have Mike Lamb, can he help? It seems he was always a clutch hitter.
It's funny, when they signed (former short-term Yankee) Mike Lamb I just assumed it was a move to fill out the Triple-A roster. Jorge Vazquez, Kevin Russo, and Jesus Montero were on the disabled list at the time and Chris Dickerson was in the big leagues, so they brought him and Terry Tiffee aboard. But you know what? I think Lamb is Eric Chavez insurance to a certain extent. They're the same player on the surface, left-handed hitting first and third base types.
Of course it's been a while since Lamb was successful in the big leagues, he had a .218 wOBA in 40 PA for the Marlins last year and a .254 wOBA in 272 PA for the Twins and Brewers in 2008 (didn't play in the bigs in 2009). He was pretty good before that though, posting a .351+ wOBA in three of the four seasons from 2004-2007. Lamb has always hit righties better than lefties, though his defense isn't nearly as good as Chavez's. I'm not going to hold it against him though, fewer are that good. Anyway, I don't think he'd offer much help to the Yankees down the stretch, but we could see him get the call if Chavez can't get healthy, which is always possible.
E.J. asks: It looks like that the Yankees have stalled in signing any of their most recent draft picks. When compared to other teams the Yankees have the lowest amount signed and one of the lowest percentages signed. Is that because most of the unsigned players are from High School and that they have more leverage and thus it takes longer to negotiate? Are do you believe that there are many players that will sign over-slot and they need to wait closer to August 15th so that they don't get their hand slapped too much by MLB?
I think it's a little of both. They took a ton of high school guys and are probably evaluating most of them in various summer leagues before deciding what to offer, if anything. I'm pretty sure they have some agreements in place as well, but are just holding off on the announcements so MLB doesn't bitch and moan. I'm sure that come the morning of August 16th, they'll again have 30 or so players signed, just like every year.
Karl asks: Would somebody at RAB be willing to talk about, in any format, their interpretation of "paying twice?" It seems that Cashman has rebuilt the system by erring on the side of keeping top prospects, knowing that if a team is willing to wait the big FAs will only cost money. Thanks.

There's two ways you can "pay twice" for a player. One is in a trade, when you have to give up players to get the guy and then sign him to an extension. The Johan Santana trade is the perfect example. Forget about what you know now, at the time the Mets were giving up four young players and giving Santana a contract that paid him like a free agent on top of that. They paid once in prospects, then again in the form of the contract. They didn't acquire the contract from Minnesota, that's something they did on their own as a separate transaction.
The other way to pay twice involves giving up draft picks to sign a free agent. You're paying the player whatever amount of dollars and surrendering a draft pick as well. No agent gives a discount for the pick, so it's two separate costs. Sometimes it's worth it (ace starters, elite position players), most of the time it's not (relievers and part-time players).
Nick asks: Hey guys! I was curious about something. This is all "what if" and speculation but let's say Dellin Betances went to Vanderbilt and pitched for them until the 2010 Draft (or through it figuring they would've been in the CWS). If he would've put up his AA numbers from last season at Vandy, what would his draft stock have been? A solid 1st rounder? Top 20, 10, 5? Thanks!
That's a pretty good question. Betances signed in 2006 so he would have been draft eligible in 2009, not 2010. That's unless he stayed for his senior season, I mean, but not many players do that. He had a pretty crummy season in 2009, walking 5.5 men per nine while striking out "just" 8.9 batters per nine innings. Those are career worsts for him (min. 30 IP), and on top of that, he missed the second half of the season due to his elbow injury. That said, Betances' frame and stuff would have gotten him drafted high, not his stats.
Looking back on that draft class, he would have been outside the top 20 or so on talent, probably in that 20-30 range. Maybe even a little behind that. I get a feeling that he would have been a little like Andrew Brackman was in 2007. Huge stuff but raw with some some health concerns. He would have been a candidate to fall a few rounds in that case.