Thursday's game was a good ol' fashioned pitcher's duel. CC Sabathia and Jamie Shields squared off in a 1-0 Yankees win last week, but this time the tables were turned and it was Tampa walking away  with the one-run win.
A Bad Birthday Gift
Sabathia turned 31 years old on Thursday, but the offense didn't back him with any runs. At 7.69 runs per game, only seven other AL pitchers have enjoyed more run support than the Yankees ace this year, so surrendering two runs in eight innings should have equaled a win. Evan Longoria took CC deep in the very first inning, the first homer he's given up since the Cubs series in Wrigley. The second run came across because of a walk to Elliot Johnson and a triple by Sam Fuld. Sabathia's earned a pretty long leash, but that just can't happen. That run was the difference in the game, and a pair of AAAA scrubs manufactured it. It just shouldn't happen.
All told, Sabathia threw a complete game loss, striking out eight in eight innings while walking four (one intentionally). Good to see the high strikeout ways are still very much in effect. CC did his part in this game.
Runners … But No Runs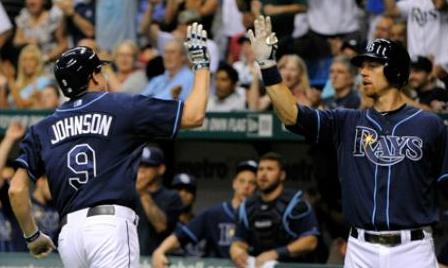 Shields was on point all game, but it's not like he was invincible. The Yankees had at least one baserunner in every inning but the third, though it wasn't until the eighth inning that they started to make some noise. It took a miracle Derek Jeter double and a Robinson Cano double to produce the team's only run, and Nick Swisher just missed his pitch when he flew out to the end the inning. It was a fastball right down the middle and he hit it hard, just to the wrong part of the park. Shields' pitching line (7.2 IP, 6 H, 1 R, 1 ER, 3 BB, 6 K, 6-7 GB/FB) isn't as good as Sabathia's (8 IP, 5 H, 2 R, 2 ER, 4 BB, 8 K 6-6GB/FB), but timing is everything and he spaced the runners out. Such is life.
Leftovers
There's really not much more to say about a game like this, is there? Brett Gardner had a hit, Jeter a hit and a walk, Cano two hits and a walk, Jorge Posada a hit, Russell Martin a hit and a walk, and Eduardo Nunez a hit. Mark Texeira took another 0-for-4 and the duo of Chris Dickerson (0-for-2 with two strikeouts) and pinch-hitter Curtis Granderson (0-for-2 with a game-ending strikeout) did nothing offensively. No stolen bases, no errors, and the Yankees only had four at-bats with runners on second and/or third. Cano's double was the only hit in those situations.
Sabathia saved the bullpen, so that's always a plus. This was the 700th (!!!) consecutive game in which the Rays' starting pitcher was younger than 30. That kinda blows my mind. Anyway, that's about it for the notes. The Yankees split the series but could have easily won three of four or lost three of four. It was that kind of week.
WPA Graph, Box Score & Standings
MLB.com has the box score and video, FanGraphs has some other stuff, and ESPN the up to the minute standings.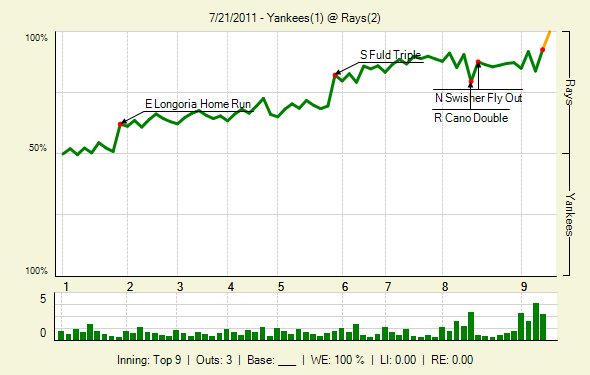 Up Next
Hooray for no more artificial surface. It's back home for the beginning of the very cushy part of the schedule, beginning with a weekend series against the Athletics. Phil Hughes will make his first start in the Bronx since the 11th game of the season. Trevor Cahill goes for Oakland. If you want to head up to the game, RAB Tickets can get you there on the cheap.