I don't think there's another way to describe this loss. Just stupid. Way too much stupid going on. Stupid.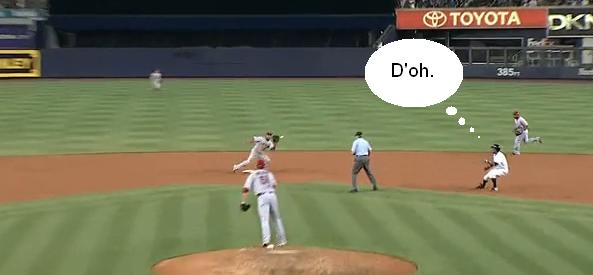 Inexcusable
I like Curtis Granderson, I think we all do. He's having a huge year, he's a likable guy, there's very little about him not to like. But I'm sorry, that play to end the game was quite literally the stupidest play I've seen by a Yankee this season.
They were down two with men at first and third with two outs, and Mark Teixeira (seven homers in his previous 17 games, second most homers in baseball) was at the plate … how the frickin' frack do you get caught in a rundown between first and second on the old fake to third, go to first pickoff move? I understand you want to get in scoring position so a single ties the game, but good grief, you have to let one of your best hitters swing the bat. They stepped off and tried that play how many times? Take the hint and let the closer that was asking for trouble have it.
Physical mistakes are one thing, but mental mistakes like that bug the crap out of me. It's just awful. I can't … I can't even get my head around the stupidity. I mean, even Eduardo Nunez's steal after the leadoff walk was sketchy. Who knows if the Yankees would have won the game had Curtis stayed at first (probably not), but at least give your best homerun hitter a chance to do his thing, don't take the bat right out of hands. Sheesh. Inexcusable, completely inexcusable.

WWWMW™ Part Deux
We dealt with this earlier in the season, and unfortunately it's back for an encore. What's Wrong With Mo Week™ is back in full effect after Mariano Rivera gave up a go-ahead two-run homer to Bobby Abreu in the top of the ninth, a 3-1 cutter on the inner third that really didn't cut. There will be panic in the streets in the morning after Sunday's blown save and this game, but I don't worry about Mo. He's come out of these rough stretches so many times before that I refuse to dwell on it or even give it a second thought. He'll be fine, don't worry.
Stupid Sixth Inning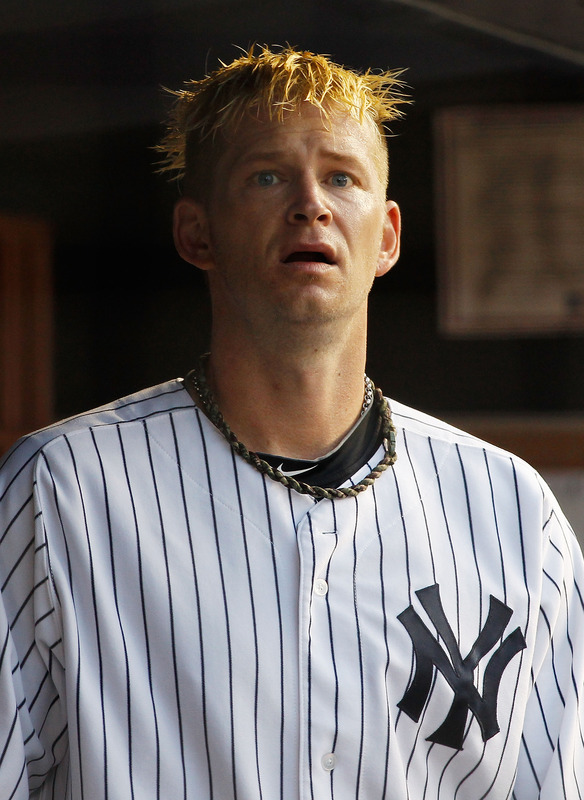 You guys (and gals) remember Game Four of the ALCS last year? Burnett was putting together a solid outing, giving the Yankees exactly what they needed, but later in his start he was ordered to intentionally walk David Murphy and then the next batter (Bengie Molina) hit a back-breaking three-run homer on a fastball that missed its spot by feet. It was supposed to be down and away, and it ended up belt high on the inner third, right in Bengie's wheelhouse. The sixth inning meltdown in this game followed a similar script, but obviously the stakes were much lower.
Burnett had shut the Angels down for the first five innings, wiggling out of a few jams but nothing too ridiculous. Bobby Abreu hit a game tying solo homer to lead off the sixth, but one solo homer in five plus innings isn't the end of the world in my book. After Torii Hunter flew out to right, Mark Trumbo drew a walk and moved to second on Vernon Wells' deep fly ball. With two outs in the inning and his pitch count approaching 100, Burnett was ordered to intentionally walk Maicer Izturis (Maicer Izturis!), who was 2-for-2 to that point. I hate intentional walks in close games, but I suppose bringing Peter Bourjos to the plate wasn't the worst thing in the world. Didn't like it, not really up for arguing about it.
Much like that ALCS game, Burnett was left in to face the next hitter. One of these days I'll do a study on pitchers who are left in after an intentional walk, and I'm willing to bet their walk rate to the next batter is way high compared to their career mark. Anyway, Burnett walked Bourjos to load the bases, then Jeff Mathis (Jeff Mathis!) clubbed a two-run double to give the Angels the lead. I didn't think it was a terrible pitch, a curveball down in the zone that Mathis golfed to left-ish center. But still, it's Jeff Mathis. Bourjos came around to score the fourth run on a wild pitch, which effectively ended Burnett's evening.
I mean, not for nothing, but Joe Girardi had a shorter leash on Burnett in Chicago with what, a six or seven run lead? But no, let's try to squeeze a few more hitters out of him with a fully rested bullpen after the intentional walk in a tie game. /facepalm
Leftovers
Granderson ended the game with that dumb baserunning play, but he did hit a solo homer in the bottom of the first to open the scoring, so that's good. The Yankees also built a two-out, game-tying rally in the bottom of the seventh via a Russell Martin double, Eduardo Nunez single (Martin scored), Brett Gardner single, and Derek Jeter two-run single. Robinson Cano singled, Eric Chavez ground-rule doubled and walked, then was replaced by pinch-hitter Andruw Jones, who singled. That's pretty much the extent of the offense.
More bang-up bullpen work from Cory Wade and David Robertson, who combined to whiffed four of the seven men they faced. Wade really should have been in there after the intentional walk, but whatever. Not in the mood to harp on that stupidness.
Abreu had four (!!!) homeruns on the season coming into the series, so naturally he hit two in the first game. /facepalm
The Yankees have now lost three in a row, all to their two biggest competitors (at the moment). They're still six full games up in the wildcard though, which is a pretty nice lead to have with less than 50 games to play.
Box Score, WPA Graph & Standings
I'm usually very good about closing the book on a game (win or lose) and looking ahead to the next one, but screw this. This stupid loss will stick with me tonight. Completely sucks. MLB.com has the stupid box score and stupid video highlights, FanGraphs some other stupid stuff, and ESPN the stupid updated standings.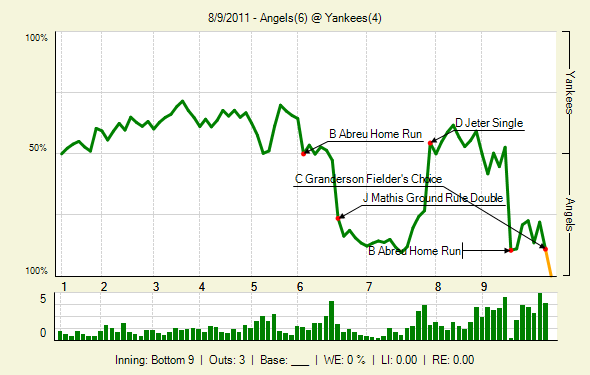 Up Next
Ivan Nova will try to continue to show that he deserves all the praise he's been getting lately in the second game of this series on Tuesday night. Rookie right-hander Garrett Richards will make his MLB debut for the Angels, straight outta Double-A.