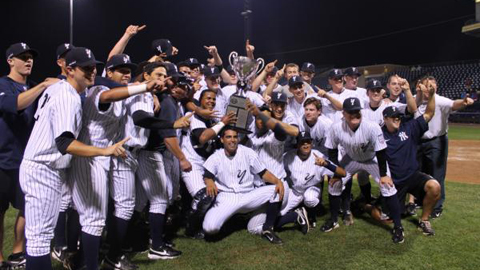 The 2011 season was almost guaranteed to be a disappointment after the near-flawless year the farm system put together in 2010. The breakout-heavy and injury-free season spoiled us rotted, but everything returned to normal this summer. There were some more injuries, some more players not making as much progress as we'd like, and a few less players breaking out. It's disappointing after the success of 2010, but this was a pretty normal season for the farm system.
For at least the 29th consecutive year, the Yankees' six domestic affiliates combined to an above-.500 record (352-342). Although none of the four full season affiliates qualified for the postseason (the first time that's happened as a foursome in basically forever), both the Short Season Staten Island Yankees and the Rookie Level GCL Yankees won their league titles. Staten Island's title was the franchise's sixth in 13 years of existence, while the GCL Yanks took home their fourth title since 2004.
This post is not intended to be any sort of prospect ranking, it's just a recognition of those who had great years regardless of their future potential. Sometimes we just have to step back and say damn, that guy was awesome without obsessing over the underlying data and wondering whether or not it's sustainable. Here are my 2007, 2008, 2009, and 2010 awards posts. Just as a reminder, I disqualify the Player of the Year from the other major awards just to mix things up.
Minor League Player of the Year: Mason Williams, CF, SS
I've never given the PoY to a guy that didn't play in a full season league and I don't intend to make a habit of it, but Williams gets the nod in a year lacking an obvious candidate. The now-20-year-old center fielder demolished older competition in the New York-Penn League, hitting .349/.395/.468 with 28 steals in 68 regular season games. Williams let the league with 94 hits (by ten), and placed second in the circuit in batting average, triples (six), total bases (126), and steals. Only three players topped his .863 OPS, and all three are two years older than him. Williams, the Yankees fourth round pick in 2010, received the largest signing bonus they handed out that year, and now you know why. He excelled against college kids and helped his team to the best record in the league as well as a championship.
Minor League Pitcher of the Year: Brett Marshall, RHP, A+
Despite there being several deserving candidates, Marshall gets the nod because he not only showed no signs of fatigue less than two years after Tommy John surgery, he actually got better as the season went on. Marshall struck out 7.31 batters per nine innings while walking just 3.08 per nine overall, but he went from 54 strikeouts and 32 walks in 73.2 first half innings to 60 strikeouts and just 16 walks in 66.2 second half innings. His hard, boring fastball helped produce a strong 55% ground ball rate (2.10 GB/FB), a trait he demonstrated all season long. The 140.1 innings he threw were the fifth most in the system. It wasn't that huge, breakout year we were expecting, but Marshall certainly did enough to be recognized as the top mound performer in the minors this year.
Honorable Mention: Adam Warren, RHP, AAA
Minor League Hitter of the Year: Kyle Roller, 1B, A-/A+
Surprised? Roller very quietly had a huge year split almost equally between Low-A Charleston and High-A Tampa. He hit .284/.371/.482 overall (~.387 wOBA), the highest OBP and second highest SLG among Yankees farmhands that came to the plate at least 300 times. His 31 doubles and 16 homers ranked third and fifth in the system, respectively, and his 18 hit-by-pitchers were far and away the most in the organization (he showed off that skill last year as well). The Yankees don't have a ton of true power prospects, particularly from the left side of the plate, so Roller's impressive season definitely improved his stock.
Honorable Mention: Jorge Vazquez, 1B, AAA
The Edwar Ramirez Award (Breakout Player of the Year): Zoilo Almonte, OF, A+/AA
It's probably just me, but it feels like Almonte has been around forever. In reality, he started his professional career as a teammate of Jesus Montero's in rookie ball back in 2007. The 22-year-old switch-hitter always had tools, but he started to fulfill some of that potential this season by hitting .276/.345/.459 overall (~.362 wOBA) with 15 homers and 18 steals between High-A Tampa and Double-A Charleston. Among Yankees farmhands, Almonte was the only player to rank in the top ten in both homers and steals this season (eighth for both). Now at Double-A, Zoilo's put himself in a position to be a factor for the big league team in the near future.
Honorable Mention: Jose Quintana, LHP, A-
Best Pro Debut: Dante Bichette Jr., 3B, Rk/SS
He may have been a questionable selection with the 51st overall pick, but there was no question about his performance. Bichette hit a whopping .342/.446/.505 (.438 wOBA) in 240 rookie ball plate appearances, taking home GCL MVP honors. He ranked in the league top three in AVG, OBP, hits, doubles, RBI, total bases, and walks, and placed fourth in OPS. Because that wasn't enough, he played two games with Short Season Staten Island after a late season promotion, hitting a homer. Bichette also won not one, but two league championships. Not half bad.
Honorable Mention: Isaias Tejeda, C, Rk
Comeback Player of the Year: Abe Almonte, CF, A+
Shoulder problems limited Almonte to just 15 games and 63 plate appearances in 2010, but he returned this season to lead the system in plate appearances (598) while playing in all but seven of High-A Tampa's 138 games. Although his first half performance left a lot to be desired (.218/.294/.280), Almonte rebounded to hit .314/.369/.475 in the second half, including a 34-game hitting streak. His 30 steals ranked second in the system, and he finished fourth in the organization in both walks (54) and total bases (205). Almonte has been somewhat injury-prone throughout his career, so hopefully he can build on this season going forward.
Bounceback Player of the Year (started slow, rebounded): Melky Mesa, OF, AA
Last year's Edwar Ramirez Award winning didn't find Double-A pitching to be nearly as kind as High-A pitching this year. He opened the season with ten hits and 29 strikeouts in 78 April at-bats, and limped into the All-Star break with a .211/.281/.368 batting line and more than one strikeout for every three trips to the plate. Something clicked during the mini midseason vacation, and Melky 2.0 returned to hit .297/.380/.445 after the break. He cut down on the strikeouts just a little bit (31%) while improving his walk rate (10.4% after 8.3%). Mesa still has a long way to go when it comes to offspeed pitches, and the goal next year is consistency.
Honorable Mention: Gary Sanchez, C, A-
Most Disappointing Player of the Year: Andrew Brackman, RHP, AAA
The roller coaster ride continued this year, after Brackman appeared ready to provide some return on his contract. The wheels came completely off during the big righty's first attempt at Triple-A this season; he ended up walking exactly as many men he struck out (75) in 96 IP, a drop of 44.2 IP from last season. Things did improve following a move to the bullpen and some revamped mechanics, but by then it was too late to salvage his season. Ugly ugly ugly.
Dishonorable Mention: Scottie Allen, RHP, A+/A-
Individual Level Awards (click for larger)

All-Minor League Teams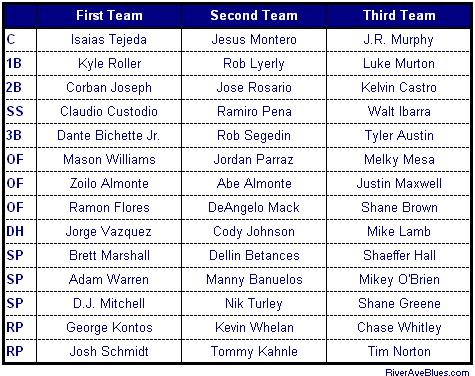 Lifetime Achievement Award
This year's Lifetime Achievement Award winner signed with the Yankees as an older (already 25 when he signed his first pro contract) player out of the Dominican Republic, a move designed to fill out a minor league roster rather than help the big league team down the road. The 2006 season saw him serve as Low-A Charleston's nominal ace, posting a 3.01 ERA in 140.2 IP across 22 starts (and nine relief appearances). That was the end of his starting career. Our hero was bumped up to High-A Tampa to start the 2007 season (4.59 ERA in 68.2 IP), and he was again assigned there in 2008. After 48.1 IP with Tampa (2.61 ERA), a midseason promotion to Double-A Trenton came along.
That first half-season in Trenton was a disaster (5.93 ERA in 13.2 IP), but the 2009 season was much better (3.65 ERA in 61.2 IP). It went so well in fact, that the organization felt he was too important to the team and decided to keep him at Double-A another year. Another year, another 3.65 ERA in 61.2 IP. Seriously, he posted the exact same ERA in the exact same number of innings two years in a row. The 2011 season brought yet another assignment to Trenton (2.31 ERA in 35 IP), but a midseason callup to Triple-A Scranton finally got him out of Double-A. It was only one one appearance and two-thirds of an inning, but five years after signing and after three years in Trenton, he'd finally made it to the highest level of the minors. With a 3.45 ERA to go along with 9.0 K/9 and 3.6 BB/9 in 430.1 career innings, our now-30-year-old honoree is still living the dream, knowing full well that lefties have more than nine lives. This year's Lifetime Achievement Award goes to … (drumroll) … Wilkins Arias.