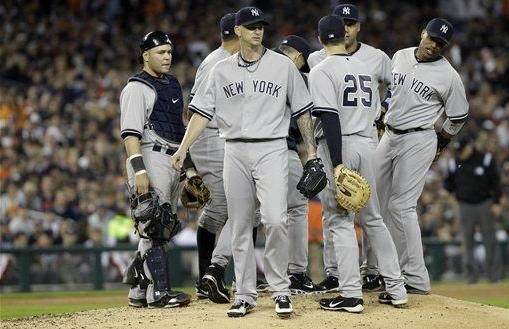 If the Yankees have made one thing clear this off-season, it's that they will explore every possible avenue in pursuit of rotation upgrades. That's plural, because they might not be satisfied with just one new pitcher. With options on the free agent, international, and trade markets, they could seek multiple pitchers to complement CC Sabathia. If Freddy Garcia returns as well, it could create a crowded rotation situation. The Yankees could then look to trade one of the lesser pitchers in their rotation.
Phil Hughes could be one of those candidates. After an impressive bullpen run in 2009 and an exciting start to his 2010 season, he has fallen off considerably. While he did improve, to some extent, as the season rolled along, he's still at the nadir of his value. Could the Yankees even get as much for Hughes as the Giants got for Jonathan Sanchez? The low return makes trading Hughes a difficult proposition. It might still happen if they can find an eager taker, but it's hard to imagine a team placing significant value on him in a trade.
That leaves A.J. Burnett. Yankees fans aplenty would love to see Burnett walk out the door rather than endure the final two years of his contract. The Yankees do have the ability to trade Burnett, as he can block trades to 10 (unknown to us) clubs. But as with most big-money players, his contract acts as a no-trade clause. The Yankees would have to eat significant money in order to entice another team. But with the possibility of freeing up some money and a rotation spot, might the Yankees be willing to cut their losses on Burnett?
The Yankees still owe Burnett $33 million through 2013. That's a large chunk of change for a pitcher who ranks among the worst in baseball during the life of his deal. Since 2009, of the 59 qualified pitchers, Burnett ranks 57th in ERA and 55th in FIP. He looks slightly better in xFIP, as his 4.19 mark ranks 45th, but with almost 600 innings under his belt in that span it's hard to believe that his xFIP has more relevance than his ERA. Even if we remove some level of survivor bias and count any pitcher who qualified in even one of the three included seasons, Burnett ranks 69th out of 73 in ERA and 67th in FIP.
The Braves recently ate a considerable portion of Derek Lowe's contract when dealing him, so the Yankees may have a model for a Burnett deal. Lowe ranks 53rd in ERA out of those 59 pitchers with 500 IP since 2009, and was only 0.22 better than Burnett while facing pitchers and pinch-hitters rather than DHs. An equal comparison would have the Yankees eating $22 million of the $33 million remaining to Burnett. Any acquiring team would then get him at two years and $11 million. That still might seem steep for a pitcher of Burnett's caliber, but it might not that bad a deal considering the market alternatives.
With a relatively weak free agent market, the Yankees could certainly find a team interested in Burnett. He's not in C.J. Wilson's class, and he's definitely a notch below Mark Buehrle, Edwin Jackson, and Roy Oswalt. He's better, at least in terms of talent, than Jason Marquis, Brad Penny, and Paul Maholm; at the very worst he's at their level. Since he's stayed on the mound for the last four years he's more reliable than guys such as Rich Harden, Chris Young, Erik Bedard, and Joel Pineiro. That could make him an attractive target to a few National League teams.
What could also make Burnett attractive is his controlled cost. At $5.5 million per season a team would know what it's getting into. Many of these free agents could sign for much more money and perhaps one more year than that. Chien-Ming Wang, who has thrown 62.1 innings in the last two years, got a $4 million guarantee. While that deal itself doesn't necessarily set the bar, the dearth of free agent pitching could certainly push up prices. If we look to last off-season as a guide, Jake Westbrook got two years at $16.5 million, as did Carl Pavano. Javy Vazquez, coming off an unimaginably bad season, got $7 mil. Those types of deals can happen when there's not much pitching on the market.
An acquiring team wouldn't have to part with much to acquire Burnett. Again, if we use the Lowe trade as a model the return could involve an afterthought minor leaguer. But the return isn't as valuable to the Yankees as the roster flexibility. Moving Burnett means they'd have an extra rotation spot this spring. They could choose to sign a free agent, such as Buehrle, and also trade for a starter. Alternatively, they could do one or the the other and keep rotation spots open for competition among Freddy Garcia, Phil Hughes, Hector Noesi, Adam Warren, David Phelps, Manny Banuelos, and Dellin Betances. It also leaves room for a known pitcher on a minor league deal, such as Bartolo Colon or Rich Harden.
Chances are, trading Burnett will prove prohibitive enough as to render it practically impossible. Any pitcher, and particularly an ineffective pitcher, which such a large contract already has an effective no-trade clause. But given the Yankees' situation, they might deem it worthwhile, given the extra rotation spot and the $6.5 million per season they'd gain from such a deal. This definitely seems like one of those stealth moves that Cashman pulls from out of nowhere.
Thanks to Eric Seidman of FanGraphs and Brotherly Glove for helping me work out this idea.