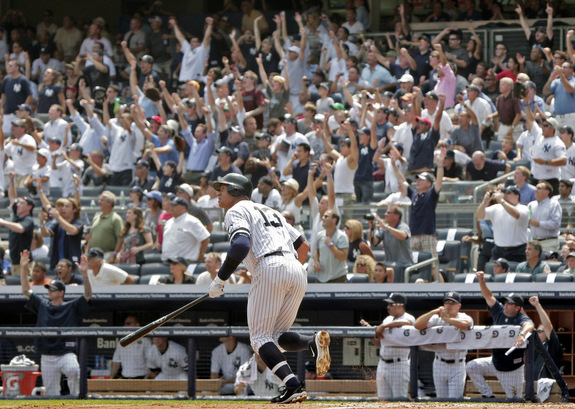 Daniel asks: Last season we got to see Jeter and Mariano reach milestones in their careers. What's on tap for this upcoming season? A-Rod is quietly approaching the 3000 mark but seems out of reach for 2012, so what else could there be this season?
Yeah, Alex Rodriguez needs 225 hits to get number 3,000, but that's unlikely for next season even if he stays completely healthy and plays in 150+ games. Alex also needs 107 RBI to become the fourth player ever with 2,000 RBI (Hank Aaron, Babe Ruth, Cap Anson), and that's not out of reach if he stays on the field. Thirty-two homers would move him passed Ken Griffey Jr. and Willie Mays on the all-time homer list and into sole possession of fourth place at 661. The three guys ahead of him all have 714+. Interestingly enough, if he manages to play in exactly 150 games, he will have played more games for the Yankees than he did for the Mariners and Rangers combined. That seems a little crazy, no?
Derek Jeter is eight away from his 500th double, and 13 doubles would move him into 50th place on the all-time list. He also needs eleven stolen bases for 350 in his career, and 25 to move into 100th place on the all-time list. The Cap'n has stolen 25 bases just once in the last five years though. If he plays in at least half the team's games in 2012, he'll move into 50th place on the all-time games played list at 2,500. Another ten homers and he'll be at 250 for his career as well. If he manages to do all those things this year, he'll become the first player in history with those milestones (500 doubles, 250 homers, 350 steals) to have played at least 75% of his career games at short.
With some real good run support, CC Sabathia could make a run at his 200th career win this season, but even then he needs to get 24 of 'em. So figure early 2013 for that milestone. Four more losses and he'll be at 100 for his career, and I guess that's kinda sorta a milestone. Freddy Garcia needs five more wins for 150 and five more losses for 100. If Phil Hughes manages to win 14 games, he'll be at 50 for his career. Mariano Rivera has made at least 58 appearances in each of the last nine seasons, and if he does it again in 2012, he'll be at 1,100 for his career. That would be the most ever by a right-handed pitcher and the fourth most all-time, behind southpaws Jesse Orosco, Mike Stanton, and John Franco.
Robinson Cano is six homers away from the 150th of his career while Curtis Granderson and Nick Swisher are 33 and 15 homers away from number 200, respectively. Mark Teixeira is closing in on his 1,500th hit (33 away), his 350th double (22 away), and his 350th homer (36 away). He'd become just the fifth switch-hitter in history with each of those milestones, joining Eddie Murray, Chipper Jones, Lance Berkman, and Chili Davis. Mickey Mantle was six short of 350 career doubles, but also 186 homers clear of 350. Joe Girardi needs 38 more wins for his 500th career as a manager, and 16 more for 400 as a Yankees manager. We've been spoiled the last few seasons when it comes to historic milestones, but really the only thing we have to look forward to in 2012 is A-Rod climbing the career homer list. The 2013 season should be a little more fun when it comes to this stuff.