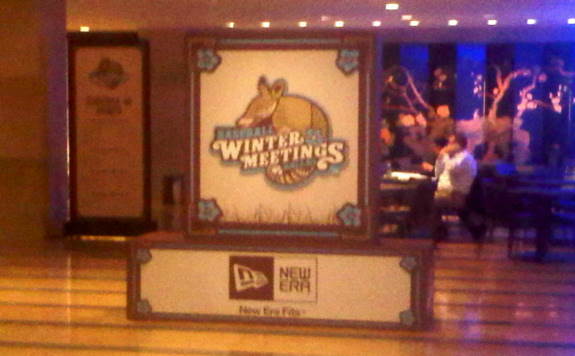 Forgive the crappy cell phone camerawork, but that's the official "Welcome to the Winter Meetings" sign in one of the lobbies here at the Hilton Anatole in rainy Dallas. That guy on his phone in the background is actually Mitch Williams, the MLB Network analyst and the pitcher that gave up Joe Carter's World Series clinching walk-off homer in 1993. You have to figure that's something he thinks about at least once a day, right?
Anyway, the Yankees made a handful of transactions at last year's Winter Meetings in Orlando, most notably re-signing both Derek Jeter and Mariano Rivera. They also made a pair of Rule 5 Draft picks, but most of their time was spent wooing Cliff Lee and feigning interest in Carl Crawford. It certainly feels like we could be in for a slow week this year, but you never really know. The first official order of business comes tomorrow afternoon, when teams have to set their 40-man rosters for Thursday's Rule 5 Draft by 5pm ET. The Yankees do have one open spot on their 40-man at the moment, so if they clear another spot(s) tomorrow, we'll know they have their eye on a player or two come Thursday.
Pitching figures to be the popular topic for the next four days, in terms of both free agency and trades. Bench help and general depth is also on the agenda. The Yankees do appear content to wait the market out though, and in fact Brian Cashman won't even get here until tomorrow afternoon. Unlike last year — when they had an obvious target — we're in the dark as far as their plans go. I don't know about you, but I think that makes things more exciting.
* * *
Here is tonight's open thread. The Lions and Saints are your late football game (8:20pm ET on NBC), but feel free to talk about anything you want here. It's all fair game, have at it.