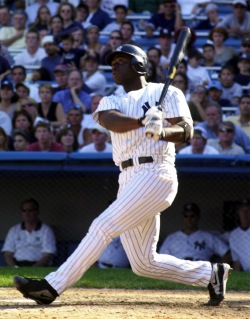 The Yankees had a revolving door in left field during their late-90's dynasty, with guys like Chad Curtis, Shane Spencer, Ricky Ledee, Gerald Williams, Tim Raines, and even Chuck Knoblauch seeing a bunch of time out there. In an effort to plug that hole after the 2001 season, they signed Rondell White to a two-year contract worth $10M, a deal that became official ten years ago today.
White, 29 at the time, had hit .307/.371/.529 for the Cubs in 2001 and .310/.366/.508 with the Cubs and Expos over the previous three seasons. He could definitely hit and the defensive metrics considered him about average, but the problem was that the guy never stayed healthy. Up to that point, White had played in more than 138 games just once in his career, and more than 97 games just thrice in seven full seasons as a big leaguer.
Sure enough, White got hurt in Spring Training in 2002 and struggled at the start of the seasons, save for a binge week in which he hit four homers in the span of nine mid-April games. He was hitting .225/.286/.392 on May 1st, but he rebounded to have a nice little 50-game run from mid-May through late-June (.308/.343/.438) before getting hurt again. White finished the season with a .240/.288/.378 batting line in 126 games, then he hit a solo homer in Game One of the ALDS against the Angels, the only postseason game he'd play in for the Yankees.
White was widely reported to be a strong presence in the clubhouse, but the Yankees signed Hideki Matsui after the 2002 season and were stuck with a log jam in the outfield. They showcased White in Spring Training, then traded him to the Padres late in March for Bubba Trammell and pitching prospect Mark Phillips, the ninth overall pick in the 2000 draft. "The key component in this deal, for us, is Mark Phillips," said Brian Cashman after the trade, though his team did save close to $3M in the trade. Joe reviewed the trade last winter, and I also suggest reading Tyler Kepner's recap from back in the day, which is pretty interesting in hindsight.
* * *
Here is tonight's open thread. There's a bunch of college everything on, plus all three hockey locals are in action. Talks about anything you like here, it's all fair game.