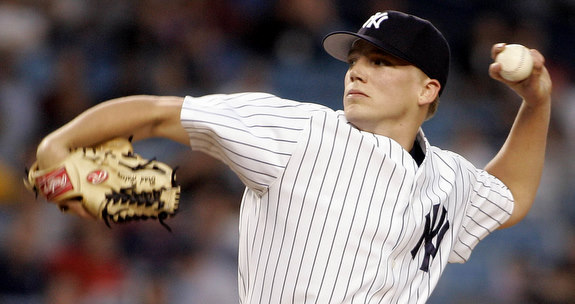 Once upon a time, the Yankees had no pitching prospects. Years of generally poor drafts under former scouting director Lin Garrett — giving away top picks to sign free agents year after year didn't help either — resulted in one of baseball's worst farm systems back in 2004 and 2005, meaning no significant help was coming when the Yankees needed to plug a hole. When Kevin Brown went down with a back strain in June of 2004, the Yankees had no choice but to give the ball to lefty Brad Halsey, the 24th best prospect in the 27th best farm system according to Baseball America.
Halsey, who was having a nice season in Triple-A, pitched well in his big league debut (two runs in 5.2 IP) at Dodger Stadium, but things went south from there. He gave up seven runs in his next start and seven runs two starts after that, finishing with a 6.47 ERA in 32 IP spread across seven starts and one relief appearance. After the season, the Yankees traded him as part of the package to get the long-coveted Randy Johnson from the Diamondbacks, a trade that occurred seven years ago today.
After an okay season in Arizona (4.61 ERA in 160 IP), Halsey was traded to the Athletics for Juan Cruz. He made seven starts and 45 relief appearances for Oakland in 2006 (4.67 ERA), but was assigned to Triple-A in 2007. He was scheduled to come up and replace an injured Rich Harden in April, but the team bypassed him and called up Dallas Braden instead. Halsey publicly bashed the team for passing on him when they needed an arm, and he ended up having shoulder surgery later in the summer. He filed a grievance with the union regarding the team's handling of him and his injury, and he actually ended up winning. Good for him.
Halsey, now 30, briefly returned to the Yankees this summer and spend most if his his time in Double-A. He spent a few years pitching in independent ball before that. Nowadays, a pitching prospect like Halsey would be so far down on the team's depth chart that he'd probably be working in relief. Certainly not the kind of guy that would be entrusted with seven starts in the middle of the season. The Yankees still extracted some value from him as the third piece in the RJ deal, which is probably more than you can say for a lot of prospects of his caliber.
* * *
This is your open thread for the night. The Devils, Knicks, and Nets are playing, but Time Warner folks still can't watch the first two because of the MSG dispute. Talk about whatever you like here, anything goes.