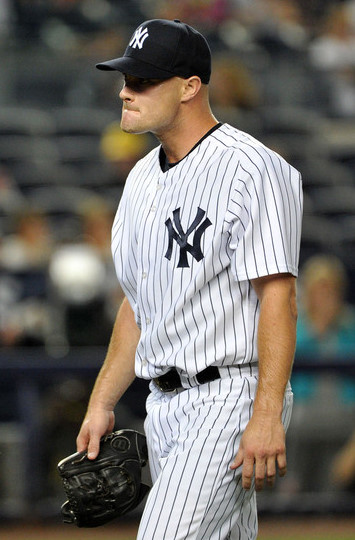 The Yankees have a very full 40-man roster at the moment, so every player they acquire from here on out will cost another player his 40-man spot. Andruw Jones will need a spot whenever his new one-year deal becomes official, and Hiroyuki Nakajima will as well if he signs a contract before Friday's deadline. Any trade for a starting pitcher will likely involve a 40-man roster player going the other way, but a free agent like Edwin Jackson means another 40-man spot will have to be cleared.
With Jones back, it seems likely that Justin Maxwell has moved to the front of the roster casualty line. He's out of minors league options (meaning he'd have to clear waivers to be sent to the minors) and a right-handed hitting outfielder, which is the job Andruw will fill. Maxwell has some potential, but not enough to win the numbers game. Nakajima could take Ramiro Pena's 40-man spot, though Pena has one minor league option left and is the default emergency infielder. Perhaps Nakajima's ability to play the middle infield plus Brandon Laird's ability to play third plus Jayson Nix's presence on a minor league contract makes Ramiro more expendable.
Along with Maxwell and possibly Pena, Kevin Whelan appears to be the most vulnerable. He certainly is among pitchers, anyway. The soon-to-be 28-year-old right-hander made his big league debut last season after being acquired in the Gary Sheffield trade, walking five of the ten batters he faced in one and two-thirds jittery innings. Control (and injury) has always been his problem, as the 2011 season was his first with a sub-5.5 BB/9 and a sub-14.0 BB% since 2006 (2.4 BB/9 and 6.8 BB%). He does miss bats through (career 11.1 K/9 and 29.7 K%), and with two minor league options left, he's a not terrible piece of bullpen depth. George Kontos, Hector Noesi, David Phelps, and D.J. Mitchell are also on the 40-man and serve the same purpose though, and at some point something is going to have to give.
This year's two Rule 5 Draft picks — Brad Meyers and Cesar Cabral — are also candidates to get cut if space is needed, though I hope not. Those two intrigue me more than any of the Yankees other recent Rule 5 picks, and I'd selfishly like to get a look at them in Spring Training. Chris Dickerson is out of options like Maxwell, and I have a hard time envisioning a scenario in which he'd make the team, barring a Spring Training injury. I suspect he'll be kept around in camp for that very reason, then traded for a spare fringe prospect in late-March if the Yankees make it through the month with a healthy outfield. With two minor league options and upside left, Melky Mesa figures to be safe.
There's also Pedro Feliciano, who is extremely unlikely to pitch in 2012 after having shoulder surgery in September. As far as I know, there is no rule preventing teams from releasing an injured player to free up 40-man space, but it rarely happens. I'm guessing it's a courtesy to veteran players (the Yankees did release the injured Amaury Sanit last year), since he can be placed on the 60-day DL during the season to free up a spot while retaining all the 40-man benefits, like health care for his family. Feliciano figures to be 60-day DL'd as soon as possible/when necessary, maybe for a non-roster guy like Hideki Okajima.
Maxwell, Pena, and Whelan will likely be the first three to get the 40-man roster axe, but not necessarily in that order. That should be plenty of wiggle room until Spring Training, when Dickerson and Feliciano start to come into play. The Yankees don't have very much flexibility with their 40-man because of all the young players they're carrying — I count 16 with less than a year of service time, eight with zero MLB experience on the 40-man — which is a double-edged sword. It's nice to have a good farm system, but at some point all these players have to go somewhere.