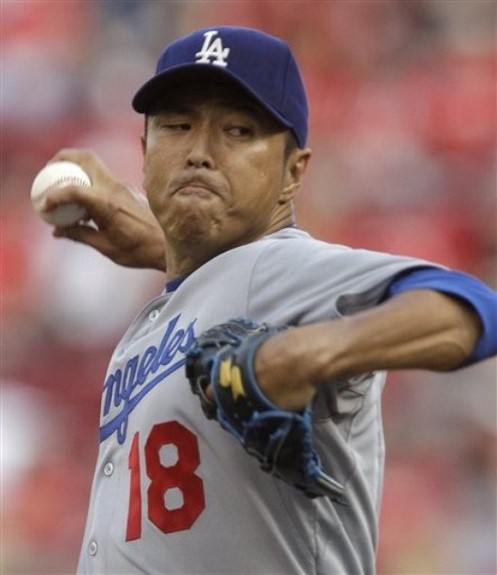 It's not often that a team can sign a starting pitcher to an eight-figure contract and have it be only the second biggest move of the day. That's exactly what happened last Friday, and the Jesus Montero-Michael Pineda trade continues to overshadow the Hiroki Kuroda signing. The one-year, $10M deal will become official as soon as Kuroda takes and passes his physical, something that is expected to happen in the near future and without a problem.
As exciting as Pineda is, the Yankees needed a veteran guy to help stabilize a rotation that was shaky beyond CC Sabathia. Ivan Nova pitched very well in the second half last year but is still a guy with one big league season under his belt like Pineda. Freddy Garcia was solid as well in 2011, but his kitchen sink act could blow up at any moment. A.J. Burnett is a known quantity, and unfortunately that means he's going to be below average. Phil Hughes is a total enigma. Kuroda helps provide that stability at a reasonable price.
It's no secret that the Yankees have liked Kuroda for quite some time, dating back to the August waiver trade period in 2010. They reportedly considered him the second best pitcher on the free agent market last winter, but didn't get a chance to pursue him because he re-upped with the Dodgers during the exclusive negotiating period. They made a push for Kuroda at last year's trade deadline but couldn't work out an agreement, but it wouldn't have mattered since he invoked his no-trade clause and refused to come east and pitch for the Red Sox. Once the Dodgers pushed him out of the picture this offseason, he changed his mind and came the New York.
Kuroda will turn 37 next month, and he's thrown at least 180 IP in three of his four seasons in MLB. The one exception was 2009, when an oblique strain shelved him for two months and a concussion (caused by this) cost him for another three weeks. In the two years since, he's made 63 starts and thrown 398.1 IP. There's little chance Kuroda will repeat the 3.23 ERA and 3.52 FIP he posted from 2010-2011 given the shift to the tougher ballpark in the tougher division, but adjusting upward half-a-run or so still gives us a ~3.80 ERA, ~4.00 FIP pitcher. Not an ace, but a valuable starter.
The transition to Yankee Stadium and the AL East is a very real issue, but it should help that Kuroda will be throwing to a catcher who knows him well. Russell Martin caught 71.8% of the right-hander's innings while with the Dodgers from 2008-2010, so there's certainly some familiarity there. As a true four-pitch guy — low-90's four-seamer, low-90's sinker, mid-80's slider, mid-80's splitter and a show-me high-70's curve — with a bit of a reputation for pitching backwards, I'm sure he'll appreciate having someone behind the plate that knows his stuff and what he likes to throw to certain hitters in certain counts. I don't know how much it'll help, but I have a hard time believing it won't help in some way.
The trade for Pineda is a long-term move. The Yankees acquired him in hopes that he will contribute something now and develop into a dominant, top of the rotation starter down the road. Kuroda is just a band-aid, a short-term solution on a reasonable contract designed to improve the team's chances of winning in 2012 and nothing more. He's been successful during his first four years in MLB as a moderate strikeout (6.73 K/9 and 18.0 K%), low walk (2.10 K/9 and 5.6 BB%), and above-average ground ball (48.6%) pitcher, which is all the Yankees are asking him to be again next year. Kuroda won't garner as much attention as Pineda, but he's more important to the 2012 team.