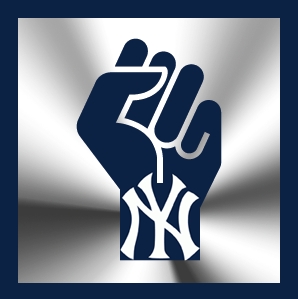 Another off-season, another winter-in-stealth for Brian Cashman.
Amazingly, this time the Yankee GM's intentions were so cleverly shrouded, even prying eyes were thrown off the scent. The surprising additions of Michael Pineda and Hiroki "Don't Call Me Karaoke" Kuroda have undoubtedly solidified what was an extremely suspect Yankee rotation, but in the process, the moves also inadvertently reignited my long-simmering internal debate over what it means to be a Yankee fan.
Allow me to explain.
The funny thing about political movements is that they sometimes affect bystanders in ways their founders never expected. The Boston Tea Party started out – I think – as a symbolic protest against chai tea lattés, and ended up as a precursor to the American Revolution. The present-day Tea Party exists to restore our "freedoms" – whatever that means – but somewhere along the way it has morphed into a caricature of itself. Now, we have Occupy [Location Anywhere], an ideology best known to date for its way-too-public bowel movements. Yet despite the inherently unattractive nature of anything political, OWS has been successful insofar as it has encouraged widespread debate over the status quo.
Which brings us to my dirty little secret: I am a lifelong New York Yankee fan whose loyalty may be waning.
Make no mistake: I am was the genuine article. Born and raised in the Bronx – like my parents before me – the Bombers are literally my hometown team. I grew up learning about baseball in the shadow of the elevated 4-train on Jerome Ave., where my father owned and operated a sporting goods store for almost 25 years. Everyone had an opinion about the Yankees in those days, too; whether it was the NYPD beat cop (who wasn't patrolling, exactly), the sanitation guy (who swore Dallas Green was a communist), or the Albanians manning the pizzeria next door. There were no such things as OBP, fWAR, or strand rate – at least, not that we had ever heard of. Like politics, baseball, too, was simpler back then.
My mom was also a diehard. She sat in the old Yankee Stadium right field bleachers on October 1, 1961, when Roger Maris broke Babe Ruth's single-season HR record. My grandfather took her to the ballpark that day, and though he's been gone for a decade, I fondly recall him lamenting that he wasn't just an inch or two taller, lest that historic ball would have been his.
2009 was my last year as a season ticket holder, but I have attended countless games in my life, both at home and on the road. I saw Rickey Henderson, Don Mattingly and Dave Winfield play together. I repeatedly shook my head during Greg Maddux's 84-pitch three-hitter that felt like it took less than an hour to complete. I stared, mouth agape, when the hardest ball I've ever seen hit was blasted by Jim Thome off an incredulous David Cone in Game 6 of the 1998 ALCS. I feared for my safety when David Justice took the immortal Arthur Rhodes deep in Game 6 of 2000 ALCS and the old Stadium literally shook beneath my feet. I taunted Mets fans on the way out of Shea after the World Series Game 5 clincher that same year.  I saw (and heard) Josh Hamilton put on the greatest display of power ever witnessed during the 2008 Home Run Derby. I attended the first exhibition game ever played in the new place.  I was there for the first regular-season game ever played there, too. And I lost my voice cheering as Mariano Rivera locked down Game 6 of the World Series against the Phillies in 2009. Oh, and I write for this site – though not nearly as often or as well as my colleagues – so I feel somewhat entitled to espouse my views. But really, it's not about me so much as it is about the franchise itself.
In fairness, the club and its owners have generously delivered seven World Championships in my lifetime. And counting. As far as professional sports teams go, the Pinstripes are the crème de la crème, the best of the best, they're as good as it gets. It's been said before, but the Yankees really are are the one-percent.
And therein lies the problem.
The organization's pinstriped-mantra decries anything short of a championship as an abject failure. It is a proclamation that stirs emotions and sells ticket-packages based on the Steinbrenners' commitment to perennially field a competitive stacked product. But the edict also breeds an atmosphere where cash is king, and the opportunity to be a Yankee fan has become more privilege than right.
Maybe it's because I have my own son now, or maybe it's because these times require each of us to engage in a certain degree of frugality, but I've run out of reasons excuses to defend the Bombers' excesses. There was a time when I could easily parry attacks over the Yankee-payroll or the club's ubiquitous involvement in the signing of and/or trade for every available player. I once justified my team's muscular roster with bulletproof one-liners like "the Yankees are good for the game" or "large market teams are entitled to their large market payrolls." Now, more often than not, I wonder "how much is enough?"
I can't be the only one who feels this way, either. Something has changed at the intersection of River Ave. and 161st. St., and it's not just the newly-minted billion-dollar cathedral that I'm talking about – although that's a big part of it.
According to last year's Forbes valuation, the Yankees generated $325 million in revenue from regular-season tickets and luxury suites in 2010 alone. The wildly successful YES Network, now a seminal blueprint for every other team, bolstered that take with over $400 million. Sure, the team carries significant debt in connection with the stadium's construction, but when you factor in corporate sponsorships, advertising, and licensing revenue from MLB.com and apparel sales, the Yankees are literally swimming in cashish.
Please understand; I don't begrudge capitalism. Baseball is a business now — there's no going back — and the powers that be are simply charging what the market will bear. Sadly, that market is alienating the very people who made going to the Stadium an irreplaceable experience. Just because the Yankees inject a significant percentage of their profit into the roster, that shouldn't mean that Delta-Suites-this and Audi-Club-that is any more vital to the franchise than the "real" fan. Would you believe that during last year's ALDS against the Detroit Tigers, I was actually told to sit down with two strikes on an opposing hitter during an elimination game. Shirley, you can't be serious?!
So forgive me for evaluating my loyalties, but maybe the place where I grew up on baseball is already gone. And consider giving me a pass for conflating the issues, but the rise of the Yankee "Empire" and the deterioration of my nostalgia is interconnected.
As far as the here and now, Cashman had to deal a homegrown impact-bat in Jesus Montero because the starting rotation lacked any semblance of depth. This, despite the conventional-wisdom that the farm system is purportedly flush with talented arms. And why? Because those high-ceiling pitchers are not yet Major League ready, and god forbid the franchise scuffles a bit every fifth year or so. There is no margin for error, no room for debate, and no excuse for failure. I get it, but that doesn't mean I have to like it, and it certainly doesn't make it right (for the record, I think Michael Pineda will do very well here).
In the end, we are left with impossible-to-meet expectations, extraordinary team-spending and increasingly disproportionate fan-pricing. Yankee fans have become accustomed to spoiled by winning, so much so that waiting on young talent is a virtual Yankee-impossibility. But in this win-at-all-costs world, when, exactly, will I again get to root for an underdog team? How about a scrappy one? Will I ever again see the kind of serendipity and karma that so gloriously enshrouded the 1996 Yankees? And even if it does – kinda-sorta like it did in 2009 – will I even care?
Despite my introspection, there is probably "99%" of me that still bleeds pinstripes. I just hope that when the day arrives for me to bring my boy to the House That A-Rod Built, the sushi is fresh.
***
For those who may not be aware, I am extremely fortunate to now be covering the New York Knicks for The Journal News. You can read my work here, and I would be honored to earn your Twitter follow (@LoHudKnicks) as well. If you despise basketball, you can still get your snark on with a more well-rounded version me, @BronXoo.
Special thanks to Jonah Kaner, aka @TheKnicksWall, for the fantastic OYS graphic above.