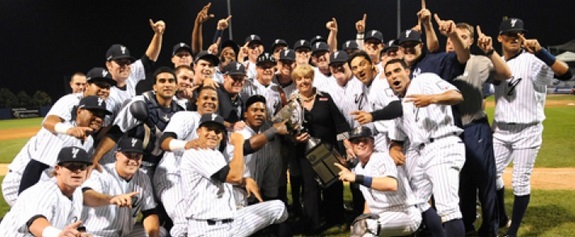 It was going to be next to impossible for the 2011 minor league season to feel like anything but a disappointment after all the success of 2010. Last year was more normal than anything else though, with a typical number of breakouts, steps back, and injuries. The Yankees still boast several high-end prospects and an absurd amount of depth, particularly on the mound. Not everyone is bound for stardom, but the Yankees have a plethora of useful players on the way to fill their roster and/or use in trades.
One thing I've learned over the years is that ranking prospects is not a black-and-white exercise, there's no right or wrong. It's an inexact science, and everyone has their own personal philosophy. Some prefer pure upside while some place more value on probability, and everyone's balancing act is different. I lean slightly towards probability, but I think you're going to see clubs place a much greater emphasis on ceiling given the draft and international spending restrictions put in place by the new Collective Bargaining Agreement. Premium talent will be harder to come buy, especially for a perennial contender like the Yankees.
I won't argue (much) if you think two prospects ranked consecutively should be flip-flopped, in most cases we'd just be splitting hairs. The gap between the number one and number four prospect this year is pretty small, as is the gap between number five and number 15 prospect or so. All the guys after that are pretty interchangeable. Once again, it all comes down to preference. Like everyone else, I use rookie status to determine prospect eligibility. That means anyone with more than 130 at-bats or 50 IP in the big leagues is not eligible for the list, though I ignore the service time cutoff because that stuff is too difficult to track. Two top 30 guys from last year — Ivan Nova and Eduardo Nunez — graduated to the big leagues in 2011 while three others — Jesus Montero, Andrew Brackman, and Hector Noesi — have since moved on to other clubs.
My past preseason lists can be found here: 2007, 2008, 2009, 2010, and 2011. Can't believe this is the sixth list at RAB already. Anyway, the ages listed are as of April 1st. Enjoy.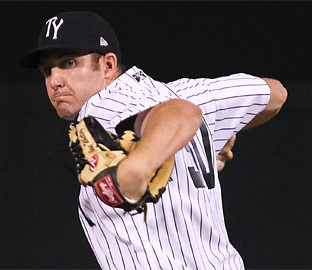 30. Chase Whitley, RHRP, 22
Part of that late-round college arm/bullpen pipeline, Whitley made it to Double-A in his first full pro season. His strikeout rate (7.62 K/9 and 20.4 K%) wasn't as impressive as his 2011 pro debut (12.05 K/9 and 35.0 K%), but he cut down on the walks (2.87 BB/9 and 7.7 BB%) and kept the ball on the ground (50% grounders). Whitley's 89-91 mph fastball won't exactly scare anyone in relief, but he deploys his sinking changeup and low-80s slider very well and keeps hitters off balance. He's definitely not a power pitcher, but his control and three-pitch mix are enough to remain effective in the late innings. The Yankees figure to send him back to Double-A Trenton to start the year given the crowded pitching staff in Triple-A, but Whitley could earn a midseason promotion to Triple-A or serve as trade bait.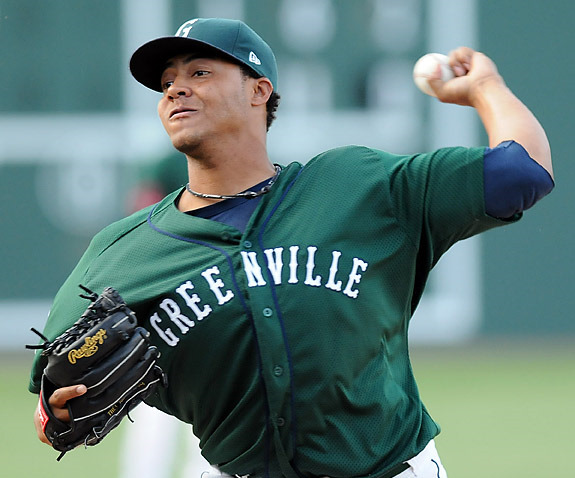 29. Cesar Cabral, LHRP, 23
One of the Yankees' two Rule 5 Draft picks this offseason (the unranked Brad Meyers being the other), Cabral is a two-time Rule 5 guy and can opt for free agency rather than return to his original team (the Red Sox) if he doesn't make the Yankees' big league roster out of camp. Listed at 6-foot-3 and 175 lbs., he sits in the low-90s with a better changeup than breaking ball, making him an unconventional lefty bullpen option. Cabral's chances of making the Opening Day roster took a big hit when the Michael Pineda and Hiroki Kuroda acquisitions crowded the pitching staff, but he'll still get a look in Spring Training. The Yankees could convince him to remain with the organization rather than elect free agency by essentially bribing him with a 40-man spot (like the Diamondbacks did with Zack Kroenke), so he's not necessarily a goner if he doesn't make the team. If he does stick around, it would likely be in Triple-A.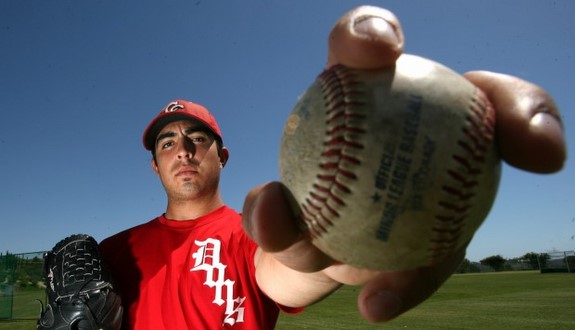 28. Daniel Camarena, LHSP, 19
The recipient of a $335k bonus as a 20th round pick last year, Camarena is a legitimate three-pitch lefty with the kind of polish typically found in college pitchers. He currently sits anywhere from 85-91 with his fastball, though he should add some velocity as he adds inches and pounds to his 6-foot-1, 200 lb. frame. An average changeup is his top offspeed offering, and he's able to get swings and misses with his curveball. Everything plays up because he can throw all three pitches in the strike zone. A legitimate prospect as an outfielder, Camarena is athletic and repeats his delivery well, hence the strike-throwing ability. The Yankees will hold him back in Extended Spring Training to start the season before sending him to the Rookie Level Gulf Coast League Yankees. I like Camarena more than most and am really looking forward to seeing his pro debut this summer.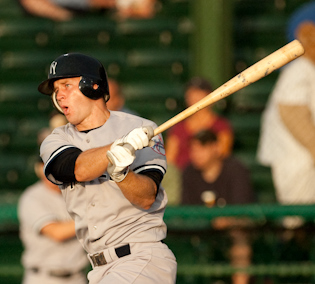 27. David Adams, 2B, 24
The Yankees obviously know something about Adams that we don't, because not many teams would have added a player who's played in just 68 games over the last two seasons to the 40-man roster like they did with Adams earlier this winter. A broken ankle suffered while stealing a base in May of 2010 has been the culprit, as setbacks and recurring pain have limited him since. The ankle was also one reason why the Cliff Lee non-trade fell about two years ago. Adams projected to be an all-around second baseman before the injury, with strong plate discipline, contact skills, and gap power to go along with solid range, a strong arm, and aptitude in the field. VP of Baseball Ops Mark Newman likes to say that he's never seen a broken ankle end a career, but Adams has lost a lot of development time over the last two years and has a lot of rust to shake off. He'll start that process back at Double-A Trenton this April, and everyone hopes he can stay on the field straight through September.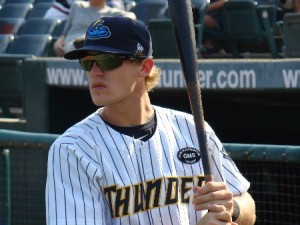 26. Corban Joseph, 2B, 23
It's not often that a kid can spend a full season at Double-A at age 22, produce a .346 wOBA with a 10.5% walk rate and see his prospect stock drop like CoJo did in 2011. It doesn't have anything to do with his bat, which continues to be more than fine. It's all about his defense, or lack thereof. Joseph is a middle infielder in name only, with barely adequate range and footwork to go with an occasionally erratic arm and a slow double play pivot at the bag. Third base would be a better fit, but he doesn't have the power for the position (just 17 homers and a .134 ISO in 1,750 career plate appearances). The Yankees like Joseph — otherwise they wouldn't have added him to the 40-man roster after the season to keep him out of the Rule 5 Draft — but he's going to have to step up his defense or find a way to add some more power if he wants to avoid a one-way ticket to 'TweenerTown. Joseph will head to Triple-A Scranton for the first time in 2012.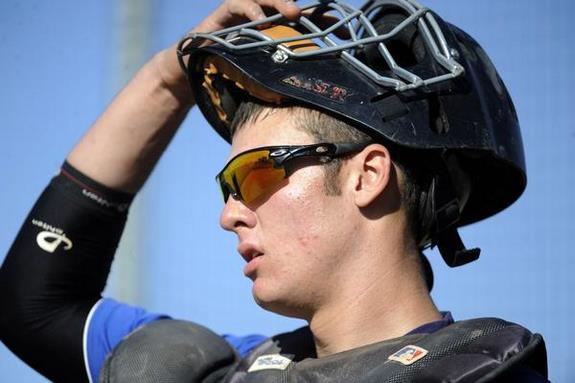 25. Greg Bird, C, 19
No Yankees' draftee received a larger signing bonus than Bird in 2011, who signed for $1.1M as the team's fourth round pick. He appeared in just four GCL Yanks games after signing, though he did participate in the Instructional League. Bird is a bat-first player, with bat speed and natural loft from the left side to go along with a very advanced approach for a high school draftee. The Yankees are notoriously optimistic about catchers and their defense, so it's no surprise that they think the 6-foot-3, 215-lb. Bird can remain behind the plate. He has a strong arm but isn't overly athletic, with a lot to work on as far as his receiving and footwork are concerned. There's a lot of risk here, but the potential reward is enormous. Left-handed hitting backstops with power and even passable defense are tremendously value, and the Yankees will patiently wait for Bird to develop into that type of player. He'll start the year in Extended Spring Training, and could head to the GCL Yanks rather than Short Season Staten Island if his defense doesn't improve enough in the first half.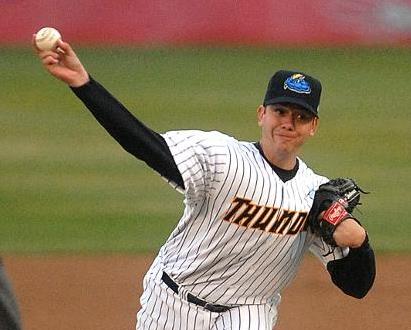 24. Graham Stoneburner, RHRP, 24
The German form of Stoneburner is Steinbrenner, so right off the bat Graham has that going for him. A neck injury cost him more than two months of the 2011 season, and he wasn't anything special when he managed to make it out to the mound: 6.01 K/9 (15.5 K%) and 2.76 BB/9 (7.1 BB%) in 91.1 IP. Stoneburner is a classic sinker/slider type, sitting in the low-90s with the two-seamer. He also has a solid changeup that's more than a show-me pitch. Neck issues can be very problematic, but it's unclear just how much they contributed to his down season. A relief role remains his long-term outlook, but the Yankees figure to keep him in the Double-A rotation this year just build up some innings. I've always been a big fan, so I'm looking forward to seeing what he can do over a full, healthy season.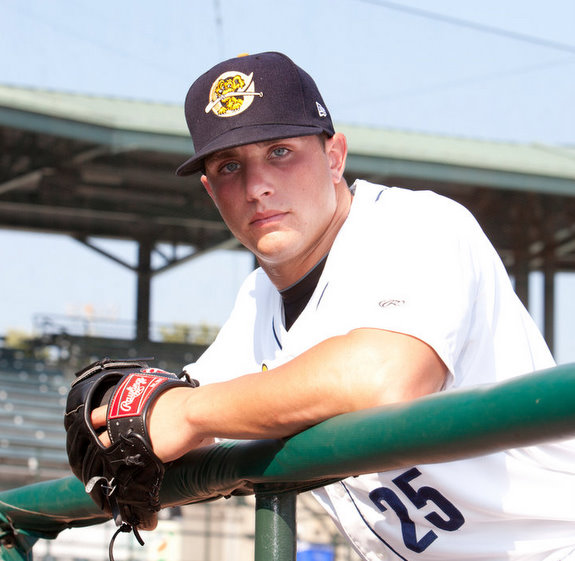 23. Mark Montgomery, RHRP, 21
No pitcher the Yankees drafted in 2011 had a better pro debut than Montgomery. The 11th round pick out of Longwood University struck out 51 of the 124 batters he faced (16.20 K/9 and 41.1 K%), including five batters in one inning during his Low-A Charleston debut. Montgomery is on the small side — listed at 5-foot-11 and 205 lbs. — but he packs big time stuff. His fastball sits 91-92 and will touch 95, but his money pitch is a wipe-out low-80s slider that's already considered "major league plus." Walks (4.13 BB/9 and 10.5 BB%) figure to remain an issue long-term when you've got a guy with that kind of slider airing it out for one inning at a time, but hopefully he can get it under four walks per nine in the future. Montgomery will likely start this season at High-A Tampa, but don't be surprised if he's pitching for Double-A Trenton by May. We'll get a better read on his ability once he gets away from Single-A kids.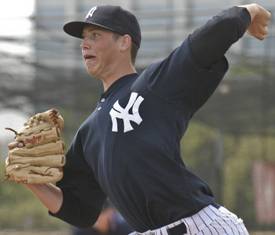 22. Nik Turley, LHSP, 22
The 1,502nd of 1,504 players drafted in 2008, Turley finally escaped the short season leagues in 2011 and was in the middle of a breakout season when a line drive broke his pitching hand in early-July. His strikeout (8.73 K/9 and 23.1 K%) and walk (2.2 BB/9 and 5.8 BB%) rates made significant progress in 17 starts for Low-A Charleston and High-A Tampa, though his fastball is his worst pitch. Turley — who is listed at 6-foot-6 and 230 lbs. — will sit in the high-80s and touch 92 on occasion, instead relying on downward plane and his the ability to dot the corners. His big breaking curveball is his best offering, and his fastball plays up because his changeup is so effective. He could add some velocity if he tightens up his delivery, which tends to fall out of whack from time to time. Turley will return to Tampa to open the season and could be in line for a midseason promotion. He will be Rule 5 Draft eligible next winter, so a big season will force the Yankees to think long and hard about adding him to the 40-man roster.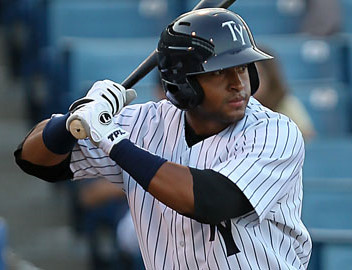 21. Zoilo Almonte, OF, 22
It's been a steady climb up the ladder for Almonte, who put together a .402 wOBA in 69 games for High-A Tampa last season before a midseason promotion to Double-A Trenton (.308 wOBA in 46 games). He's a switch hitter with pop from both sides of the dish (.190 ISO vs. LHP and .180 ISO vs. RHP in 2011), though his swing is a bit more natural from the right side. Almonte isn't quick but he does have the smarts to steal double-digit bases on an annual basis. His routes in the outfield make him a better than average defender, though his arm fits better in left. He can play center in a pinch as well. Zoilo's makeup is considered a plus, and he plays with a ton of energy. The Yankees like Almonte and added him to the 40-man roster after the season to protect him from the Rule 5 Draft. He's scheduled to return to Trenton to open 2012, but like the last two seasons, he's in line for another midseason promotion. There's a decent chance we'll see him in September.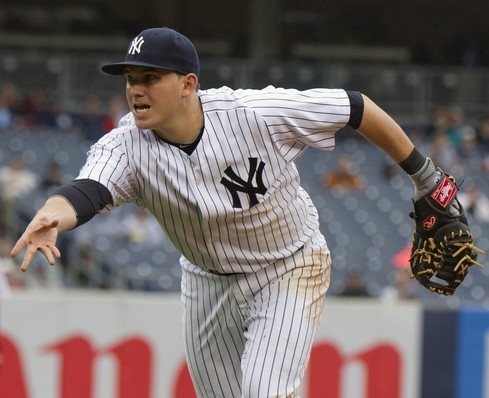 20. Brandon Laird, 1B/3B/LF, 24
Laird was unable to follow up his Double-A Eastern League MVP season in 2010 with similar success in 2011, though he made his big league debut in the second half and reached base in his first two plate appearances (walk and single). His .310 wOBA at Triple-A was disappointing, but he continued to show off his power by clubbing 16 homers to give him 81 dingers over the last four seasons. Laird doesn't get the most out his pop because he's an aggressive hitter and doesn't get into favorable counts, which limits his ceiling. He can murder a mistake pitch though. His defense has improved considerably over the years, allowing him to man third regularly as well as fill in at first and in left. It's tough to see Laird as anything more than a bench player or an up-and-down guy for the Yankees, so he may ultimately end up being a second or third piece in a trade. He'll get a long look in Spring Training and has an outside chance of making the team as a reserve, but he's likely headed back to Triple-A Scranton for the time being.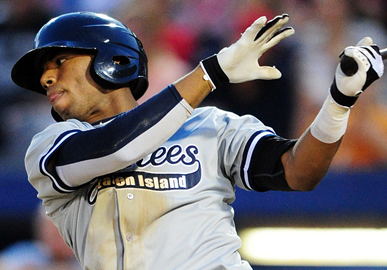 19. Angelo Gumbs, 2B, 19
The easiest thing to forget about the Yankees' second round pick in the 2010 draft is just how young he is. Gumbs was drafted at 17 with a mid-October birthday, so he's more than two months younger than Bubba Starling, the first high school position player drafted in 2011. A graduate of MLB's Youth Academy in (straight outta) Compton, Gumbs put together a .341 wOBA in 51 games for Short Season Staten Island last summer, though he struck out in 25.9% of his plate appearances. He's one of the best athletes in the system, with speed and strength in his 6-foot-0, 175 lb. frame. Gumbs has shown the ability to hit line drives to all fields, but he's an aggressive hitter and prone to swinging at bad pitches. He moved to second base full-time and should be fine there long-term, but he's struggled with his throwing so far. Center field is another possibility. There's a lot of potential here, but Gumbs is very raw and will need years to turn his physical gifts into baseball tools. He'll head to Low-A Charleston this season.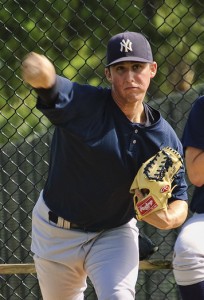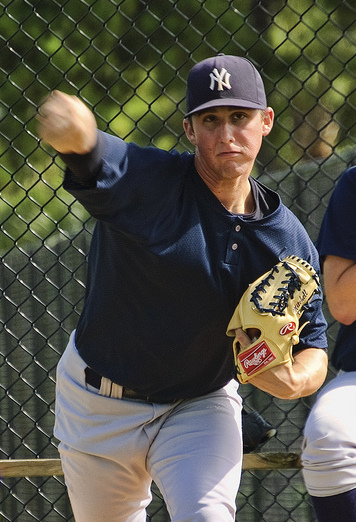 18. Bryan Mitchell, RHSP, 20
The Yankees knew Mitchell was going to be a long-term project when they gave him $800k as their 16th round pick in 2009, and so far he's lived up to the billing. His walk rate (4.52 BB/9 and 11.3 BB%) with Short Season Staten Island last summer was disappointing, but he walked just 16 batters in his final nine starts (3.18 BB/9 and 8.2 BB%). His strikeout rate (8.61 K/9 and 21.5%) didn't waver at all. You can count the number of pitchers in the organization with better raw stuff than Mitchell on one hand. He sits at 93-96 mph with his fastball and will touch 98 with ridiculous boring action in on righties. His curveball is already a legitimate strikeout pitch with sharp break in the low-80s. The changeup is still very much a work in progress and the control comes and goes, as does his delivery. Mitchell has one of highest ceilings in the system, but there is a lot of work to done. A classic high-risk/high-reward type, he'll get his first crack at full season ball this summer when he joins Low-A Charleston.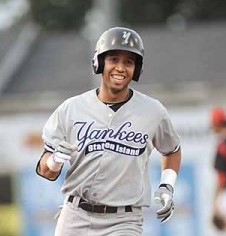 17. Cito Culver, SS, 19
He might not be as young as Gumbs, but the Yankees' first round pick in 2010 was drafted at 17 with a late-August birthday, so he's only three weeks younger than Starling. He posted a .324 wOBA with ten steals in ten tries for Short Season Staten Island last summer, though he showed a significant platoon split that jives with concerns about his left-handed swing: .324/.388/.408 vs. LHP and .224/.300/.312 vs. RHP. The Yankees have had some success with having players drop switch-hitting (namely Nunez and Frankie Cervelli), but they're not close to taking that step with Culver yet. His defense at short remains his calling card, and he projects to stay at the position long-term with good hands, easy range, and a strong arm that just needs to become more accurate. The spotlight will be on Culver as he climbs the ladder after being a surprise first round pick, but the Yankees rave about his makeup and ability to deal with adversity. He and Gumbs will be double play partners again next season, this time with Low-A Charleston.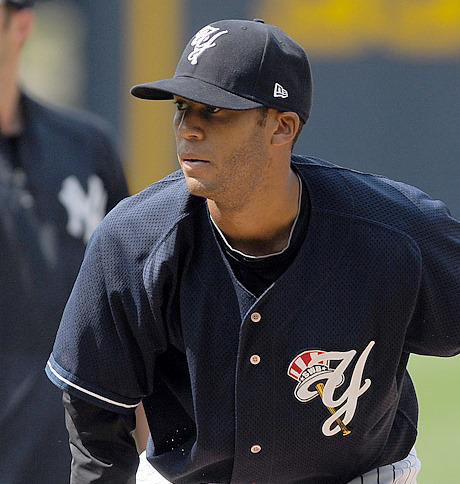 16. D.J. Mitchell, RHRP, 24
Mitchell has been nothing if not a workhorse since turning pro. His 161.1 IP led all Yankees farmhands in 2011, one year after he threw 150.2 IP (fourth in the organization) and two years after he threw 140.1 IP (sixth in the organization). He anchored the Triple-A Scranton pitching staff by pitching to a 3.18 ERA and 3.96 FIP, though his strikeout (6.25 K/9 and 16.4 K%), walk (3.51 BB/9 and 9.2 BB%), and ground ball (47%) rates underwhelmed. Mitchell lives and dies with his low-90s two-seamer, though he also throws a four-seamer, slider, and changeup. None of the offspeed pitches are legitimate put-away offerings, and lefties give him a hard time because of his lower arm slot and just average control. The Yankees reportedly like him best in a multi-inning, swingman relief role, which best suits his ability. Added to the 40-man roster after the season, Mitchell is as big league ready as it gets. He'll return to Triple-A to start the season and figures to be one of the first called up whenever pitching reinforcements are needed.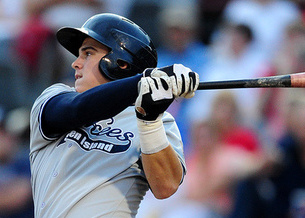 15. Tyler Austin, 1B/3B, 20
No one in the system had a better statistical season than Austin last year, who hit to a .517 wOBA in 20 games with the GCL Yanks before being promoted to Short Season Staten Island, where he put together a .443 wOBA. His pro debut in 2010 was sabotaged by a broken wrist suffered on a hit-by-pitch, but it's obviously all better now. Austin is one of the best all-around hitters in the organization, with huge right-handed power to the pull side and the ability to hit to all fields. His hit tool plays up thanks to a polished approach, as he's willing to work deep counts before unleashing on something in his hitting zone. The Yankees have used him at primarily third base since signing and he's made strong progress there, plus the corner outfield is an option because he runs well. There's a lot to be excited about here, and we'll get a chance to see what he can do with a full season's worth of playing time when he joins a prospect-laden Low-A Charleston infield this year.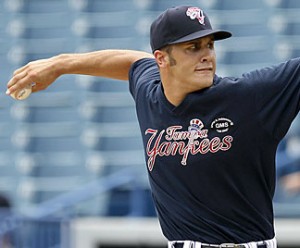 14. Brett Marshall, RHSP, 22
The 2008 draft class is more notable for the players the Yankees didn't sign — Gerrit Cole and Scott Bittle — than the players they did, and Marshall received the biggest bonus at $850k that year as their sixth rounder. He's fully recovered from 2009 Tommy John surgery and logged 140.1 IP in 2011, the fifth-most in the system. Marshall allowed just six homers all season and only two after mid-May, relying on a strong ground ball rate (55%) rather than strikeouts (7.31 K/9 and 19.4 K%) and limiting walks (3.08 BB/9 and 8.2 BB%). His fastball velocity now sits in the low-90s but the pitch still boasts the same explosive armside run as before surgery, which allows him to generate all those grounders. A slider and changeup round out his three-pitch mix, and reports indicate that the Yankees will have him try a curveball at some point as well. That's not at all surprising. An assignment to Double-A Trenton is in the cards for Marshall this season, and he's likely to remain there all year. He'll have to be added to the 40-man roster to avoid exposure to the Rule 5 Draft after the season.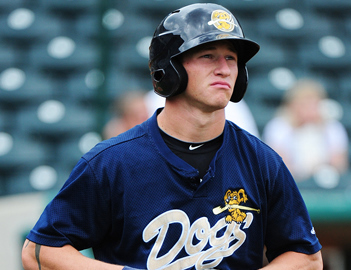 13. Slade Heathcott, CF, 21
Heathcott was arguably the best player in minor league baseball during the month of April, producing a .466 wOBA for Low-A Charleston before the calendar flipped to May. He was involved in a bench-clearing brawl and suspended for five games in mid-May, and his season came to an end in late-June thanks to his second left shoulder surgery in as many years. He's also undergone treatment for alcohol abuse. Heathcott is arguably the best athlete in the organization, with top-of-the-line speed and defense in center. The lefty hitter has power potential, but must improve his approach to untap it. Injuries have limited Heathcott to just 132 games since being drafted in 2009, cutting into his development time in a big way. The shoulder problems are recurring — he missed time with a shoulder problem in high school and has had the two surgeries as a pro — and are due in part to his balls-to-the-wall style of play. Heathcott will reportedly be behind other position players in camp due to his rehab from surgery, but figures to return to High-A Tampa when healthy.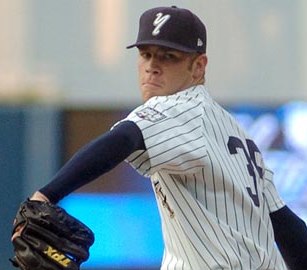 12. David Phelps, RHSP, 25
The Yankees were leaning towards letting Phelps make his big league debut against the Rangers on June 16th, but they instead signed Brian Gordon after he'd opted out of his minor league contract with the Phillies. Phelps hit the DL a week later with shoulder tendinitis, which kept him on the shelf for a month and a half. He returned without a problem in early-August and had a successful stint in the Arizona Fall League (meaning he didn't get his brains beat in like most pitchers), but the injury likely cost him the opportunity to pitch for the Yankees in 2011. The right-hander came close to repeating his 2010 performance (8.2 K/9 and 22.1 K% , 2.0 BB/9 and 5.6 BB%, 47% grounders) in Triple-A last year (7.5 K/9 and 20.0 K%, 2.2 BB/9 and 5.8 BB%, 40% grounders) if you give him a little wiggle room because of the shoulder. Phelps can sit in the 92-95 mph range with his fastball, backing it up with an array of solid but unspectacular secondary pitches: curveball, slider, changeup. He does a fine job of pounding the bottom of the zone and limiting walks, which he'll need to keep doing to avoid a future in the bullpen. The Yankees added Phelps to the 40-man roster after the season to protect him from the Rule 5 Draft, and he'll be one of the very first called up whenever the big league team inevitably needs a starter.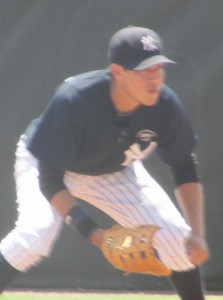 11. Ramon Flores, OF, 20
A scrawny little kid when he first signed out of Venezuela in 2008, Flores has grown a few inches and packed on some pounds in the last few years. He now checks in at closer to 6-foot-2 and 200 lbs. than the 5-foot-10 and 150 lbs. listed on MiLB.com. Flores was Low-A Charleston's best hitter from start to finish in 2011, posting a .350 wOBA with 11 homers and 13 steals in 125 games as a 19-year-old. His plate discipline and strike zone judgement are the best in the system, allowing him to lead the organization in walks (61) and post a sub-1.00 K/BB ratio through the early part of the season. The added size and strength has upped his long-term power projection, and his willingness to wait for his pitch allows it to show up in games. Flores hits to all fields and has an easy, left-handed stroke. Subpar foot speed and arm strength figure to relegate him to left field long-term, though he did spend quite a bit of time in center last year because of injuries elsewhere on the roster. Flores is an extremely advanced hitter for his age, and will look to continue his success as a 20-year-old in the High-A Florida State League in 2012. A spot in next year's top ten is right there for the taking.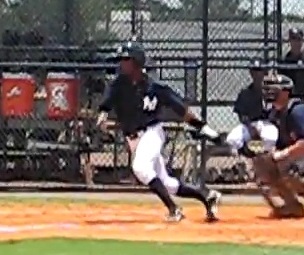 10. Ravel Santana, CF, 19
Signed for just $150k back in 2008, Santana led the Dominican Summer League with ten homers in 63 games in 2010 before coming stateside last year. He hit nine homers with a .423 wOBA and ten stolen bases in 41 games for the GCL Yanks team before a devastating ankle injury ended his season in August. He caught a spike stealing second and his foot got twisted around, which tore ligaments and broke his ankle in two places. When healthy, Santana wows onlookers with three well above average tools: power, speed, and throwing arm. The latter two allow him to be a standout defender in center and a threat on the bases, though he's still learning to unleash his full power potential by improving his approach and adjusting to breaking balls. Ravel has a cool name and a considerable ceiling, and recent reports indicate that his rehab is going well. If healthy enough, he's expected to head to Short Season Staten Island after a stint in Extended Spring Training.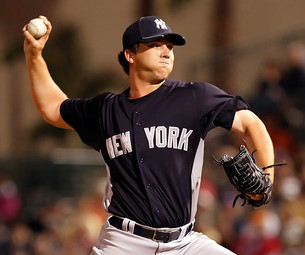 9. Adam Warren, RHSP, 24
If Nova's sore ankle had lingered for a few more days in late-July, Warren would have made his Major League debut in Game Two of a doubleheader against the Orioles on July 30th. Instead, Nova's ankle healed up and Warren spent the rest of the season with Triple-A Scranton, though he and a few others worked out with the big league team for a few days in September. The right-hander had a solid but unspectacular year in Triple-A, as his strikeout (6.6 K/9 and 17.1 K%) and walk (3.1 BB/9 and 8.2 BB%) rates took a step back from his 2010 numbers (8.4 K/9 and 22.3 K%, 2.2 BB/9 and 5.8 BB%), as did his ground ball rate (39% in 2011 vs. 54% in 2010). A fastball-changeup-command specialist when drafted, Warren has improved his slider to the point that it's become his go-to pitch in strikeout situations. He can cut and sink his low-90s heat to give hitters different looks, and the changeup is still a strong offering. Warren threw 152.1 IP in 2011, his third straight year over 130 IP and second time over 150 IP in three seasons. He'll start 2012 back in Triple-A but is in position to contribute to the big league team right away. The only problem is that both D.J. Mitchell and Phelps are on the 40-man roster while Warren is not.
8. J.R. Murphy, C, 20
Murphy didn't make the biggest jump up the rankings this year, but you can make a case that no one cemented their status as a top prospect in the organization more last year. He posted a .359 wOBA with a solid 13.7% strikeout rate in 63 games with Low-A Charleston, then was promoted to High-A Tampa at midseason before fouling a ball of his foot and breaking a bone, prematurely ending his year. Murphy has a contact-oriented swing geared for hard contact, though his power is more into the gaps than over the fence. The offense was nice, but the real reason his stock improved so much was his defensive progress. Multiple reports indicated that he made major strides behind the plate, establishing himself as a long-term option at the position. Murphy's athletic enough to have spent time at third base as well, and the corner outfield is also an option. It's hard not to be pleased with the progress he made in 2011, but it's important for him to now build on that next year. Murphy will look to do just that when he returns to High-A Tampa to open the season.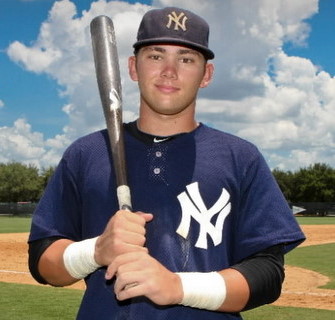 7. Dante Bichette Jr., 3B, 19
For the second year in a row, the Yankees surprised everyone by bucking the consensus with their first pick in the 2011 draft. They took Bichette with the 51st overall selection (which they received as compensation for Javy Vazquez), and watched him go on to win league MVP honors with the GCL Yanks by posting a .438 wOBA. He ranked among the league leaders in AVG (.342, second), OBP (.446, second), SLG (.505, eighth), OPS (.951. fourth), hits (67, first), doubles (17, first), RBI (47, first), total bases (99, second), and walks (30, third). Considered a bat-first player at the time of the draft, Bichette was surprisingly adept at the hot corner with smooth actions and a strong arm. He's no Gold Glover, but he's no longer considered a lock to move off third. His bat remains his calling card, as he combines huge right-handed power with a very advanced approach and the ability to spray the ball to all fields. Bichette draws raves for his makeup, reportedly taking on a leadership role with the GCL club by helping integrate the young Latin American players into the clubhouse. He's expected to jump to Low-A Charleston in 2012 and will zoom up the list if he continues to show sound defensive skills.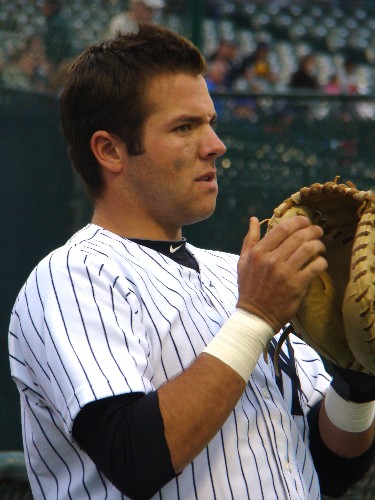 6. Austin Romine, C, 23
Romine's season started with him repeating Double-A and ended with him in the big leagues. A concussion and back stiffness limited him to a career-low 89 games in 2011, during which he posted a .332 wOBA with a career best 8.6% walk rate and his lowest strikeout rate (16.1%) in four years. The Yankees were going to have to add Romine to the 40-man roster after the season to protect him from the Rule 5 Draft, so they sped up the process by calling him up in September when Cervelli was shelved by a concussion. He caught eight games in the show, four as a starter. Romine is clearly the organization's best catching prospect at the upper levels now that Montero's been traded, combining solid defense with a sound approach and power that is more evident during batting practice than in games. He's not a future star, but he is a safe bet to contribute at the big league level in some capacity. At his peak, he's a 15-20 homer backstop with solid glovework behind the dish. The Yankees didn't help Romine any by keeping him in Double-A all season when he was clearly ready for the next level, but he'll finally get a real crack at Triple-A in 2012. After his late-season cameo, he figures to be the first called up if an extra catcher is needed.
5. Jose Campos, RHSP, 19
Pineda rightfully garnered most of the attention following the trade from the Mariners, but the Yankees also got a pretty good secondary piece in a deal. Campos crushed the Short Season Northwest League while with the Mariners last summer, posting a 2.38 FIP with 9.41 K/9 (25.7 K%) and 1.44 BB/9 (3.9 BB%) in 85 IP. The slender right-hander (listed at 6-foot-4 and 195 lbs.) lives off his 93-95 mph fastball, which he commands exceptionally well and can run up to 98 from time to time. His breaking ball and changeup need work, but both pitches have shown flashes of being above average big league offerings. Campos has a simple delivery and is an extreme strike-thrower, and he's drawn praise for his makeup and pitching aptitude. He'll be at the front of the rotation for the prospect-heavy Low-A Charleston squad this summer.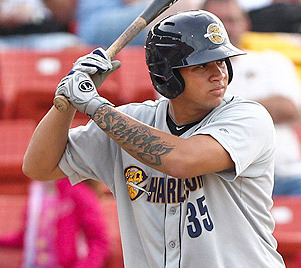 4. Gary Sanchez, C, 19
Full season leagues build character, and Sanchez sure had his fair share of character building exercises in 2011. After starting the season as the second-youngest player in the Low-A South Atlantic League, he slumped to a .323 wOBA before being demoted to Extended Spring Training in late-May due to "attitude problems." He returned in early-June and went on a rampage, producing a .392 wOBA in his next 50 games before a finger injury ended his season in mid-August. Sanchez's ridiculous power and strong plate discipline were on full display with the River Dogs, as he clubbed 17 homers with a .229 ISO and a 10.5% walk rate. The power is very real, as are his struggles with breaking balls and on defense. Sanchez struck out in 27.1% of his plate appearances in 2011, which is Austin Jackson territory. He led the league with 26 passed balls in just 60 games behind the plate, and reports indicate that he stopped calling for breaking balls at times because he struggled to receive them. Like Montero, with whom he'll inevitably be compared, Sanchez has a lot of work to do if he wants to remain at catcher. The preseason hype machine was out of control last year, but I think Sanchez might actually be a little underrated at the moment. The Yankees will bump him up to High-A Tampa this year and hope there are no more speed bumps.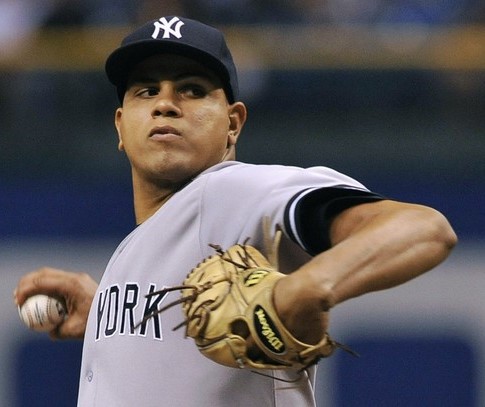 3. Dellin Betances, RHSP, 24
It took five years, but Betances finally made it through his first full season without an arm problem in 2011. His 129 IP were a career high, and he got his first taste of the big leagues in September. He walked six of the 16 batters he faced in the show, though four of those came in his debut appearance, a relief outing. He tossed two uneventful innings in a spot start on the final day of the season. Still a giant at 6-foot-8 and 260 lbs., Betances owns the best raw stuff in the system. He sits anywhere from 92-96 with his fastball and has bumped 98 in the past, and his power curveball is a true strikeout pitch in the low-80s. His surprising changeup continues to be a legitimate offering, though he struggled to harness the pitch at times last season. As always, the question is about control. Betances walked 70 batters in 2011, a 5.0 BB/9 and 12.6% walk rate. He's posted a 4.0+ BB/9 and a 11.0%+ walk rate in three of the last four years, and whispers about a future in the bullpen because of the control issues are growing louder. The Yankees will give him another year in the rotation though, as he's slated for a return trip to Triple-A Scranton following last year's late-season cameo.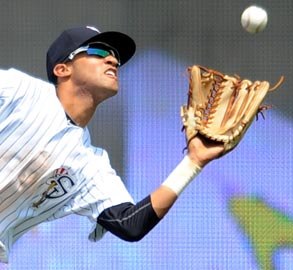 2. Mason Williams, CF, 20
There's just something about Williams and the number 145. Baseball America ranked him the 145th best prospect in the 2010 draft, the Yankees selected him with the 145th overall pick, signed him to a $1.45M bonus, and last season with Short Season Staten Island he posted a … 149 wRC+. So, so close. Williams was named the best prospect in the NY-Penn League after he produced a .404 wOBA, led the league in hits (94) and steals (28), and helped the Baby Bombers to their fifth league title in the last ten years. Wiry strong at 6-foot-0 and 170 lbs., Mason is a fast-twitch athlete with more power than I initially realized (meaning he's not just a slap hitter) and a knack for getting the bat on the ball (just 13.8% strikeouts in 2011). A ballhawk in the outfield, Williams is a true center fielder with great speed and an average throwing arm. His routes and base-running (caught stealing 12 times in 40 attempts) need work, but that's the kind of stuff that will improve with experience. Williams has an idea at the plate and claims he has gained 25 lbs. since signing. He has a chance for five average or better tools if he continues to add muscle and power. More than likely he'll settle in as a 3.5-tool kinda guy, with his arm and power being the drawbacks. The Yankees are going to turn him loose with Low-A Charleston next season, meaning Heathcott needs to start looking over his shoulder.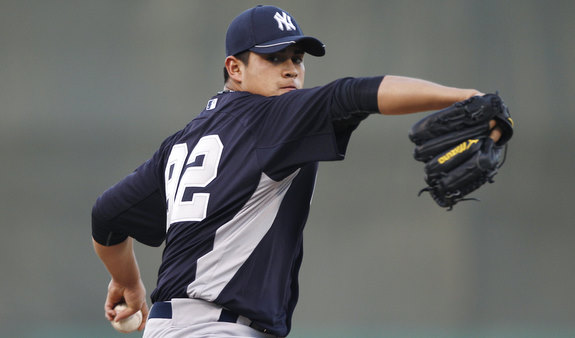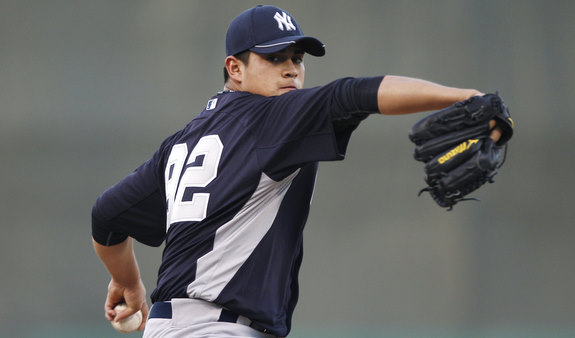 1. Manny Banuelos, LHSP, 21
A strong showing in Spring Training fueled speculation that he could break camp with the big league team last season, but Banuelos was ultimately returned to Double-A to start the year. He was the fourth-youngest player in the Eastern League, though his trademark command and control were nowhere to be found. He walked 52 of the 422 batters he faced with Trenton (4.9 BB/9 and 12.3%), then walked another 19 in 34.1 IP after a late-season promotion to Triple-A (5.0 BB/9 and 12.3%). Banuelos walked more batters in 2011 (71) than he did in the three previous seasons of his career combined (66, or 7.4%). He did maintain a high strikeout rate though (8.7 K/9 and 21.7%), and aside from a blister issue in April, he took the ball every five days and logged a career best 129.2 IP.
Despite the walk troubles last year, the scouting report hasn't changed. Banuelos still sits anywhere from 90-95 with his fastball, backing it up with a knockout changeup and a hard curve that has flirted with the low-80s. He generates swings and misses with all three pitches, and can be untouchable when he's dotting the edges of the zone like he did from 2008-2010. Banuelos is the Yankees' best left-handed pitching prospect in what feels like ages, which is kinda surprising given their long history of quality southpaws. A return engagement to Triple-A is in the cards, and a midseason call-up to the big leagues isn't out of the question. Banuelos can be a worthy left-handed complement to Pineda and Nova, the club's two young power right-handers at the big league level.
* * *
Montero would have been an easy call for the top spot had he not been traded, and in case you missed it, here's the write-up that would have appeared in this post. Noesi graduated to the bigs last year, so he wouldn't have been eligible for the list. I would have ranked Cole ahead of Banuelos, assuming he would have developed into the exact same guy he is right now had he signed back in 2008. Arodys Vizcaino would be between Banuelos and Williams, and Zach McAllister probably would have been in the 21-25 range somewhere. Brackman would have been in the 25-30 range, if that.
The collection of lower level position player prospects — Sanchez, Bichette, Austin, etc. — is as good a group as the Yankees have had in recent memory. The upper level arms still highlight the system though, and it's worth noting that there's a bit of a talent gap coming. Last year it was at High-A Tampa and this year it's moving to Double-A Trenton. Sanchez, Flores, Murphy, and Heathcott could close that gap with strong seasons. The Yankees don't boast one of baseball's ten best prospects for the first time in a while, but they still have enough talent to rank among the game's ten best farm systems.