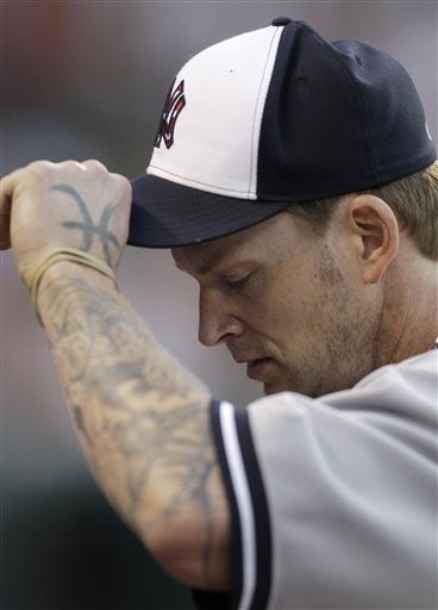 The last few days have been abuzz with news about a potential trade involving A.J. Burnett, most likely to the Pirates with the Yankee saving anywhere from $8-15M over the next two years. Reports made it sound as if a trade was imminent, but instead they insisted nothing was close. If a trade is made, I have to think it would get done this week, before pitchers and catchers officially report to camp on Sunday (the Pirates report on Friday). No one wants this to drag out and have it be a distraction in Spring Training.
Currently stuck in a three-man battle for the fifth starter's spot, there are certainly some valid reasons to keep Burnett and use him in that role. His strikeout (8.18 K/9 and 20.7 K%) and ground ball (49.2%) rates improved considerably last year (6.99 K/9 and 17.5 K% with a 44.9 GB% in 2010), and his outrageous homerun rate (1.47 HR/9 and 17.0% HR/FB) should rebound only because no one has ever given up one homer for every six fly balls over an extended period of time. Burnett's 3.86 xFIP in 2011 paints a much rosier picture than his 5.15 ERA, but you have to be careful with xFIP because it assumes a pitcher should have a league average homerun rate (10.6% HR/FB). That part is simply not true; pitchers give up homers at different rates. From 2006-2010 (his time in the AL excluding last season), approximately 11.9% of Burnett's fly balls left the yard, more than the average.
That said, the difference between A.J.'s homer rate and the league average isn't huge, but we should probably adjust our expectations a bit and not take the xFIP data as gospel. Don't get me wrong, if the homer rate comes down he'll make for a damn fine fifth starter. The question the Yankees have to ask themselves is whether they think Burnett can actually pitch to his xFIP over the next two years, and if they're willing to gamble $33M to find out. Given the trade talks, the answer is pretty clearly no. At age 35, it's reasonable to expect Burnett to get worse over the next two seasons, not better. This could very well be their last chance to unload (part of) his contract, because if they keep him and he does decline further this coming year, they'll have no chance to trade him, not for anything close to the kind of salary relief they're looking at right now anyway.
Just the fact that they're talking about dealing Burnett — who's turned into a workhorse that takes the ball every fifth day regularly — tells you the Yankees are confident in their pitching depth. Freddy Garcia and Phil Hughes are more than qualified to hold down the final spot in the big league rotation, and the minor league backups include David Phelps, D.J. Mitchell, and Adam Warren, probably in that order. Manny Banuelos and Dellin Betances are a little further away but should be able to step in at midseason if things go reasonably according to plan. There won't be any Tim Reddings or Darrell Mays coming to town this year unless something many things have gone horribly, horribly wrong. Simply entertaining the notion of dealing A.J. is a vote of confidence in the kids.
The Yankees know Burnett better than any of us, and appear to have decided that trading him and using the cost savings to fill out the remaining holes on the roster — backup infielder, left-handed DH, maybe a second lefty reliever? — is better than keeping him around in some capacity. I think A.J. could be a pretty effective one-inning reliever for reasons Joe outlined last year, but the club isn't exactly hurting for bullpen help either. Eating all that money to move the last two years of Burnett's contract is a tough pill to swallow (especially since he's in no way a jerk or an unpleasant person), but I do believe trading him and getting out from under as much of the contract as possible is the right move at the moment. Using the extra money to improve other aspects of the roster is icing on the cake.