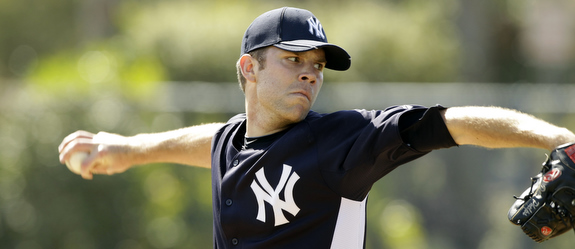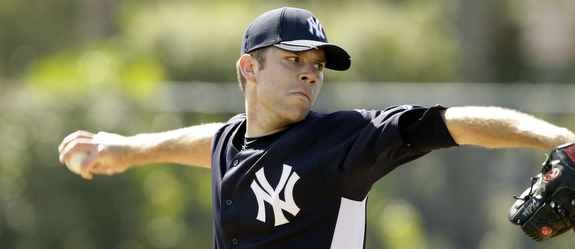 The pitching staff has been the focus of Spring Training so far and rightfully so. The Yankees made two big name pickups this offseason and those players have been under the microscope (though the Michael Pineda coverage has gone from intense to flat out absurd), plus Phil Hughes has some serious questions to answer after his disastrous 2011 campaign. Mariano Rivera didn't help matters by hinting at retirement his first day in Tampa, and neither did David Robertson's foot injury.
While all that has been going on, the team's minor league pitching depth has been quietly plugging along and getting outs. The quartet of Manny Banuelos, Dellin Betances, Brett Marshall, and D.J. Mitchell had not allowed a single run this spring (combined 19.2 IP) until Banuelos got knocked around yesterday, but it's another minor league hurler that has apparently piqued some interest. Courtesy of Joel Sherman…
One Yankees player getting some buzz among scouts is David Phelps, who on Tuesday night against Boston continued his good vibrations by striking out five of the 10 Red Sox he has faced.

Both the Yankees and a few scouts noted to me that Phelps has ticked his fastball up to the 92-93 mph range. And a particularly impressed scout said that has raised his profile because the righty already had good aptitude and competitiveness on the mound.
Phelps, 25, has allowed one unearned run in seven innings this spring, striking out seven. He ranked 12th on my list of the team's top 30 prospects thanks to his four-pitch mix and MLB readiness, though I'm not entirely sure what the big deal is with his fastball getting up to 92-93. Baseball America had him throwing 92-95 mph way back in their 2010 Prospect Handbook, though I suppose they could have been wrong. Maybe he lost a little velocity following the shoulder tendinitis that shelved him for close to two months last summer. Who knows, but whatever is going on, people around the game are starting to take notice.
The Yankees added Phelps to the 40-man roster this past offseason to protect him from the Rule 5 Draft, though they were prepared to call him up for a spot start in mid-June before the Brian Gordon signing. I'm not entirely sure who the Yankees would call up first for a such a start at the moment, I go back and forth between Phelps and Mitchell depending on the day. Adam Warren is in that mix as well, but he's at the disadvantage of not being on the 40-man. In reality, a call-up will have just as much to do with the schedule as it does performance. Whoever's lined up to pitch that day will be the frontrunner.
It's nice to hear that Phelps is generating some buzz during a time when most reporting focuses on what a player is not rather than what he is, but we've known about him for a while now. The Yankees could use him (and others) in a variety of ways — starter, reliever, trade bait — so they have a pretty nice core of minor league pitching depth. The best case scenario calls for us to see none of these guys in 2012, but that's next to impossible. The more attention these guys get, the better.