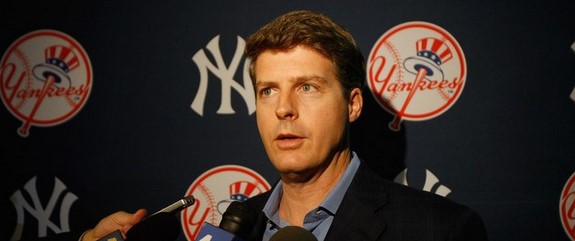 It's been more than three months since we first heard about the Yankees' intentions to get under the $189M luxury tax threshold in 2014, but now we finally have confirmation from ownership. Hal Steinbrenner spoke to reporters briefly this morning, making it clear that talk about the austerity budget isn't just for show. Courtesy of Marc Carig and Chad Jennings…
"The [$189M payroll] in two years is definitely a goal of ours," Steinbrenner said. "We're not too far off. We're going to have a very similar payroll this year to last year, but I think we have a better team. Somewhat of an accomplishment I guess, on paper anyway. We'll see. But yes, that 189 is a real number, and we're going to be shooting for it.

"I'm a finance geek, I guess I always have been. That's my background. Budgets matter and balance sheets matter. I just feel that if you do well on the player development side, and you have a good farm system, you don't need a $220M payroll. You don't. You can field every bit as good a team with young talent. When you consider (Manny) Banuelos and (Dellin) Betances and some of the pitching we have coming up with (Ivan) Nova and (Phil) Hughes and (Michael) Pineda, next year, when one of those two or both of those guys are up, we're going to have the kind of young pitching we haven't had since … I don't know when the last time was.

"Luxury tax is an option; it's a personal option. We do it. We go into it knowing exactly what we're doing. Being the only team that does it, I'm just not convinced we need to be as high as we've been in the past to field a championship caliber team … I'm looking at it as a goal. But my goals are normally considered a requirement. Is it a requirement with baseball that we be at $189M? No, it's not a requirement. But that is going to be the luxury tax threshold and that's where I want to be."
I sense a collective freakout coming on, but I think Hal laid things out well. He didn't say they were unwilling to pay the luxury tax (they obviously are), just that they feel they can win a championship without paying it. We all know he's right, we it happen almost every year.
Dave Pinto had a great take on the whole austerity budget thing, saying the Yankees essentially want to become "the Rays with money." That means develop a core from within, then use the payroll advantage to add high-end free agents/trades strategically rather than necessarily. It's exactly how the late-90s dynasty was built. It would make the Yankees crazy dangerous, but it's much easier said than done.
The team's current payroll is somewhere in the $225M range, so getting it down to $189M in two years will be no small feat. Shedding the Rafael Soriano, A.J. Burnett, and (sadly) Mariano Rivera contracts will account for roughly $39M in savings alone, but it's not that simple. Robinson Cano is due a substantial contract extension, both Nova and Pineda will be arbitration-eligible by 2014, the trio of Nick Swisher, Curtis Granderson, and Russell Martin will either have to be re-signed or replaced, and so on. It's doable, but it won't be easy. The club seems very committed, however.