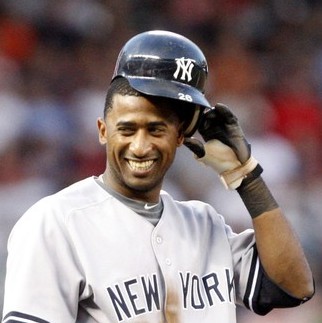 As soon as the Yankees traded Jesus Montero, we knew they were going to have some sort of platoon at DH this year. Andruw Jones was the obvious choice against left-handers, and after a few weeks of rumors, the Yankees settled on Raul Ibanez against right-handers. He'll be in the lineup this afternoon against Jamie Shields. The DH platoon isn't that straight-forward, however. Eduardo Nunez is going to be a factor as well.
Joe Girardi confirmed yesterday that Nunez will start Saturday's game either at shortstop or third base against the left-hander David Price. Either Derek Jeter or Alex Rodriguez will then serve as the DH, and Andruw figures to step into left field while Brett Gardner rides the bench. Girardi also said that this will be his regular alignment against southpaws. We discussed a similar setup at various points this offseason, but now we know the team is putting the plan in place.
Since last summer, the Yankees have insisted on giving Nunez more playing time this season and this is probably the most logical way to do it. Jeter and especially A-Rod could use the regular rest, and although Gardner's defense will be missed, his bat won't be (career 84 wRC+ vs. LHP). Besides, it's only for a few innings. He'll surely replace Jones in the later innings of a tie game. Nunez's bat against southpaws isn't much better (94 wRC+), but we're only talking 147 big league plate appearances. His minor league numbers suggest he could be a little better than that going forward.
I'm not Eduardo's biggest fan, but the Yankees are going to play him whether we like it or not. There's no harm in seeing what the kid could do given semi-regular at-bats, especially with all this talk about the 2014 payroll and the need to inject some youth into the lineup at some point relatively soon. If it doesn't work out, then so be it. The Yankees can adjust and figure out a new arrangement. Nothing's permanent. I do like that they're being somewhat creative and aren't employing a straight platoon though, this could yield some big results if it means a healthier A-Rod and Nunez proves useful.