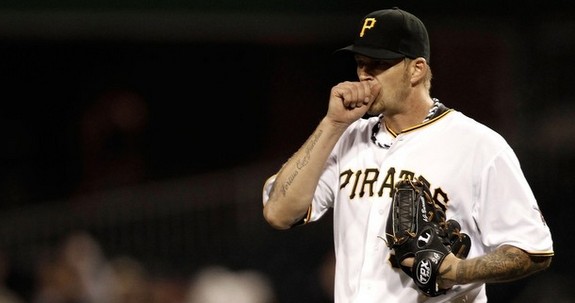 Once upon a time, the Yankees had a surplus of starting pitching. So much so that they traded one of the only 16 pitchers to make at least 32 starts in each of the last three seasons to the Pirates for a pair of fringe prospects and $13M in salary relief. New York's rotation has been inconsistent and adequate at best while A.J. Burnett has toiled in relative obscurity in Pittsburgh. Contending is a pipe dream, but Burnett recently told both Brian Costa and Andy McCullough that he's enjoying his new surroundings.
"It's completely different," he said. "I can go out there and do what I want, how I want, when I want to. If I want to turn around upside down, I can do it — as long as I throw a strike. It was always the pressure I put on myself to do so good. And now, I'm just out there, just doing it."
Like every other ex-Yankee, Burnett takes advantage of the freedom to don some horrible facial hair. He traded a college fund for a uniform number and keeps fishing poles at his locker in PNC Park while his 2009 World Series ring is tucked away at home. He still talks to CC Sabathia, Ivan Nova, David Robertson, and others regularly but also acknowledges that he prefers the levity of his new situation.
"I'd get 3-0 on the first batter, and you'd hear a bunch of people," he added. "My first start, I walked the bases loaded here. I can't even imagine what [Yankee Stadium] would have sounded like over there, and there was maybe like two words that came out of the crowd here. So it's just different."
Burnett owns an unsightly 4.78 ERA in six starts for the Pirates, but most of that stems from a 2.2-inning, 12-run disaster against the Cardinals a few weeks ago. He's allowed no more than two runs or thrown fewer than six innings in any of his other five starts, including seven shutout innings against St. Louis in his first appearance of the year. As you know, he missed the first few weeks of the season after fouling a ball off his face in Spring Training and fracturing his orbital bone. His 3.46 FIP is by far his best since a 3.45 mark with the Blue Jays in 2008, the year before he came to New York.
Do the Yankees miss Burnett? Despite their sketchy rotation, I don't believe so. Burnett helped the Yankees win a World Championship and if you do that, you're cool with me. That doesn't mean you get to keep your job forever though. He was good for innings but not much else these last two years and the move to the easier league seems to have served him well at this point of his career. It doesn't sound like A.J. misses the Yankees but not in a mean-spirited way. Things here had run their course.
"I had my good times there, though" said Burnett. "I don't regret it at all. I don't. I regret not performing better."