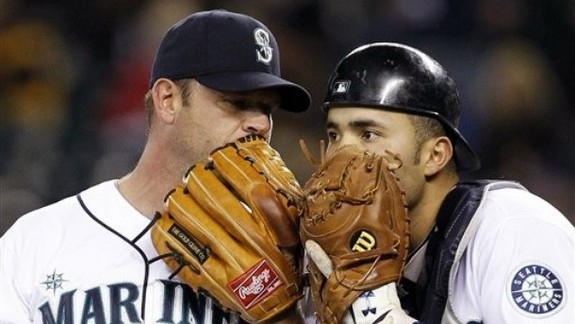 For the first time since January's trade, the Yankees will get a look at Jesus Montero, Seattle Mariner tonight. The deal already looks like a disaster on New York's end with Michael Pineda out of the season (torn labrum) and Jose Campos out indefinitely (elbow inflammation), but luckily for the Yankees, you can't pass final judgment on a trade of this magnitude after four months. The early returns are horrible, however.
Montero has settled in as a middle of the order bat for Seattle. That has more to do with the state of the team than his actual production though, because a .268/.282/.420 batting line (.298 wOBA and 91 wRC+) is hardly deserving of a primo lineup spot. I am surprised Montero is off to such a relatively slow start but not entirely. I mean, he is only 22. We all knew a slow start was possible just because rookies tend to suck. Add in a pitcher-friendly home park and offensively incompetent teammates, and you have a recipe for a slow start. It happens and I'm sure he'll be more than fine in the long run.
On a personal level, I've already accepted the trade and said my goodbyes to Montero. That sounds incredibly lame and cheesy, but it's hard not to get attached to these guys as you follow their progress through the minors. Heck, here's the DotF from his pro debut in 2007. We know when these kids sign, when they hit, when they struggle, when they do anything in the minors before reaching the big leagues these days. If you read RAB regularly, they become as much a part of the Yankees experience as Derek Jeter and CC Sabathia and Yankee Stadium. You get attached to them and when they get traded, it bums you out. It's only natural.
Regardless of what they said publicly, the Yankees didn't believe Montero was a big league catcher defensively. Actions speak louder than words and when Frankie Cervelli went down with a concussion last September, it was Austin Romine who took over behind the plate. That's why he was traded. If he was a corner outfielder or something, chances are he'd still be in pinstripes. And that's fine, when the pieces don't fit you adjust. I thought Montero could be serviceable enough behind the plate in my completely amateur opinion, enough to catch 50-80 games a year for the next few seasons. He didn't have to catch forever, but a few years back there seemed doable. The Yankees didn't agree so they made the move.
Like everyone else, I have favorite players around baseball and Montero is one of them. I disliked the trade at the time and am pretty annoyed at how it's played out so far, but at the end of the day I root for the laundry. I hope Montero does well this weekend (and going forward) but I hope the Yankees do even better. I miss Jesus and really wish he was the regular DH/backup catcher this year, but he's not and that's just the way it is. I enjoyed his short time in pinstripes but as usual, the players change. The Yankees are the constant and that's where my allegiance lies.