The 6-4 score makes the game seem a whole lot closer than it actually was. The Yankees cruised to their second straight win over the Indians and fourth straight win overall on Tuesday, continuing what is now a month-long stretch of excellent play.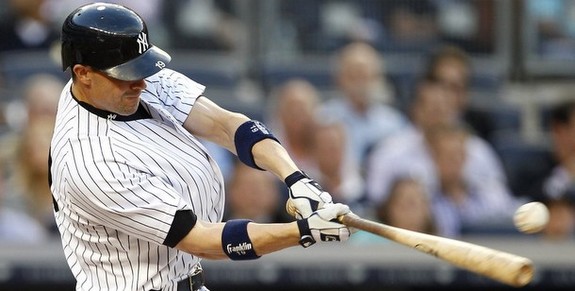 RISP BABIP Correction: Activate
I made a point to mention the team's BABIP with men in scoring position on Tuesday morning, telling you to just enjoy the homers for the time being because at some point the hits will start dropping in with runners on second and/or third. All those hits seemed to fall in in the second inning against Justin Masterson in this game. First Jack Hannahan came up empty diving after a soft line drive from Chris Stewart, knocking the ball into foul territory and allowing Nick Swisher to trot home with two outs. Then birthday boy Derek Jeter grounded a ball off Masterson that ricocheted into the infield version of no man's land. That loaded the bases for Curtis Granderson, who stroked a two-strike, two-out, two-run single the other way.
BABIP correction is a wonderful thing. Balls bounce off gloves, grounders deflect away from infielders, all sorts of neat stuff happens. That said, Granderson's single was the key to that inning. It was his 11th hit to left field this year, already three more than all of last season. I first noticed the opposite field trend when the Yankees were out in Oakland, though we're still a long way away from knowing if this is just a fluke or a conscious effort on Grandy's part to shorten up and go the other way. Either way, hooray for getting the runs in with two outs. Those two-strike hits are killers.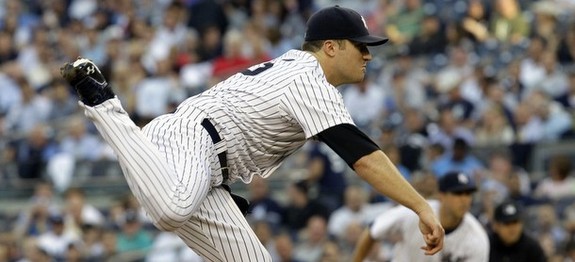 Two Curves
After getting tagged for four homers in less than five innings against the Braves last week, Phil Hughes rebounded in a big way against the Indians. He struck out four across eight scoreless innings, getting some timely ground ball double plays (!) when he needed them, and overall just being pretty awesome. The only extra base hit he allowed was a Michael Brantley double that may have been a single had Dewayne Wise not taken a circuitous route. It was good to see him right the ship after getting shellacked last time out.
What I noticed more than anything from Phil was that he seemed to be throwing two different curveballs. One was a straight 12-to-6 number but the other had a little more 11-to-5 break (from the catcher's point of view). The PitchFX data at Brooks lumps them all under one curveball umbrella, so maybe I'm just imagining things. It just seemed like he was throwing more of a slurvy breaking ball at times, and it was effective. Perhaps it was just dumb luck and unintentional. I'll keep my eyes open going forward to see if it happens again. Regardless, great start from Hughes. He was money.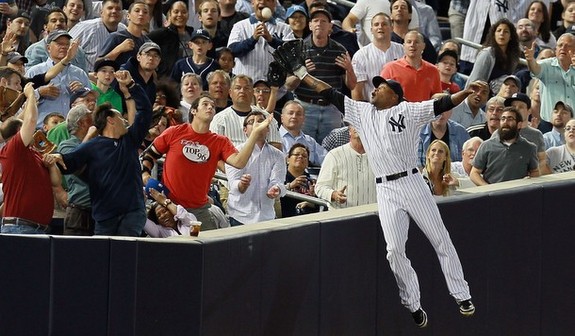 Leftovers
So, how about Dewayne Wise's flying into the stands catch to end the seventh? The best part was the replay showing that he climbed out of the stands with no ball in his glove and they still ruled it a catch. It looked fantastic live, but man was that a brutal call. In fairness, ump Mike DiMuro owned up and admitted his mistake to the media after the game. Hooray for accountability.
Cory Wade has been pretty bad for about a month now, though I thought it was a pretty good idea to use him in the ninth inning with a six-run lead. They gotta get him sorted out, you know? Anyway, Wade blew up again, allowing a run on a double and a bloop single before serving up a three-run jack to Jose Lopez. It seems to be the same pitch whenever he serves up a long ball, a changeup that hangs out over the plate. Cory has about three weeks to get himself straight before David Aardsma comes calling for a roster spot.
Alex Rodriguez sat out Monday's game and he is now 17-for-42 (.405) with six homers in 11 games immediately following a day off. His seventh inning solo homer to left landed in the second deck, and we don't see too many balls hit up there. Unfortunately, Alex's blast also robbed the Yankees of just their second homer-less win of the season. Boo.
Jeter had a pair of knocks, as did Swisher and Stewart. Every hitter reached base at least once — including pinch-hitter Andruw Jones — except for Raul Ibanez. Jeter (two singles), Granderson (single and walk), A-Rod (homer and walk), Swisher (two singles), and Stewart (two singles) all reached base twice. As a team, they went 4-for-8 with runners in scoring position. Hooray for that.
MLB.com won't let me embed it, but here's the video for Tuesday's HOPE Week event. The Yankees visited Jorge Munoz, the "Angel in Queens" who runs a non-profit organization dedicated to serving hot daily meals to those in need in New York. Pretty awesome.
Box Score, WPA Graph & Box Score
MLB.com has a box score and video highlights, FanGraphs the advanced stats, and ESPN the updated standings. With both the Orioles and Rays losing, the Yankees are now four games up in the division in the loss column. They're six up on Tampa, and that's the more important number as far as I'm concerned.

Source: FanGraphs
Up Next
The Yankees will look to complete the sweep on Wednesday afternoon when Andy Pettitte gives it a go against Ubaldo Jimenez. Check out RAB Tickets if you want to catch the matinee.