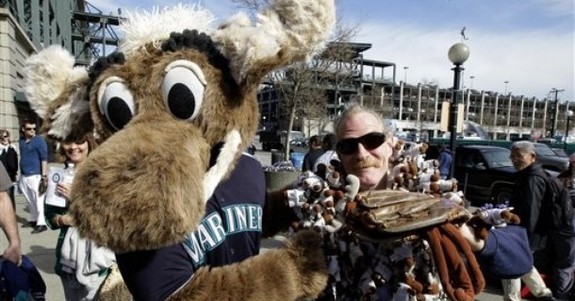 The Yankees just finished getting swept in Oakland and now move up the coast to Seattle. The Mariners are on their way back home from Tampa, which I assume is the longest flight in baseball. Well, Miami-to-Seattle is longer, but close enough. The Yankees took two of three from the Fightin' Monteros at Yankee Stadium back in May.
What Have They Done Lately?
The Mariners took two of three from the Rays and have won six of ten overall since the All-Star break. At 42-55, Seattle is in last place in the AL West with the fourth worst record in the league. Their -13 run differential is fifth worst (by a large margin, actually) in the AL.
Offense
No surprise here, but it's bad. Real bad. The Mariners average a touch under four runs per game overall (3.95 to be exact), but their home/road split is enormous. They're hitting just .196/.275/.288 (!) as a team at Safeco Field this year (59 wRC+), which is unfathomably bad. That's not quite as bad a nine Chris Stewarts (45 wRC+), but it's damn close. The Mariners own a much more respectable team 98 wRC+ on the road this season.
Seattle's best hitter this season has been Michael Saunders (110 wRC+), though John Jaso (140 wRC+) and Casper Wells (119 wRC+) have been productive in platoon roles. Kyle Seager (99 wRC+) has been league average and it drops off in a big way after the that. Ichiro (77 wRC+) and Dustin Ackley (77 wRC+) were supposed to be catalysts atop the lineup but have done very little on the year. Justin Smoak (60 wRC+) has over 1,250 career plate appearances telling us he's a terrible hitter. Add in Brendan Ryan (59 wRC), Chone Figgins (48 wRC+), Miguel Olivo (40 wRC+), Munenori Kawasaki (34 wRC+), and the recently recalled Carlos Peguero (101 wRC+) and you get one serious LOLffense.
Then there's Jesus Montero. The former Yankees farmhand owns a .261/.300/.401 (89 wRC+) batting line with nine homers this year, the vast of majority of which have come as a DH. He's started just 35 of 97 games behind the plate this season. Montero has been hot since the All-Star break, reaching base in all eight games he's played and hitting .394/.447/.606 overall. During the seven-game road trip through Kansas City and Tampa, he went 12-for-26 (.462) with four doubles, a homer, three walks, and three strikeouts. He's probably their most dangerous hitter, at least right now, but he's certainly shown the willingness to chase offspeed stuff off the plate this season.
Pitching Matchups
Monday: RHP Hiroki Kuroda vs. RHP Kevin Millwood
The 37-year-old Millwood frustratingly held the Yankees to one run across seven innings back in May, part of a nice little streak that included no more than one earned run in five of six starts. He owns a 4.15 ERA (3.57 FIP) overall, though his strikeout (6.62 K/9 and 17.1 K%) and walk (3.35 BB/9 and 8.7 BB%) walk rates aren't anything special. Millwood gets ground balls (45.8%) and limits homers (0.53 HR/9) thanks in part to his home park. He'll use two and four-seamers right around 90 to setup an array of offspeed stuff, including a low-80s slider, a low-80s changeup, and an upper-70s curveball. An upper-80s cutter will also make an appearance from time to time.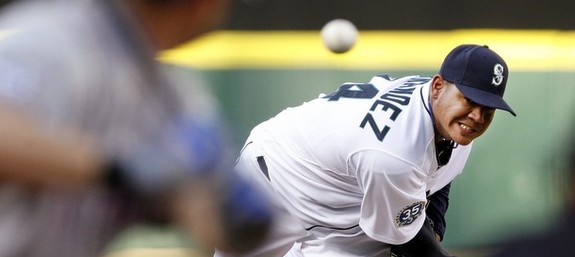 Tuesday: RHP Freddy Garcia vs. RHP Felix Hernandez
After a slow-ish start to the season, Felix is back to being the guy he was for the last few seasons. He's allowed one earned run or less in six of his last seven starts and has pitched to a 2.82 ERA (2.78 FIP) overall. His strikeout (9.15 K/9 and 25.0 K%) and walk (2.30 BB/9 and 6.3 BB%) rates are both career bests, and his 0.58 HR/9 may as well be — he's off his career low (0.57 HR/9 in 2009) by one dinger for every 900 innings. His ground ball rate (46.0%) is a career worst, however. Hernandez's fastball velocity has been trending in the wrong direction for a few years now but still sits comfortably in the low-90s. His collection of offspeed pitches — upper-80s changeup, mid-80s slider, and low-80s curve — is probably the best in baseball. He's really good. You know it, I know it, he knows it, and the Yankees know it.
Wednesday: RHP Ivan Nova vs. RHP Hisashi Iwakuma
After appearing in just five of the Mariners' first 54 games, Iwakuma earned some trust in June and moved into the rotation full-time earlier this month because old pal Hector Noesi (5.77 ERA and 5.63 FIP) had to be sent to Triple-A. Iwakuma owns a 4.86 ERA (5.61 FIP) overall this season and has been a mixed bag in his three starts — one good (two runs in six innings), one not so good (four runs in five innings), and one in the middle (three runs in five innings). His strikeout (6.60 K/9 and 17.5 K%), walk (4.27 BB/9 and 11.3 BB%), and homerun (1.75 HR/9) numbers leave an awful lot to be desired, though at least he gets some ground balls (53.7%). Using the typical kitchen sink approach employed by so many Japanese pitchers, Iwakuma throws a low-90s four-seamer, a low-90s sinker, a mid-80s splitter, a low-80s slider, and a low-70s curveball. The Yankees didn't see him at all back in May.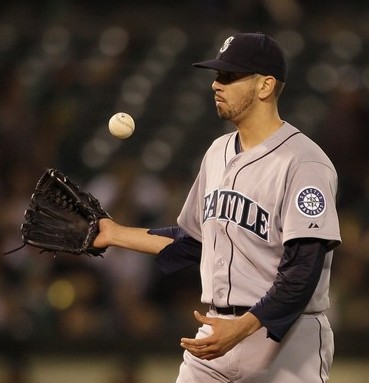 Bullpen Status
The Rays did the Yankees a solid by running through Seattle's bullpen quite a bit over the weekend, including a 14-inning game on Friday. Unfortunately Blake Beaven went a full eight innings yesterday, so everyone but closer Tom Wilhelmsen (2.54 FIP) had the night off. He's appeared in three straight games — including multiple innings on Friday — and figures to get tonight off if not tomorrow as well. Fill-in closer duties should instead fall on the shoulders of Brandon League (3.47 FIP), the former closer turned setup man.
Manager Eric Wedge has a pair of lefties at his disposal, including Rule 5 guy Lucas Luetge (2.80 FIP) and former laughing stock Oliver Perez (1.90 FIP). Both are just specialists and Perez has a big reverse split (.234 wOBA vs. RHB and .415 vs. LHB) in a small sample, though his velocity seems to be back. Righties Shawn Kelley (3.53 FIP), Steve Delabar (4.85 FIP), and Josh Kinney (6.92 FIP in limited time) round out the rest of the bullpen. Overall, Seattle's relief unit has been middle of the pack with a 3.72 FIP.
The Yankees' bullpen was used quite heavily in yesterday's extra innings loss, but no one out there has appeared in two straight games. Everyone except maybe David Phelps — who worked 1.2 innings but only threw 19 pitches — should be available tonight. Check out our Bullpen Workload page for the exact details. For the latest and greatest on the Mariners, we recommend Lookout Landing and U.S.S. Mariner.