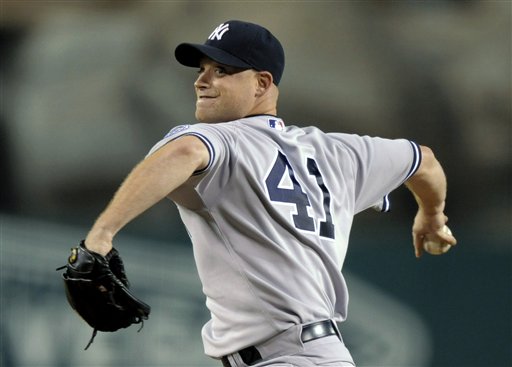 The trade deadline has come and gone, but as you know teams can still swing deals via the waiver system. Any player on the 40-man roster has to pass through revocable trade waivers to be dealt this month — he can be traded anywhere if he clears but only to the team that claims him if claimed. That's why there was such a big stink when the Dodgers claimed Cliff Lee, the left-hander was officially off the market for the other 28 clubs. We've already seen guys like Joe Blanton, Kurt Suzuki, and Jeff Baker change teams through trades this month, and there will inevitably be more moves to come.
The Yankees haven't been all that active during the waiver trade period these last few years, with their most notable August pickup of the last half-decade being Chad Gaudin in 2009. They acquired him from the Padres for cash and he went on to solidly soak up some innings as the fifth starter late in the season (3.43 ERA in 42 IP). They also traded for Freddy Guzman that month and actually carried him on the postseason roster as the pinch-runner/defensive specialist. Other than that, the Yankees claimed spare lefties Aaron Laffey and Raul Valdes off waivers last year, and that pretty much wraps up their recent August transactions activity*.
With this year be different? I don't have any reason to believe it will be, but that can all change in a hurry depending on the injury news. If Andy Pettitte's leg continues to heal slower than expected, they could be forced into looking for an extra arm, especially if Ivan Nova doesn't start improving. Alex Rodriguez's hand is doing fine but I have to believe any kind of setback would push the Yankees into looking for a bat. I fully appreciate and respect Ichiro Suzuki's historical greatness, but his offense these days doesn't scare anyone, let alone qualify as a replacement for A-Rod. The bullpen is one of those things that is always is need of tinkering, so there could be some random claims for warm bodies if nothing else.
The Yankees seem to have taken on the mindset that all of the heavy roster building is done in the offseason and the only in-season moves should involve minor tweaks to deal with injuries and whatnot. That's perfectly fine and it really is the ideal way to run a big market team, but it's so much easier said than done. I think that more than any other time in the last three or four years, there are some obvious parts of the team that can be supplemented with August moves, specifically on the pitching side. The whole "wait for so-and-so to get healthy" strategy scares the crap out of me, especially when you're talking about older players like A-Rod and Pettitte.
* The Yankees did claim Carlos Pena off waivers last summer, but the Cubs pulled him back and no deal was reached.