Following Thursday's 6-0 loss to the Blue Jays, the Yankees are just 4-11 in games played on artificial turf this season. That's only two ballparks — Tropicana Field and Rogers Centre — and frankly, it doesn't really mean anything. The YES booth mentioned it on the broadcast and it caught my attention for whatever reason.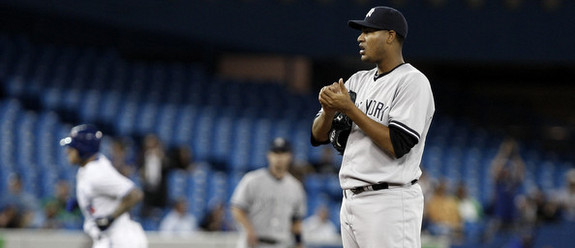 Record-Setter
In a start that was a microcosm of his season, Ivan Nova allowed four runs and failed to complete five full innings of work. It's the second straight start in which he's been unable to record 15 outs. Brett Lawrie hit a two-run homer in the third, but that wasn't the mistake. The pitch Lawrie hit out wasn't even in the strike zone. The mistake was walking number nine hitter Anthony Gose one batter earlier. Nova jumped ahead of him 0-2 in the count but got cute with breaking balls and walked him. Edwin Encarnacion doubled in two runs in the fifth, his third hit of the game.
I'm not sure what more you can say about Nova and his season that hasn't already been said. He's been a major disappointment regardless of what he does in his final start next week. On the bright side, Nova's first strikeout was his 150th of the season, giving the Yankees four pitchers with that many strikeouts. They're the fourth team in AL history with four 150-strikeout guys, and the first since the 1987 Royals. Nova's third strikeout was the pitching staff's 1,267th of the season, a new single-season franchise record. The 2001 squad was the previous record holder. That's pretty neat. As for the bad news, Encarnacion's double set a new single-season franchise record for extra-base hits allowed (87). Nova missed three weeks due to injury and still set the record with one start to spare. Think about that.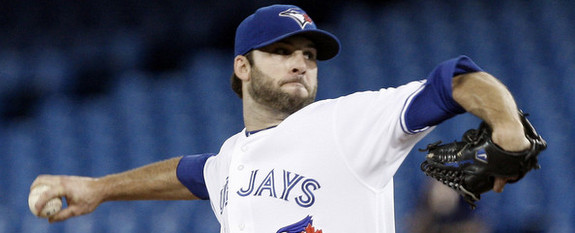 Morrowned
Nova getting pounded is no surprise, and neither is Brandon Morrow shutting down the Yankees in Toronto. The 28-year-old right-hander came into the game with a career 6.84 ERA in the new Yankee Stadium (25 IP), but pitching in Toronto as a Blue Jay, he's held the Yankees to a 1.05 ERA in 42.2 innings. Thursday's masterpiece featured seven shutout innings, including a first and second with no outs situation in the seventh that did not advance any further (the same thing happened in the ninth against Darren Oliver). That he only struck out three seems like a misprint in the box score.
I don't know what it is, but the Yankees simply have not been able to do anything against Morrow in Toronto these last three years. All four hits he allowed came off the bats of Robinson Cano and Russell Martin, who each singled and double. Martin's double was aided by the defense and should have been caught. That was pretty much it though. The 8-9-1-2-3 stretch of hitters went a combined 0-for-12 with two walks against the opposing starter. This Morrow stuff is eerily similar to how A.J. Burnett dominated the Yankees while with the Blue Jays, isn't it?
Leftovers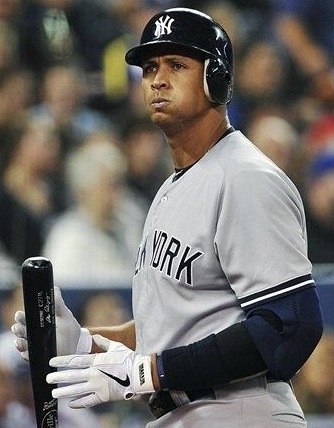 Pretty much the only thing about this game worth applauding was David Aardsma's return to a big league mound. The veteran right-hander missed over two calendar years due to injury (oblique, hip, elbow), but Joe Girardi let him throw the eight inning. Aardsma allowed a solo homer to J.P. Arencibia and walked Moises Sierra in an otherwise scoreless inning, hitting 92 on the gun and showing both a slider and a splitter. You can't expect much out of Aardsma the rest of the way, but it was cool to see him back in the show after the long layoff and especially after following his rehab progress all season.
Ichiro's hitting streak came to and end at ten games, and he's suddenly 4-for-18 (.222) on the road trip. Derek Jeter's on-base streak did continue thanks to his walk, and that is now up to 28 games. It is tied for the third-longest such streak of his career. Cano had three hits total (two singles and a double), though he did get doubled off first when Gose made a nice running catch at the wall on a Nick Swisher line drive in the fourth. Martin had his two hits, but otherwise the only Yankees to reach base were Jeter with the walk, Alex Rodriguez (walk, hit-by-pitch), and Swisher (walk). They were shutout for the first time since the Felix Hernandez two-hitter last month.
Clay Rapada threw one pitch and retired the only man he faced, but Derek Lowe allowed a run on three hits in his two innings of work. A ground ball guy on artificial turf with a less than stellar infield defense was bound to result in some kind of offense for the Blue Jays. At least Rafael Soriano, David Robertson, Boone Logan, and Joba Chamberlain were all able to get another day of rest.
Box Score, WPA Graph & Standings
MLB.com has the box score and video highlights while ESPN has the updated standings. The Orioles were idle on Thursday, so the lead in the division and the magic number are one game and six, respectively. The Angels did lose to the Mariners, so the magic number to clinch a postseason berth is down to just three. Thursday wasn't a total loss, I suppose.

Source: FanGraphs
Up Next
These same two teams will play game two of this four-game set on Friday night, when Hiroki Kuroda gets the ball against rookie right-hander Chad Jenkins.