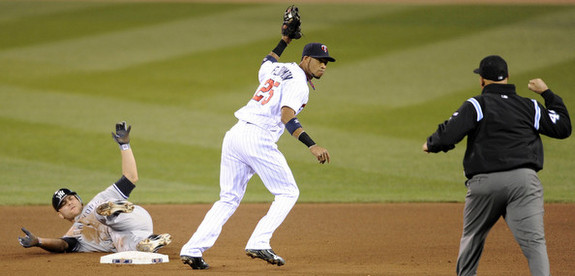 Hard to believe it, but the regular season ends one week from today. The schedule seems to pass a little quicker every year. Anyway, the Yankees need some combination of wins and Angels losses totaling five to clinch a playoff berth, but we're all focusing on the AL East crown. The magic number to win the division is just seven. That's bigger than it appears.
1. The old saying is that you should beat up on the bad teams and hold your own against the good ones, but the Yankees are now just 3-3 against the Twins this year. They've historically owned Minnesota, winning 63 of the 80 games the two clubs have played during the Ron Gardenhire era coming into the season. Four of those 17 losses came against in-his-prime Johan Santana as well. Splitting six games isn't a disaster, but sheesh, it really would have been nice to pad the win total again.
2. At what point does Clay Rapada start stealing some of the high-leverage matchup work away from Boone Logan? Logan has allowed runs — either his own or inherited — in four his last nine appearances with an overall 5.26 ERA (4.62 FIP) in 25.2 innings since the calendar flipped to July. Lefties are now hitting .235/.285/.361 (130 PA) off him this season while Rapada has held same-side hitters to a .190/.268/.260 line (113 PA). If nothing else, Boone probably just needs a breather. He's appeared in 77 games (!) and seems to warm up even when he doesn't get into the game.
3. Building on that point — doesn't it seem like Joe Girardi is becoming a little Joe Torre-ish with his reliever usage? I get that the games and division race are close and everything, but he has a clear Circle of Trust™ and has leaned on those folks heavily down the stretch. Strong bullpens have been a staple the last few years, but this season the relief corps is quite leaky. Obviously Mariano Rivera's injury is a big part of that, but was the bullpen so effective from 2009-2011 because of how Girardi used it, or did the relievers just make the skipper look smart? It's probably a little both, really. Either way, the bullpen has now allowed runs in six of the team's last eight games. Yikes.
4. Might as well end with a positive: how amazing has Andy Pettitte this year? Obviously the leg injury is really unfortunate, but otherwise he's pitched to a 2.71 ERA (3.32 FIP) in eleven starts and 69.2 innings. This is a 40-year-old guy who willingly spent a full year away from baseball, and yet he's returned better than ever. Back in Spring Training I joked a bunch (I think I even said it in the podcast and in the weekly chat a few times) about the year off doing good for his arm and body overall, but I didn't expect this. Eric wrote about this yesterday but it's worth repeating: the veteran guys — particularly Pettitte and Derek Jeter — having been coming huge all season.