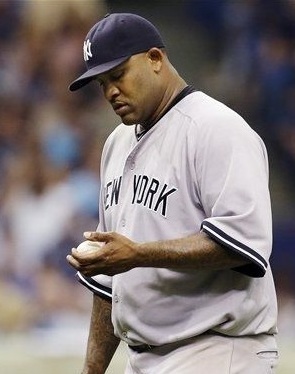 The Yankees lost Monday afternoon's game to the Rays for a number of reasons, one of which was CC Sabathia pitching merely pretty well rather than exceptionally. Three runs in seven innings hardly qualifies as a disaster start, but with the offense struggling — three runs or less in eight of the last twelve games — and a shaky bullpen corps, the club could have used a little more from their ace. Simply matching Jamie Shields wasn't enough.
I've already written about Sabathia's bout with pitching mortality earlier this month. The 32-year-old's 3.42 ERA (3.36 FIP) would be his highest since 2005, the last time he was a 4.00+ ERA pitcher. Coincidentally enough, his performance looks an awful lot like what he did during his first season in pinstripes, when he pitched to a 3.37 ERA (3.39 FIP). The issue with that is the overall drop in offense around the league — a 3.37 ERA in 2009 was 37% better than league average whereas 3.42 this year is only 23% better than average.
Sabathia has been on the DL twice this summer, the first time with a groin issue and the second with elbow stiffness. Obviously the latter is a much greater concern, but in his three starts back he's pitched to a 2.53 ERA (3.39 FIP) with 21 strikeouts and three walks in 21.1 innings, so a touch more than seven frames per start. The three unearned runs allowed against the Blue Jays last week should certainly be note — I've never felt an error by the defense completely absolved the pitcher of all blame. Maybe it does in some instances, but not last week when Jayson Nix bobbled a no-out ground and Sabathia went on to allow three straight two-out, run-scoring hits in the inning.
Despite his strikeout total since the DL and excellent overall season strikeout rate (8.89 K/9 and 23.5 K%), Sabathia's inability to get a swing-and-miss yesterday was very noticeable. He only got eight whiffs out of 116 total pitches (6.9%), well below his 11.6% season average and 10.8% career average. Only two of those swings and misses came on the slider (out of 27 thrown, so 7.4%), a pitch that has otherwise generated 18.6% swings and misses this year. Against the Jays a week ago, it was 18 whiffs overall (99 pitches, so 18.2%) and a dozen on the slider (out of 37, so 32.4%). That lack of swing-throughs really stood out to me yesterday.
Buster Olney said "there continue to be rumblings around the sport that the [elbow] discomfort that has nagged (Sabathia) most of this season still lingers" in today's Insider-only blog post, going so far as to speculate that there may be loose bodies or a bone spur involved. He notes that Sabathia has thrown a fewer percentage of fastballs of late and tries to use that as evidence for a lingering problem, but that doesn't make much sense. If his elbow is bothering him, he'd be throwing more fastballs and fewer breaking balls, not the other way around. A fastball is the most basic of pitches, there's no wrist snap or turn-over, nothing that like.
Anyway, that said, I do think it's fair to wonder if the elbow is still an issue somehow. That doesn't necessarily mean Sabathia is still hurt, but perhaps he's just a little tentative at the moment and hasn't really cut it loose following the first arm injury of his life. The general rule of thumb is that elbow issues show in a pitcher's command (or lack thereof), and Sabathia's has been off all season is seems. When he does get hit, it's because he misses up in the zone or catches too much of the plate. That's true for every pitcher obviously, but great pitchers like CC just do it less frequently. Anecdotally, I feel like he's gotten burned by more mistake pitches this season than at any other time of his Yankees tenure.
"He can win with what he's got, and on most days, he'll find a way to get the job done," said a scout to Olney, a pretty apt description of Sabathia's season. He hasn't been terrible, not by any means, but he hasn't had that prolonged stretch of dominance at any point. "[He's] not going to dominate anybody right now … You can get some good swings against him," added the scout, sure enough. The Yankees have a number of problems contributing to this second half downward spiral, and having Sabathia pitch at a level below his usual production is one of those problems.